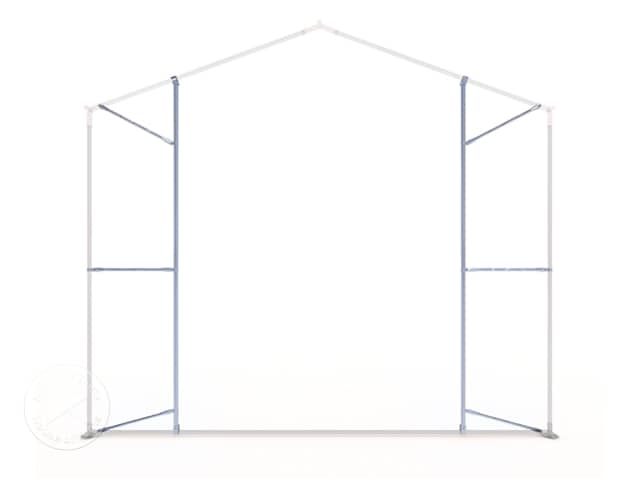 * Product may differ in size and colour from the image.
Gable wall bracing set for PVC party tents PRO PLUS, ULTRA and storage tents PREMIUM, PROFESSIONAL
Calculate delivery costs now

Special stock, approx. delivery time: 7 - 12 working days for mainland delivery.
Buying tips and enquiries
With the bracing for gable walls, you strengthen the gable wall tarpaulin on the one hand, and on the other hand, the entire tent structure becomes more structurally stable. The set is suitable for marquees and storage tents in quality levels 4 and 5 stars. The set is only intended for tents from 5m width and then for the heights 2m, 2.6m, 3.0m and 4.0m. It is made of robust, corrosion-free steel and consists of several tubes, poles, clamps, screws and wing nuts. Assembly is quick and easy. The individual poles and tubes are connected to each other by clamps and screws and mounted on the frame.
Fully galvanised, corrosion-protected steel

Dimensions steel rods

Diameter 25 mm
Length: 675 and 750 mm

Dimensions steel poles

Diameter 38 mm
Length: 1100 mm

Dimensions steel poles

Diameter 42 mm
Length: 1088 mm

Round clamps

U-shaped clamps

Bolts and wing nuts

Easy assembly: Assembly is carried out on the tent poles via pipe clamps and screws Assembly instructions