Hay storage shelters: portable, dry & air-circulated
Are you involved in agriculture, agribusiness or animal husbandry? Is obtaining hay from pasture a key determinant of your success? As a full-blooded farmer, you're well aware of the high costs of a permanent storage hall and how suddenly a good weather front can benefit and increase your harvest enormously, which means that a flexible storage solution is a must. And that's exactly what we have for you: an arched shelter. With the help of an arched shelter, you can easily create a well-ventilated drying area in a short time, cope with large volumes, save on costs - and even move the building to the location you need it the most. Discover our robust and affordable alternative to traditional farm shelters!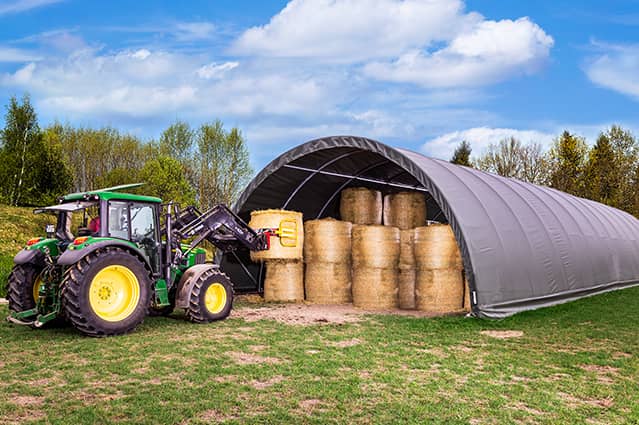 Our hay storage shelters - top sellers
Why use an arched shelter for hay storage?
Especially in agriculture, being able to plan ahead is golden. You never know how many sunny days and weeks lie ahead. You may also be unsure exactly how much hay you will have available - how fast your grass is growing, how many bales you can procure. In concrete terms, the situation means that in the event of a sudden harvest peak, you need a hay storage facility at short notice that offers additional storage capacity. An arched hay barn that is built of light, yet strong materials, and that can easily be extended is exactly the solution - one that stands for plannability and safe storage in all weather.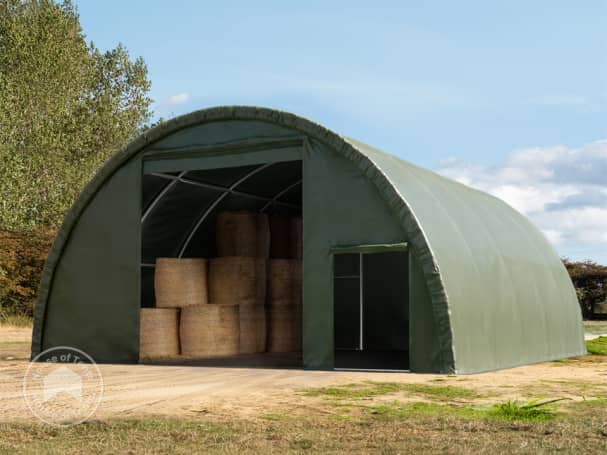 Other advantages of an arched shelter are that it is:
portable. You can build anywhere (no need to pour foundations)

offers a dry & covered storage space

extremely robust & stable - for long periods of use

ensures effective air circulation

cheaper & requires less maintenance than a permanent barn

can be accessed with a tractor or other farm machinery
Tip: Cheap hay storage solutions cost more in the long run
Don't use a tarp as a cost-effective storage alternative to a weatherproof structure like an arched shelter. Even though this solution can be done quickly by simply storing the forage in a field and putting the tarp over it, we strongly advise against this idea. Why? Such use of tarps has a number of disadvantages: Condensation builds up quickly; pests (such as mice and rats) are attracted; crows peck into the tarpaulin and moisture gets into the hay. This in turn means that the hay not only loses quality, but mould and parasites can develop and contaminate the hay.
Is there anything special to pay attention to when storing hay in a tent?
There are two key aspects that are important when storing hay: You must be able to cope with large volumes* and at the same time ensure that the hay (or straw) is always stored in a dry place with some air circulation. Under no circumstances should the hay become wet or damp. Achieving airtightness isn't practical and therefore your hay storage building must conversely have good air flow. That's a real advantage of arched shelters: each gable wall is specially equipped with a gate that can be opened in good weather as well as ventilation windows that ensure effective air circulation and an excellent climate. And there is plenty of space for storing large volumes of hay or straw bales in this agricultural hall! But don't forget the floor - moist air escapes here too! It's therefore crucial that it's sufficiently dry before you store the hay bales. A well-drained grass area is just as suitable as concrete - but gravel is best. For optimal storage, spread gravel to a depth of roughly 30cm.
Tip: Build a subfloor with pallets
Do you want to stack the bales off the bare ground? We have a solution for you: create a breathable layer a few inches off the ground for the baling. We suggest using timber pallets to build a subfloor. Thanks to the pallets, air circulates around the entire tent. This pallet floor isn't only quick and easy to build, but also has another advantage: rodents can't get to the bales as easily.
6 hay storage ideas for your hay and straw store
Haylage, baleage, hay and silage - the differences can be small, but important. Haylage is made from young grass, but has a shorter drying time than hay. Due to the moisture content, haylage and baleage are usually packed in airtight containers, whereas hay needs to be stored in an air-permeable container. But what is the best way to store it - e.g. upright or lying down? And what about ventilation? In the following we give you some tips for stacking hay in our arched shelters:
ensure regular air exchange. High temperature differences between day and night can lead to the formation of condensation. Therefore, open the doors regularly. If necessary, you can also do without the gable ends completely**.

if you want a floor made, use wooden pallets rather than a solid surface of decking. Use untreated timber wherever possible to ensure the hay quality isn't affected.

create a "ventilation alley" between the hay bales, as moisture can condense on the tarpaulin. Don't place the bales close together, but leave a gap of 5-10 cm between the bales.

don't stack the hay right up the ceiling or the walls of your portable straw storage building - the air must be able to circulate well.

the optimal storage position is upright (lying on the front sides), but storing the straw bales on their sides also has advantages - among other things, they are easier to roll in this position.

make sure that the floor skirts of the arched shelter, which serve as wind deflectors and move moisture away from the tent, are flush to prevent water penetration.
Arched shelter in detail: a practical shape
It's a simple thing, but it's one of the key reasons why this buidling is so popular in agriculture: the round shape of the arched roof. Thanks to the rounded design, rain can simply run off the sides and not accumulate on the roof - and just as importantly - so can snow. An agricultural hall with an arched design - the perfect all-weather all-rounder! And the material of the roof as well as the gable sides is also impressive: you have the choice between PE or PVC tarpaulins. Both have a high UV protection and are 100% waterproof, while PVC is more tear-resistant and durable in terms of quality. PVC buildings are also available in fire-safe certified versions.
By the way, you'll receive a 3-part tarpaulin: a single-piece roof tarpaulin that runs over the sides, as well as two gable ends. The gable ends don't necessarily have to be fitted, without them you make your agricultural hall accessible to large machines**. A big advantage of both tarpaulins: they are fixed tightly to the frame by a professional tensioning system and can be readjusted at any time.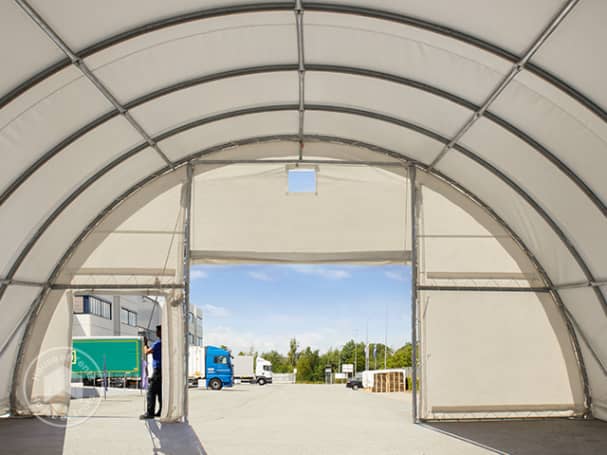 What a first class frame!
The combination of roof and frame is the key to the high load-bearing capacity of this agricultural hall. Here we offer you the choice between a simple round tube arch and a truss arch construction. While the round tube arch can withstand a load of up to roughly 100 kg/m², the truss frame can withstand a load of up to roughly 208 kg/m² (depending on the leg spacing). In the truss version, the round arches consists of two round tube arches that are connected to each other by welded cross braces - for even greater stability!
Keep in mind: Thanks to the high-quality processing of steel, this hall is extremely weather-resistant. This also makes arched shelters ideal for use on farms as agricultural halls. Whether for arable farming, vegetable cultivation or stable construction - this agricultural hall with its extremely stable construction is a product that you will never want to do without in your business!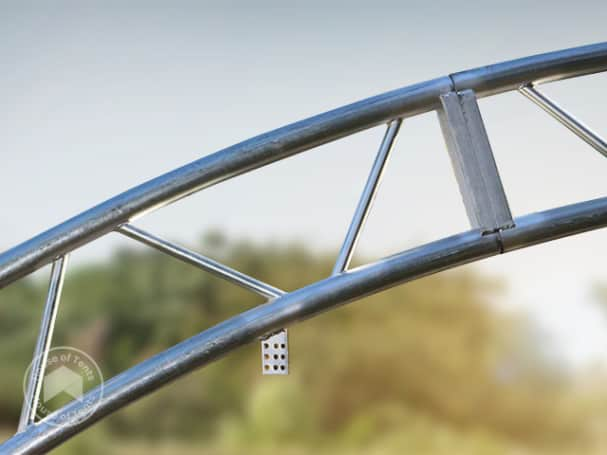 Arched shelters - the ideal agricultural buildings
Arched shelters are above all one thing: versatile. The majority of our customers rely in particular on arched shelters for use as hay storage. However, it's also impossible to imagine other areas of agriculture without this storage hall! In the following, we therefore give you an overview of some popular uses: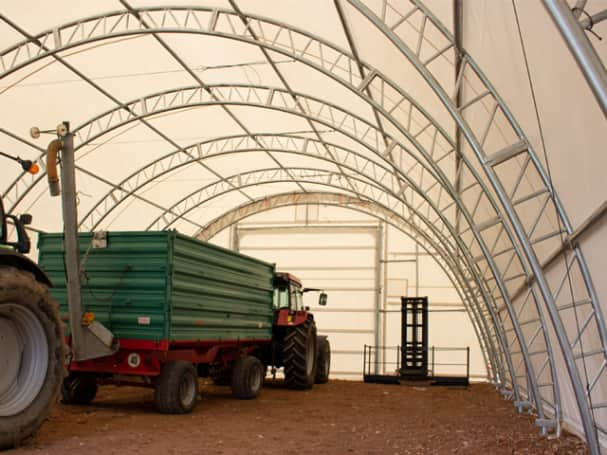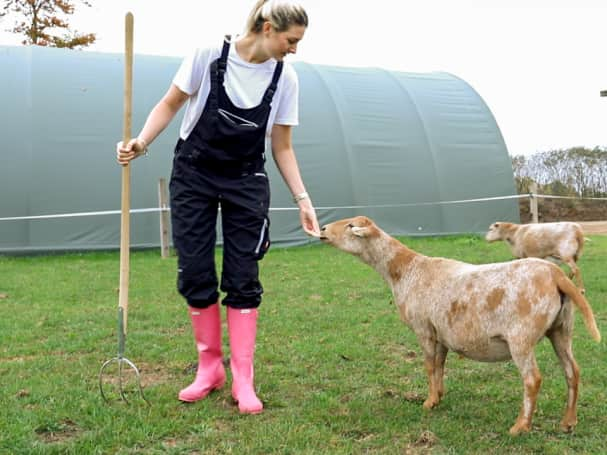 as a machine hall. Use the hall as a shelter for large vehicles, e.g. tractors
as a storage building to house agricultural goods & materials, e.g. wood or crops
as a workshop. Use the space for welding work or machine maintenance
as a bulk materials hall for sand, grain or topsoil
as a workplace. Remove the gable ends & drive into the agricultural hall
as a house to stack fodder out in the field.


Container shelters are also ideal for on-farm
Container shelters are also ideal in agriculture. The roof can even be mounted on top of square bales. With sufficient anchoring to sturdy rectangular bales the roof and walls will provide ample protection for the bales stacked inside. They're a great option for covering bunker silos to cover silage and other feeds. They are designed to attach to the top of either shipping containers or walls made of a variety of other materials. They're also ideal for agricultural construction and for storing harvested crops.
Frequently asked questions about arched shelters and hay storage
How expensive is the construction of the hall?
How long should hay or straw be stored?
How can I protect my hay from pests, such as mice?
Do you have arched shelters in stock?
Our service
Whether for hay, as a machine hall or stable for horses - our expert customer service will be happy to advise you on our agricultural tents and which product (arched shelter, field shelter, storage tent or industrial tent) suits your individual application scenario. Simply let us know your personal requirements and benefit from our many years of experience in the tent industry!
* The volume and entrance height of the bale storage can be increased by placing the structure on concrete blocks. If you choose to fix the structure to an additional material such as concrete blocks, our structural guarantees are forfeited, and we won't be able to accept any liability.
** In this case, the static wind load calculation of the arched shelter no longer applies, but the load-bearing capacity or stability of the hall isn't affected. The removal of the gable parts is therefore at your own risk. All arched shelters come with gable sections included.