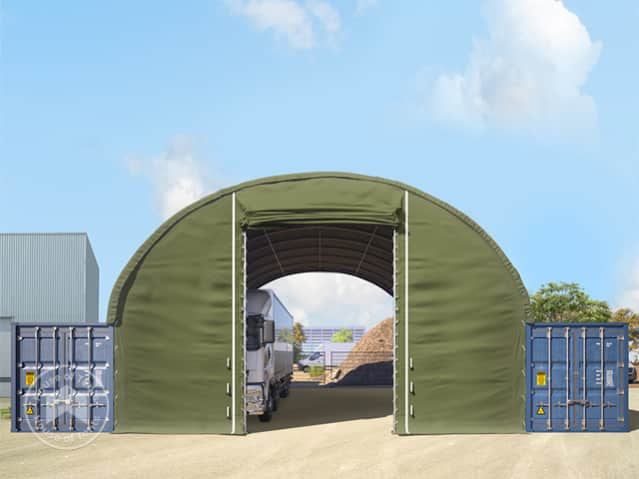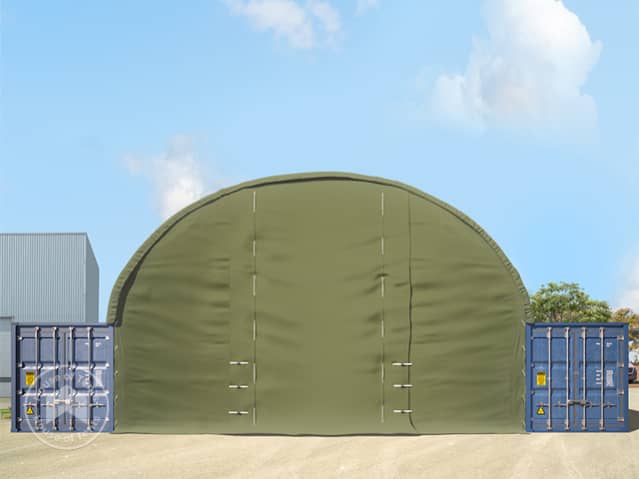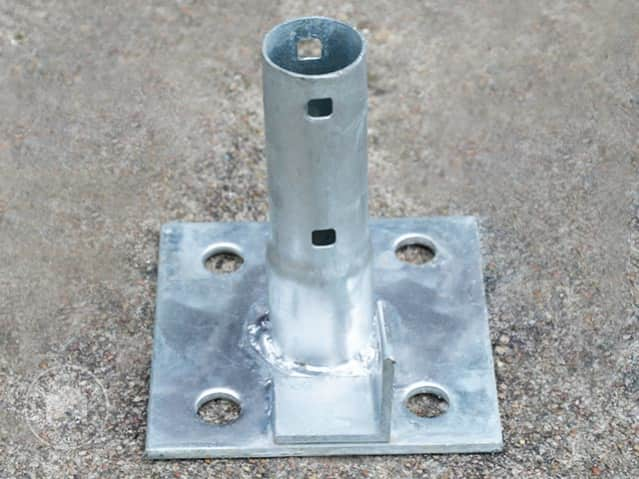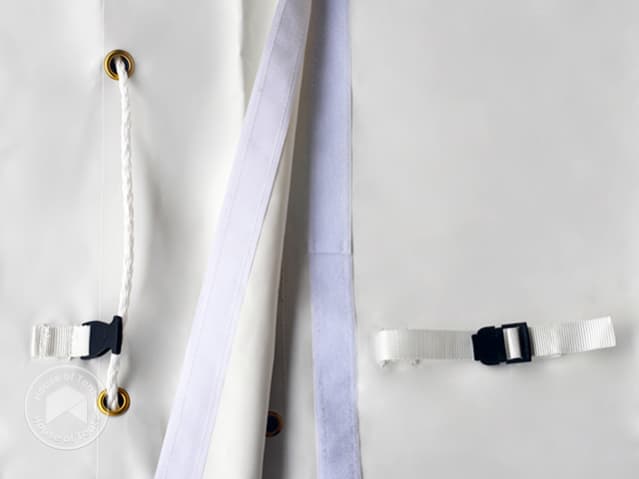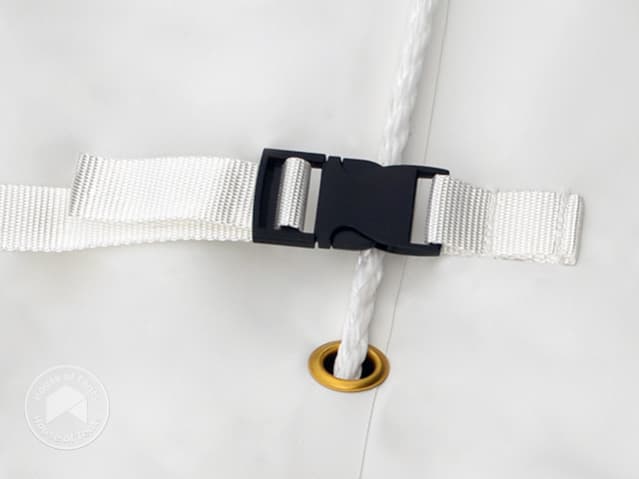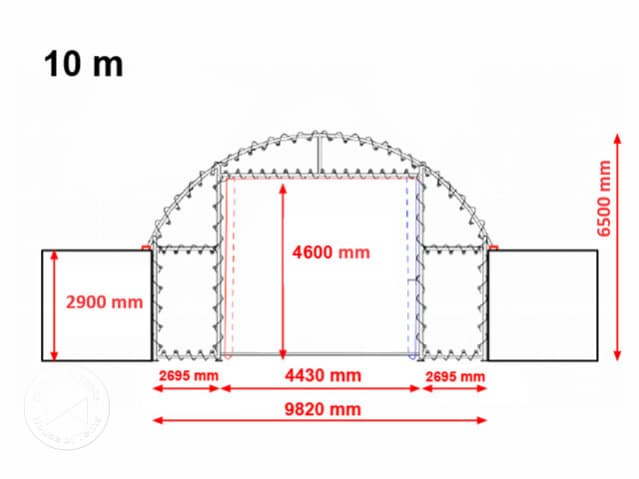 * Product may differ in size and colour from the image.
Front wall for container roofing 10m wide with easy-up entrance, PRIMEtex 2300 fireproof, dark green
Calculate delivery costs now

Special stock, approx. delivery time: 7 - 12 working days for mainland delivery.
Buying tips and enquiries
Front wall for container shelters with a width of 10 m, suitable for mounting on High Cube containers. The front wall has a practical pull gate and offers additional protection against the elements. It consists of a sturdy, corrosion-protected steel tube frame and an extra-robust, cast PVC tarpaulin. The PVC material is UV-resistant, 100% waterproof and has a 3 x higher tear strength than conventional PVC commercial tarpaulins. The front wall is fixed with tension ropes and has a large main gate that can be easily opened by a pull mechanism. Solid, fully galvanised full steel ground stakes (approx. 100 cm long) are included in the delivery for fastening to soft floors. The height of the container or the relevant supporting structure should be approx. m.
Frame
Robust steel linkage protected against corrosion by galvanizing

Steel tubes

Diameter: ca. 48 mm
Wall thickness: ca. 1.6 mm

Connector

Durchmesser: ca. 34 mm
Wall thickness: ca. 1.4 mm

Special tensioning cable system for fixing the tarpaulin

Solid, 100 cm long solid steel pegs for mounting on soft floors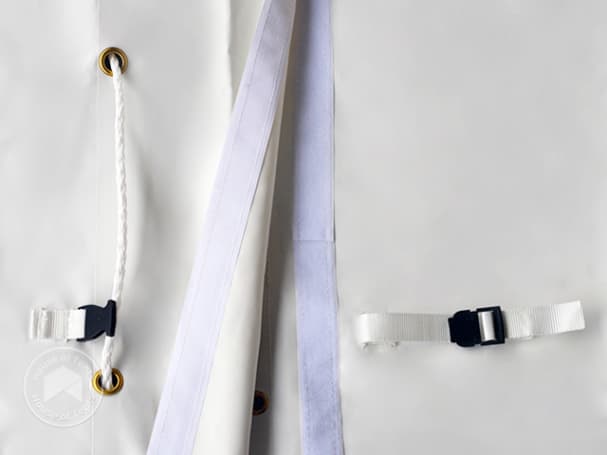 * Product may differ in size and colour from the image.
Tearing-strength*25: 2300 N equivalent to 230 kg according to DIN EN ISO 13934-1

3 x more tear resistant than standard PVC tarpaulins

Fireproof certified according to DIN EN 13501 and DIN 4102 B1

High resistance to UV light

Excellent UV protection of 50+

Perfect weather protection, 100% waterproof

Stainless brass eyelets

Durable pull-up door for quick use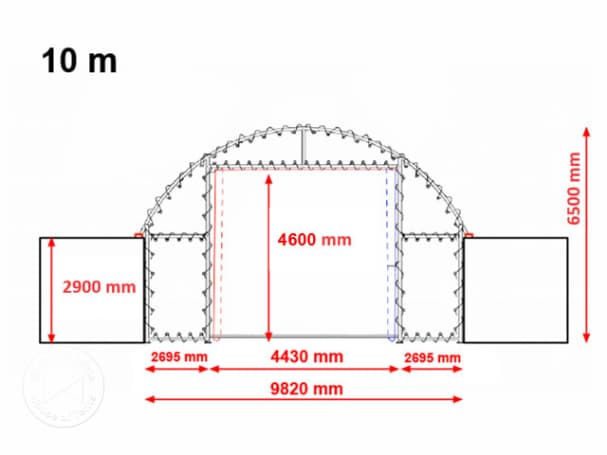 | | |
| --- | --- |
| Width: | ca. 10.00 m |
| Ridge height: | ca. 6.50 m |
| Entrance width: | ca. 4.43 m |
| Entrance height: | ca. 5.00 m |
*25
According to the standard "DIN EN ISO 13934-1", the tearing strength is determined in a stretch test using a 5 cm wide strip sample of the tarpaulin. The specified value thus indicates the tearing force per 5 cm of tarpaulin width (in the lengthwise direction).