Over-winter storage for campervans, caravans and motorhomes
Over summer you're living the van life and your campervan or caravan gets plenty of use, whether you park in your driveway for short camping trips around and about, or have it parked ready for you at a favourite beach or campsite pitch. Over winter, you have plenty of caravan storage options − covered and close to home, or non-covered and affordable!
If you have the space, a great option that's safe and secure at a good price, is parking your caravan right next to your house in the garden. The most price-effective solution is a portable garage. Strong and secure, but light and easy to erect. They are also fully portable. When you move house you can take it with you. You can even rent uncovered storage and set up the tent and voila, your campervan is protected from the elements year-round.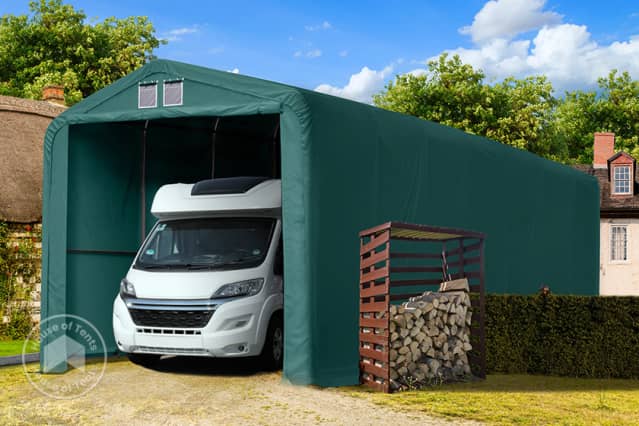 Using your own motorhome shelter versus a leased shelter
Portable garages have one big advantage: their mobility. You can set up these tents wherever you like - there's no need to pour a foundation. The easy way is to place portable garages in your own garden or on your own property. If you don't have a parking space in your garden, you should still consider buying a portable garage. It's usually much easier to find a suitable uncovered parking space for campers than a storage site providing weatherproof shelter. After all, campsites and farms with plenty of open space (where you can erect your portable garages) can be found just about everywhere.
Covered spaces, and storage compounds with reliable security measures for motorhomes and campers are hard to come by and might be well out of the way, potentially requiring significant towing fees. Access may also be an issue. A portable garage situated close to home with 24 hour access, is the best alternative. What are the other main reasons for buying your own motorhome shelter?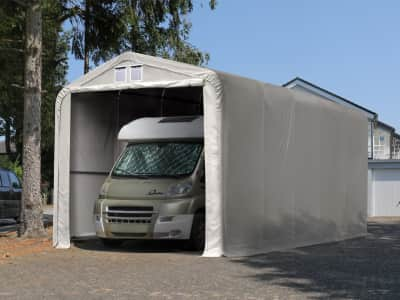 Portable camper garages
100% waterproof, UV-resistant & stable

no further costs after purchase

is cheaper over time

assembly is possible everywhere

can be resold once no longer needed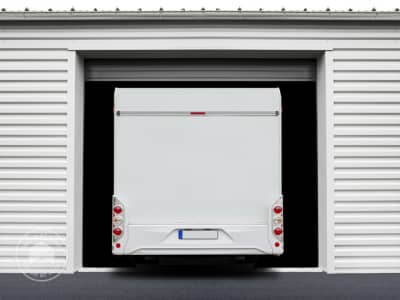 Campervan storage at a storage facility
100% waterproof, UV-resistant & stable

often a deposit & advance payment is required

costs a lease fee

cannot be moved, may be hard to access

available space depends on the provider
Year-round shelters for motorhomes and other large vehicles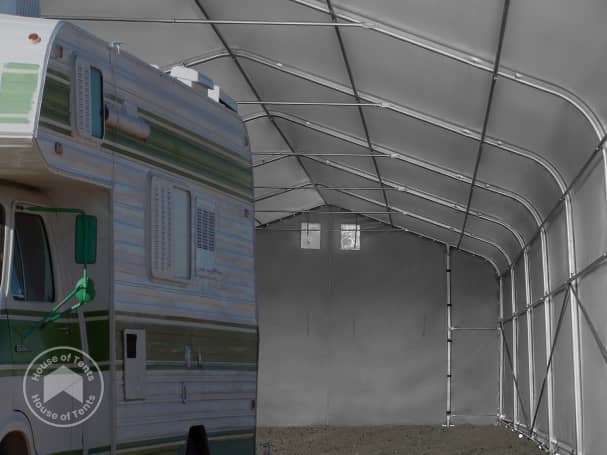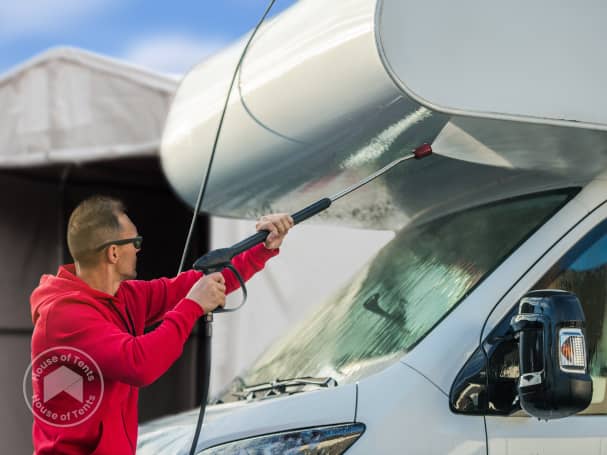 Portable garages, are ideal as year-round caravan shelters. In summer your vehicle is protected from high UV radiation and pollen and in colder seasons from wind, rain, frost and snow. There's also no chance of rust or moisture forming inside the tent - thanks to integrated ventilation windows.
Another plus point of the portable garages: the thin walls and doors. In contrast to brick garages, this allows you to maximise the amount of room offered by a small plot of land. Due to high-quality zip garage doors, the portable garage is also easy to open and close. Ideal all-rounders for the whole year!
Before you store your caravan for the winter, some precautions should be taken. These mainly concern one area: cleaning. Among other things, we recommend that you wash the underbody and grease all locks thoroughly.
Large garages that you can use to store cars & boats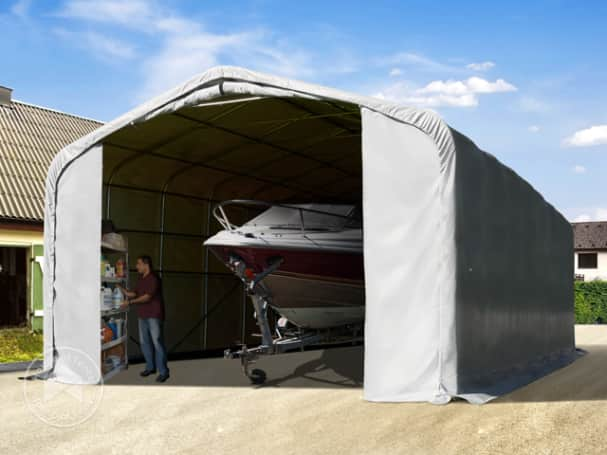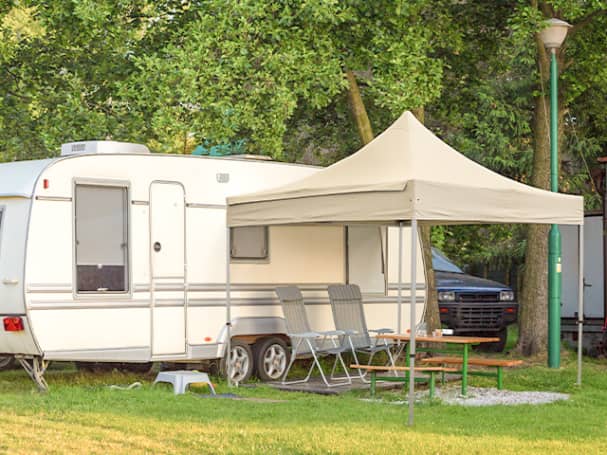 Portable garages are used by our customers in a large variety of ways. It goes without saying that they can be used as an all-purpose storage room or a shelter for other large vehicles. A boat, for example, can also be stored here at low cost. So too, a collection of cars or motorbikes.
Whether it's a well-used van or a precious vintage car or motorbike treasure - portable garages offer weather protection and security! The possibilities are only limited by your imagination. The tents can naturally be used as a general storage room or as a workshop too.
Tip: pack an additional smaller shelter
While a portable garage is perfect for storing your caravan at home, we also recommend packing a smaller shelter for your camping holiday. Pop up gazebos, for example, are perfect caravan awnings, providing shade, offering protection from wind and rain and also expanding your camping living space. You can find more insights on this topic in the following magazine article: Camping gazebos as camper van awnings.
Portable garages for caravan storage in detail
Which tarpaulin: PE or PVC?
First of all, it's important to point out: Neither our PE nor our PVC tarpaulins lie directly against the caravan. This is a very important feature, after all, your caravan or motorhome should not be damaged by the tarpaulin. Condensation can also develop under a tarpaulin cover. Should that be in contact with the camper, you're not protecting your vehicle whatsoever.
About the material: In our range you'll find tarpaulins made of PE as well as PVC. But what are the differences? PE tarpaulins are lighter and therefore cheaper in price. Thanks to their light weight, PE tents are quick and space-saving to store and transport. Tents made of PVC, on the other hand, have a dense inner mesh fabric that is, among other things, highly tear-resistant and durable. PVC shelters are particularly recommended for long-term and frequent use - including for your caravan site.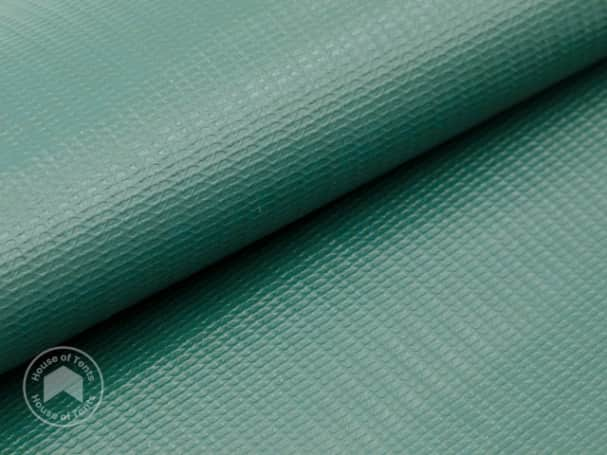 Which size is most suitable?
Small sizes are already sufficient for storing a small van or car. For boats and caravans in particular, 4m, 5m, 6m, 7m and 8m PVC portable garages are ideal. As a storage solution for more than one vehicle or a lorry with trailer, a long 4x24m garage is a great way to do it.
Also advisable: purchase a shelter that includes strengthening elements. These strengthening elements are called statics on our site. The set includes tie down straps with metal ratchets and robust ground anchors. You can find these by filtering for extra stable garages on the product page. The included handbook detailing maximum snow and wind loads may be useful for your insurance premium or for planning purposes. And did you know that we also offer fire-safe certified models? Portable garages - simply the perfect alternatives to motorhome storage facilities!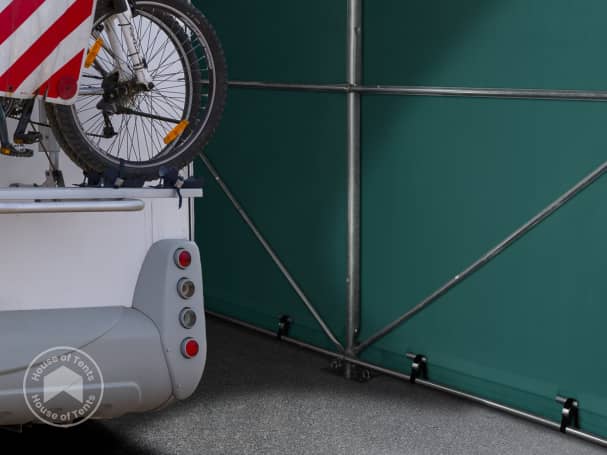 Frequently asked questions about caravan storage
Do portable garages require a permit?
Why not use a carport as a caravan garage?
How stable is a large garage made of PVC or PE?
What are the maximum door dimensions for portable garages?
Are storage tents, field shelters or arched shelters also suitable as garages or workshops?
Do you still have unanswered questions? Give us a call!
When it comes to the storage of caravans, camper vans or motorhomes, we're here to help. Whether it's about the type of garage, assembly, the roof, or the size of the doors - we'll be happy to advise you! It doesn't matter whether you're looking for a garage for the storage of your car, van or motorbike - or indeed, a camper van. Our expert customer service team is available either by phone or e-mail.
*1
Our original price in this shop including 20% VAT.