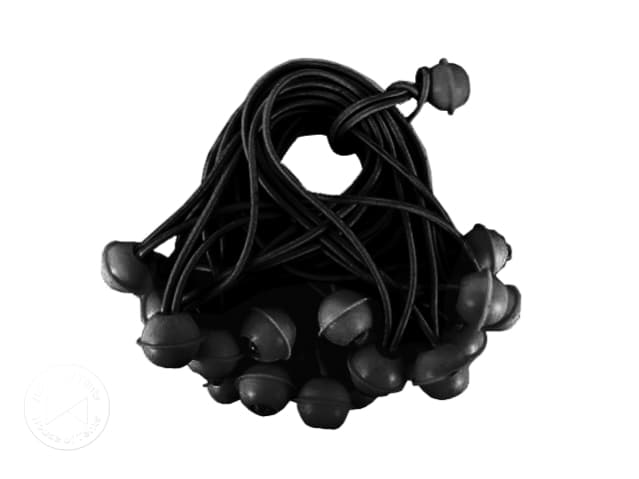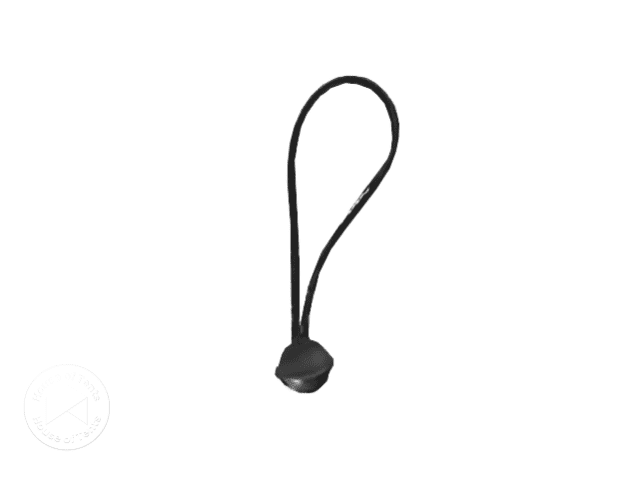 * Product may differ in size and colour from the image.
75 pcs. Elastic Bungees, long, black
Calculate delivery costs now

Special stock, please contact our customer service. Please note that higher costs may occur.
Buying tips and enquiries
Bungees are used for the optimal and quick attachment of tent tarpaulins. Their elasticity protects the tarpaulin and eyelet from wind damage. House of Tents bungees are specially designed for use on tents and are therefore particularly hard-wearing and elastic. The bungees consist of a 0.5 cm thick bundle of sturdy rubber bands wrapped in a tear-resistant nylon protective fabric. In general, the rubber loops can be stretched to approximately twice their unstretched length. The 2.9 cm hollow ball made of hard plastic has additional slip protection in the form of a ridge running all around. This allows the bungee to be securely fixed behind the hollow ball.
Flexible rubber bungee ties for attaching the skin of the tent to the frame.

Extremely elastic with plastic ball to prevent slippage.

Ridge on the ball for extra security.

Can be shortened to the desired length - simply undo the knot and cut off excess using scissors.

Thread the loop through the eye of the canvas and wind round the frame. Secure using the ball.
Length (loose): approx. 15 cm

Maximum length (stretched): approx. 30 cm

Ø ball: approx. 29 mm

Ø rubber tie: approx. 0.5 cm