A lean to greenhouse built with high quality materials
Our GFP lean-to greenhouses can be used as a covered vegetable garden or as a winter garden. You'll secure the best deal on your lean-to greenhouse by purchasing it from a trusted specialist dealer.
Our high quality polycarbonate lean-to greenhouses have many advantages:
excellent insulation from heat and cold with 10 mm twin-wall panels

UV protection to safeguard plants in summer and winter

a beautiful interior luminosity thanks to the transparent walls

windows in the roof allow you to control temperature and humidity

Polycarbonate versus glass lean to greenhouses
Lighter than a glass model, our polycarbonate lean-to greenhouse can be assembled quickly. Trapped air between the twinwall polycarbonate panels provides an effective layer of insulation, reducing heat loss through the walls and roof significantly. Another advantage of polycarbonate is that it is more resistant than glass and doesn't break easily.

Each polycarbonate greenhouse is equipped with a sliding door and two transparent roof windows (only one for the EDEN 22 model) which optimise air circulation.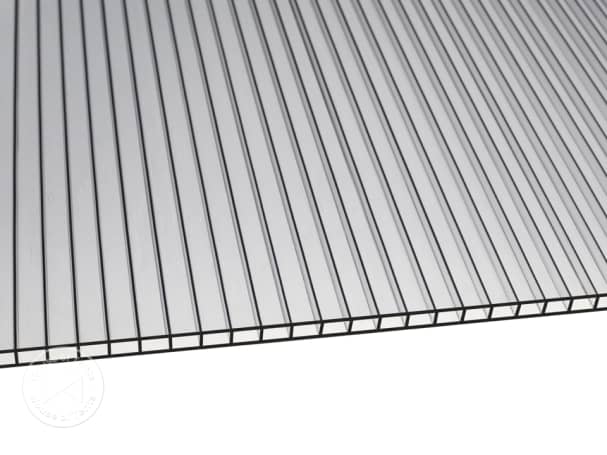 Aluminium versus wooden lean to greenhouses
Every lean-to greenhouse in our range is made of aluminium and therefore exceptionally strong and durable. The aluminium frame is characterised by hollow chamber profiles, which are produced in Austria. The aluminium lean-to greenhouses are also extremely torsion-resistant and load-bearing. This means that the lean-to greenhouses can withstand snow and strong winds.
A wooden lean-to greenhouse requires more care and maintenance than aluminium. A wooden product is also sensitive to weathering. That's the reason why we only sell aluminium greenhouses.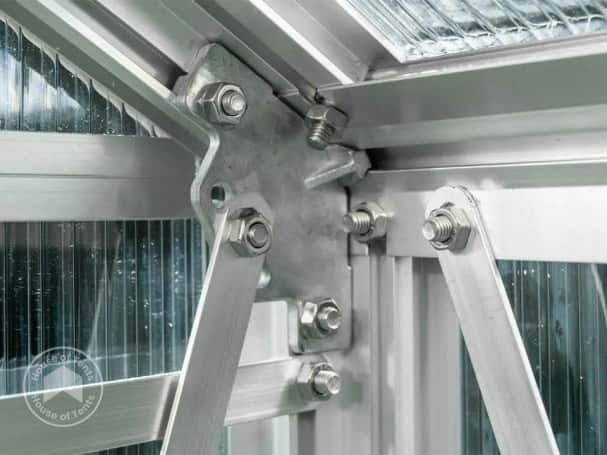 The right size lean-to greenhouse for your outdoor space
We offer lean-to greenhouses in different sizes: from large to small lean-to greenhouses. If you want your lean-to greenhouse to be narrow and fit even in the smallest space, the 1.1m² (12 square foot) ADENA12 mini greenhouse is ideal. Meanwhile with approx. 6.4 m² (69 square foot), the EDEN26 product is our largest lean-to greenhouse.
In most cases, the decisive factor is what depth and height the lean to greenhouse should have. To make your choice easier, we've summarised our two greenhouse lines for you below. Our space saving ADENA houses all have a depth of ca. 77 cm, while the EDEN walk-in grow houses are ca. 147 cm deep. The narrow ADENA greenhouses are therefore particularly suitable for small areas, while the EDEN lean-to greenhouses fit where space is at a premium.
ADENA
Depth: ca. 77cm

Ridge height: ca. 202 cm

Eaves height: ca. 175 cm

Smallest size: ca. 1.2m² (ADENA 12)

Largest model: ca. 2.3 m² (ADENA 14)
To the ADENA models
EDEN
Depth: ca. 147 cm

Ridge height: ca. 223 cm

Eaves height: ca. 175 cm

Smallest size: ca. 2.2 m² (EDEN 22)

Largest size ca. 6.4 m² (EDEN 26)
To the EDEN models
Build your own lean to greenhouse
No special tools are required to assemble our lean-to greenhouse kit, but basic manual skills for trouble-free assembly are a plus. We recommend two people to facilitate the construction of the lean-to greenhouse. Take the time to check that you have all the components when you receive your polycarbonate wall greenhouse kit: floor profile, corner and gutter profile, connecting brackets, polycarbonate wall panels, windows and doors.
Then follow the detailed instructions in the assembly manual and the various steps available on our Youtube channel. To ensure a successful installation, we estimate that you will need one full day assembly time.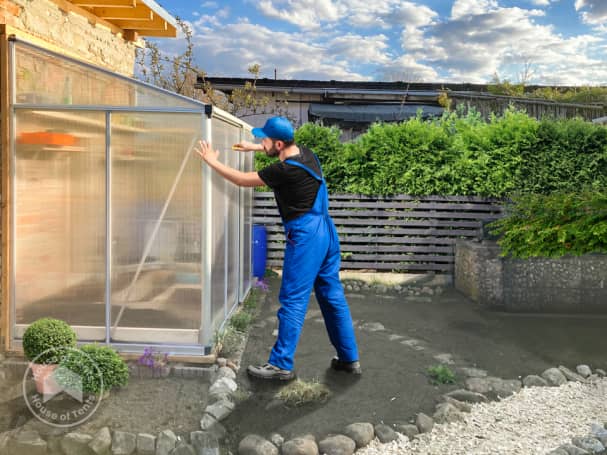 Advantages of a lean to greenhouse
Extra warmth provided by the wall of the house

A lean to greenhouse offers an additional benefit over other types of greenhouses as it makes the most of the warmth provided by an external house wall. The wall of a house absorbs warmth throughout the day and gradually releases energy as the temperature drops.

Easy water and electricity supply

A great advantage of situating your greenhouse directly next to the house is that the electrical and water supplies are within easy access for the gardener. This is especially helpful if you are planning to use heating to maintain a minimum temperature in the lean-to.

You can use it as a conservatory or sun room

Besides growing plants, wall greenhouses may also be used as a sunroom on your patio¹⁴. The wall greenhouse is placed over the house's sliding doors to create a kind of conservatory.
Tip: use larger EDEN-models
The larger EDEN models in particular are ideal for this purpose. A winter garden combining potted plants and a comfortable deck chair creates a charming area next to your house. The extra warmth provided by the growhouse provides you with a pleasant garden room that is comfortable even in winter. After all, what could be better than receiving visitors in a wonderfully warm conservatory surrounded by greenery and nature?
Frequently asked questions
What direction should a lean-to greenhouse face?
Can you put a lean-to greenhouse against a fence?
Does the lean-to greenhouse need a foundation?
Our expert customer service
In our online shop, we offer lean-to polycarbonate greenhouses from the premium brand GFP. These quality products are perfect for growing in both summer and winter. So you can enjoy your vegetable garden all year round. Our customer service team will be happy to answer any questions you may have and help you choose the right model.
*1
Our original price in this shop including 20% VAT.
*14
House of Tents is not liable for damage to the greenhouse or the house when the lean to greenhouse is used as a conservatory.