Build a conservatory extension using a greenhouse
Few home extensions offer the unique blend of timeless elegance and practicality as a conservatory extension. Whether you envision a tranquil oasis where you can escape the hustle and bustle of daily life or a light-filled space to host friends, a conservatory can become an eye-catching additional living space in your house. The cost of an orangery extension or conservatory can be prohibitive. An affordable alternative to a permanent structure can be found with a conservatory greenhouse with either glass or polycarbonate glazing.
Traditionally, conservatories and orangeries have graced homes as exquisite, glass-encased havens, welcoming the warmth of the sun during the day and the twinkle of stars at night. Imagine a conservatory that seamlessly merges the charm of a classic orangery with the versatility of a greenhouse. Picture a winter garden that remains lush and vibrant year round, no matter the weather outside. Say goodbye to seasonal limitations and discover the joy of a conservatory greenhouse.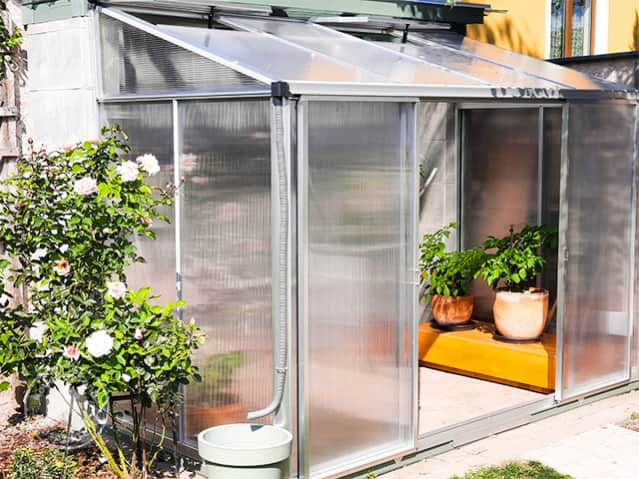 Our best selling greenhouses
Choosing between a lean-to conservatory or freestanding
The choice between a lean-to conservatory and a freestanding conservatory is a pivotal decision. The decision between a lean-to conservatory and a freestanding conservatory ultimately hinges on your personal preferences, architectural and space considerations, and the desired ambiance you wish to cultivate in your home.
Create a conservatory extension with a lean-to greenhouse
A lean-to conservatory, also known as a lean-to orangery, is a popular option for homeowners seeking a seamless extension that complements their existing structure. This design typically attaches to the side of the house and can fit around patio doors. The lean-to conservatory is an excellent choice for those looking to maximize space efficiency while benefiting from the warmth retained by the brickwork of your home's exterior walls. It provides a convenient and often cost-effective way to expand your living space, offering a cosy, DIY house extension that seamlessly blends with your home's architecture.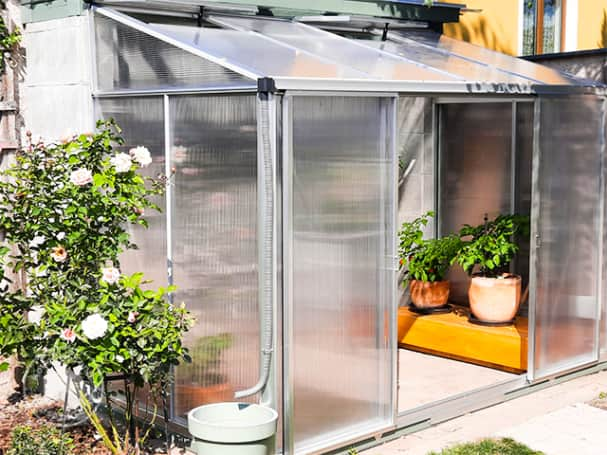 Our best-selling lean-to greenhouses
See all lean-to greenhouses
Build a conservatory in the seclusion of your garden
On the other hand, a freestanding conservatory stands independently of the main building, making it a striking focal point in your outdoor landscape. Placing orangeries in the garden is great for plants as a freestanding orangery can optimize the amount of sunshine that your plants receive. A freestanding conservatory is an excellent choice if you desire a standalone retreat, detached from the main house, while still enjoying all the benefits of a glass-enclosed room.
Conservatories and Orangeries with a modern design
A greenhouse conservatory prioritizes an abundance of natural light, seamlessly blending the boundaries between house and garden. Customers can choose between polycarbonate or glass greenhouses, each featuring sleek aluminium frames, allowing for customization to suit their style and needs. Whether it's a modern orangery or a stylish sunroom, the full-height glass walls flood the room with sunlight, creating a luminous atmosphere that breathes life into the interior. With minimalist designs and attention to detail, these conservatory greenhouses provide a weather-sheltered haven while nurturing a connection with the outdoors.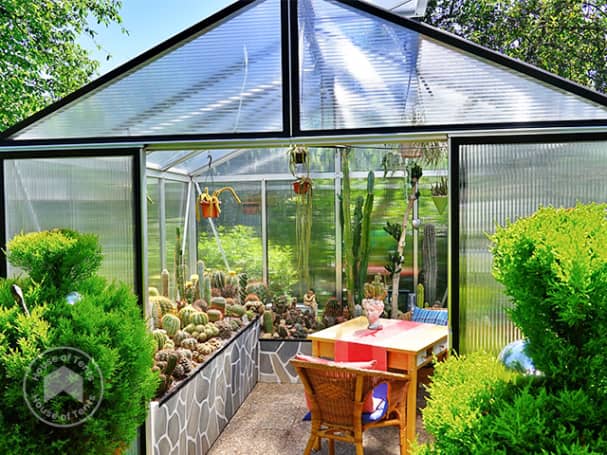 Orangery ideas: decorating with potted plants
When it comes to stylish orangery design and conservatory ideas, leafy plants can be the perfect elements to breathe life and vibrancy into your space. Consider arranging a variety of potted plants in different sizes and shapes, strategically placing them throughout your conservatory or orangery to create a lush, natural ambiance.
Conservatory greenhouses in various sizes
We have freestanding and lean-to greenhouses in many different sizes: for a small or extra-large conservatory. Especially for families, we recommend a large model. Allow for sufficient space for garden furniture and a range of plants to grow and thrive.
Our largest lean-to conservatory is the EDEN 26 model. Compared to the ADENA, the EDEN line is characterised by a generous depth of approx. 148 cm. Our largest freestanding greenhouses include the ASTERIA 25 with 16 square meters as well as the ASTERIA 25 PREMIUM with a width of approx. 311 cm - perfect for growing lots of vegetables and having plenty of room to relax at the same time!
A DIY Conservatory that you can build yourself
The great advantage of our DIY conservatory kits: You can build a DIY conservatory all by yourself! There's no need to hire an expensive specialist installation company, nor do you have to wait long for the installation to be finished. You can start your self-build project immediately after receipt of delivery, as the entire conservatory kit is included.
Lightweight aluminium parts and durable polycarbonate sheets are easy for DIY builders to install. As well as detailed installation instructions you can find practical step-by-step videos on our YouTube channel. Note that a foundation is a must for a DIY conservatory.
Is planning permission required when building an orangery extension?
The need for planning permission when building an orangery extension can vary depending on several factors, including your location, the size of the extension, and its relation to the original house. In many cases, smaller orangery extensions that meet specific size and height criteria may fall under "permitted development rights" and not require planning permission. However, it's crucial to check with your local planning authority or consult a professional to ensure compliance with local building regulations and obtain any necessary permits. You can read more about planning permission for gazebos and greenhouses in our practical guide to planning permission for home-owners.
Avoiding the high cost of an orangery
The cost of a traditional orangery usually starts at a minimum of £10,000, which can range up to over £100,000 depending on the building project. The overall cost, including labour costs and materials varies and depends on many factors, such as: the planned size, number of floors, location (corner or side wall) or the shape of the roof (lean-to, gable roof, etc.). Therefore, the question "how much does a conservatory cost" doesn't have a simple answer. But one thing is quite clear: the costs are high.
Especially when the costs of everyday items is surging, conservatory costs quickly exceed one's budget. A greenhouse is therefore an attractive and cheaper alternative. The cheapest option is a lean-to greenhouse. Our lean-to greenhouses start at under £750, to which you only have to add furniture, a range of indoor plants and lighting. Even a large ASTERIA 25 PREMIUM greenhouse conservatory or HERA 9 Glass in the range of £4000 - £4500, you will still have plenty of spare change from the £10,000 minimum price of a conventional orangery or conservatory.
Expert customer service
Transform your home with a DIY greenhouse conservatory extension, marrying style and practicality through customizable glazing options. Our customer service experts can help you with any questions you might have about the roof, planning rules for garden extensions and other factors you should keep in mind when building a lean-to conservatory or orangery extension.
*1
Our original price in this shop including 20% VAT.
*13
Please note that the delivery time may be longer if you order more than one product.