Buy a mini greenhouse for small gardens
If you don't have much space in your garden or on your patio or are just starting out in gardening, a small greenhouse will be perfect for you. Small greenhouses, also called mini greenhouses, are extremely space-saving and robust. A small greenhouse kit is perfect for beginners: Despite the smaller dimensions, you can grow a variety of plants and get started with gardening in a greenhouse. Whether a mini greenhouse or a small greenhouse - buy from a specialist retailer now!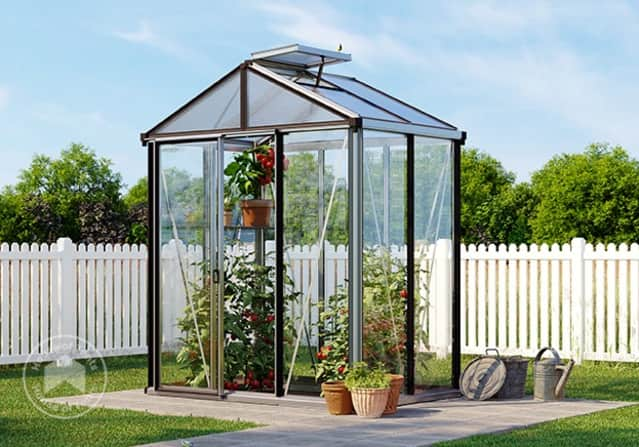 Mini glass greenhouses compared to other glazing options
A soft-plastic polytunnel is a cheap way for gardeners to provide a little extra warmth for their plants. Because of the thin plastic foil, it is not advisable to use a heating system in a tunnel. If you're considering a mini greenhouse made of glass, it's important that the glass used is specifically designed horticultural glass. Single pane glass has limited insulation properties and in addition, can lead to variable heat distribution around the greenhouse. Twin-wall polycarbonate sheets meanwhile are both excellent at retaining heat within the greenhouse and diffusing light evenly.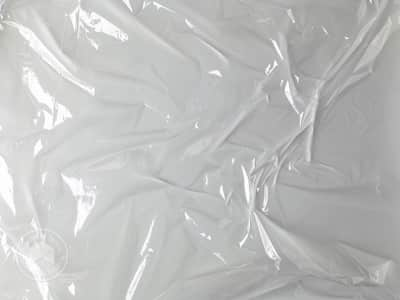 Soft plastic / foil tunnels
uses a tear-proof PE cover

lightweight & easy to move

cannot be heated

may not withstand strong winds

doesn't provide strong protection from UV light
Polycarbonate greenhouses
good insulation

diffuses light evenly

robust & shock-proof

easy to replace if necessary

UV-resistant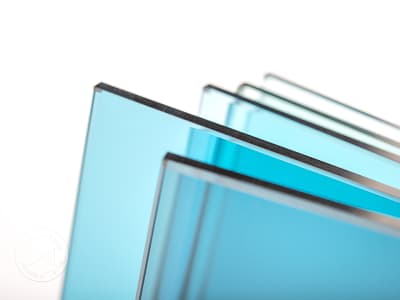 Glass greenhouses
long-lasting

optimal light transmission

easy to clean

susceptible to breakage

limited heat retention
Wooden mini greenhouses vs. small aluminium greenhouses
Our small and mini greenhouses are all made of high-quality aluminium and can therefore be used all year round. A greenhouse with an aluminium frame is durable and easy to maintain and has the added advantage of being anti-rot and incredibly weather-resistant. A small greenhouse made of wood is durable, but can only withstand the winter with intensive care and is also sensitive to the weather.
| Aluminium greenhouse | Small wooden greenhouse |
| --- | --- |
| very durable & sturdy | natural & biodegradable |
| weatherproof & rust-resistant | attractive natural look |
| easy to maintain | requires ongoing maintenance |
| load-bearing in case of snow | less long-lasting than metal |
| frame may be hot-to-touch in high temperatures | may harbour disease |
The advantages of a mini greenhouse
You can build a small greenhouse yourself
With a greenhouse kit you can build your own mini greenhouse. The basic prerequisite for self-assembly of your small greenhouse is detailed, easy-to-understand assembly instructions. These will be sent to you by e-mail after purchase and can also be downloaded online as a PDF on the relevant product page.
For most greenhouse kits, you will also find suitable assembly videos on our YouTube channel. In most cases, planning permission is not required for small greenhouses. Regardless of the size of your greenhouse, there are still requirements to be aware of so it's worth reading our guide to planning permission.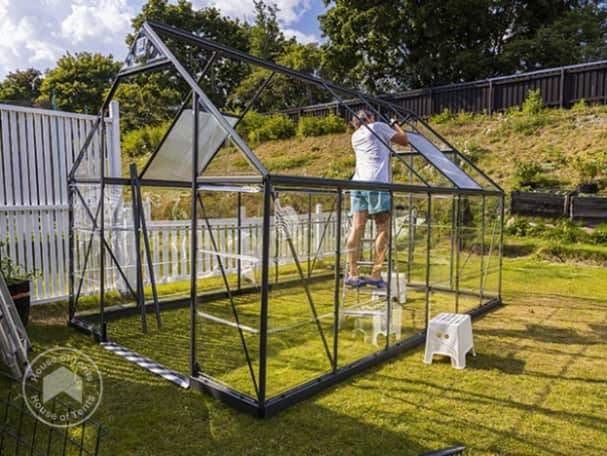 A small greenhouse is ideal for small gardens
A big advantage of a small greenhouse is that it is suitable for almost any garden or outdoor space! Even if your garden or patio has only limited space, you're sure to find a place for it. In particular, the EMMA mini-greenhouse will fit in any outdoor area, as it is specifically designed for height and not width.
Even if you have a large garden, you do not necessarily have to opt for larger greenhouses. A mini greenhouse is suitable for vegetable gardening, allowing you to begin gardening earlier in the year. Do you lease an allotment garden? Small patio greenhouses are perfect for gardeners with limited space in the garden. You can also use your small greenhouse on the balcony. If planning a balcony greenhouse, find out in advance how much weight your balcony can bear and whether the balcony floor is designed for this.
An even smaller alternative to our small greenhouses is a cold frame. A polycarbonate cold frame sits on top of a raised bed, providing extra warmth for seedlings and vulnerable plants.
A small lean to greenhouse optimises space
The Adena range features small lean-to-greenhouses with a depth of 77 cm. Fitting tightly against a wall optimises space in your garden. The heavy-duty lean-to also benefits from the warmth that gets captured by the wall and slowly released as the air temperature drops.
A mini greenhouse is ideal for tomatoes
Use your small greenhouse for tomatoes! The free-standing EMMA mini greenhouse in particular is excellent for growing tomatoes. As the plants grow upwards, this small, ca. 173 cm high tomato greenhouse offers ideal growing conditions.
In addition to EMMA, our other mini greenhouses are also perfectly suited for growing tomato plants. A small tomato greenhouse offers your plants effective rain protection. Without a roof, there is a risk that the plants will contract late blight infection. This infectious disease is caused by wetness and cool temperatures. Thanks to a mini greenhouse, your plants benefit from rain protection and plenty of warmth, so that nothing stands in the way of healthy growth!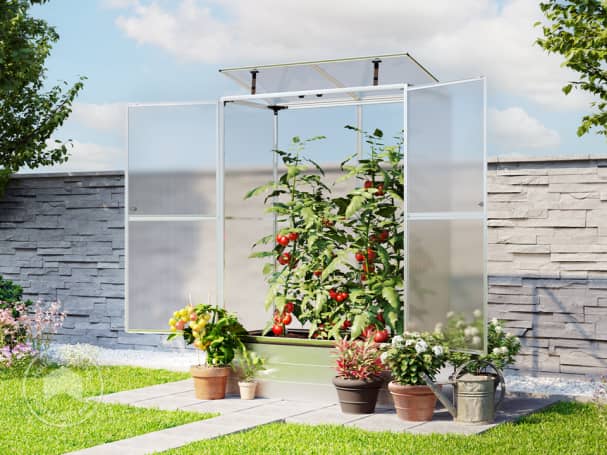 Frequently asked questions about mini greenhouses
Do mini greenhouses protect from frost?
How often should a mini greenhouse be ventilated?
What can you grow in a mini greenhouse?
Can I grow plants year-round in a mini greenhouse?
Can I use a mini greenhouse for starting seeds?
Our expert customer service is happy to help!
Should you have any questions about mini greenhouses that we haven't yet answered on this page, we're more than happy to help. Feel free to call our expert customer service and we'll answer all your unanswered questions in a one-on-one conversation!
*1
Our original price in this shop including 20% VAT.