Hardtop gazebos with a polycarbonate or steel roof
High-quality and stable hard top gazebos can be left outside right through the winter. They are our only truly permanent gazebos, using a fixed aluminium frame and either a polycarbonate or steel roof. A fixed gazebo with a hard roof is well suited to UK weather conditions. Our free standing gazebos with a hard roof provide shelter from rain, wind, and sun making them suitable year-round.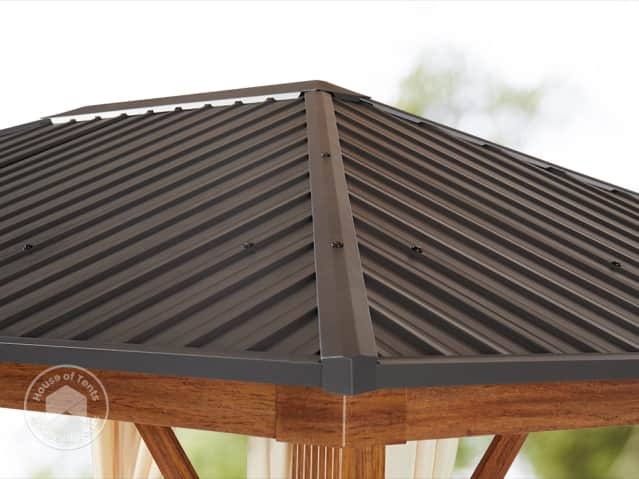 Our hardtop gazebo top sellers
Forest Deluxe & Superior garden gazebos
Sunset Deluxe & Superior garden gazebos
Permanent gazebos for all weather conditions
When you buy a permanent gazebo, you're investing in an all-year-round gazebo that is strong enough to withstand all sorts of conditions. Of course, all of our heavy-duty all year gazebos are completely waterproof and can withstand up to gale force winds. There's no need to dismantle your year round gazebo in the winter because the roof is windproof and waterproof and can accommodate snow.
Our permanent metal frame gazebos have a significant load bearing capability. For safety reasons, however, we still recommend that you remove snow as soon as it falls on the permanent gazebo. That's easily done with a soft-bristle broom or brush.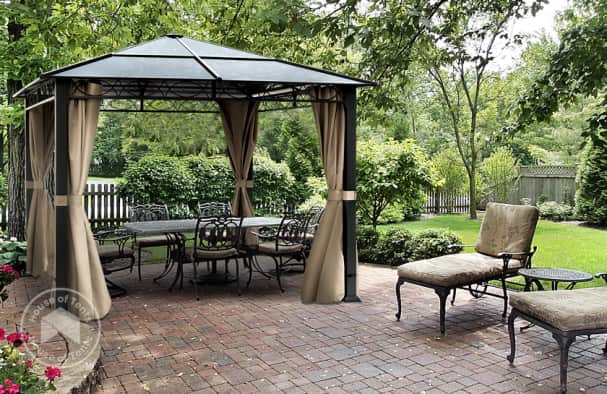 Hardtop gazebo with sides
Naturally, if you're planning to use your outdoor permanent gazebo well into the colder months, you will need an all year round gazebo with sides. The majority of our hardtop pavilions come with a full set of curtains. A steel or polycarbonate roof gazebo with sides protects against cold winds, rain entering from the sides, and retains heat in the gazebo. We also have a selection of hardtops without curtains for you if you don't need curtains for your permanent gazebo. And if you change your mind at a later date? No problem, replacement side walls can be bought in a range of colours and sizes.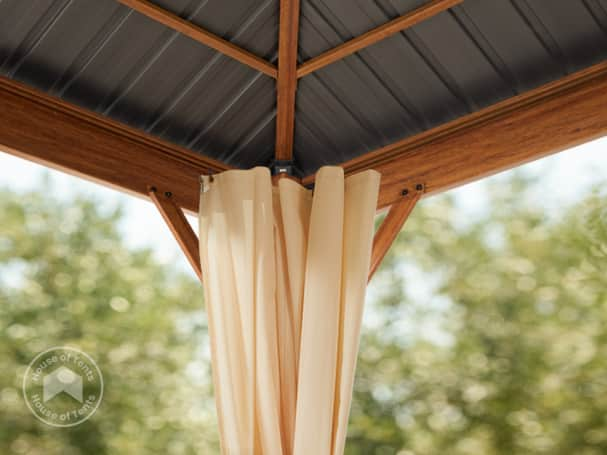 Gazebo roofs in comparison: steel vs polycarbonate
In our online shop you'll find not just garden gazebos with a fixed roof, but also models with a soft top canopy. Both types of models provide shade and shelter, even on stormy days - but where exactly are the differences? Which canopy is suitable for which purpose?
Steel roof gazebos
Product features
100% waterproof & stable

extra robust

max. snow load 110 kg/m²

shatter proof, even in severe hail storms

provides complete sun protection
See our steel roof gazebos
Polycarbonate gazebos
Product features
100% waterproof & stable

allows refracted light to enter the gazebo

max. snow load 50-80 kg/m²

light weight and easier to handle

50+ UV protection
See our polycarbonate gazebos
Polycarbonate gazebos: strong and durable roofs
Polycarbonate gazebos are suitable for outdoor use year-round. They're ideal for providing shade on the patio over long summer days or as rain protection in the colder seasons. Thanks to their heavy-duty roof material, gazebos with a polycarbonate canopy can be used as an all-weather shelter for garden furniture, a BBQ or a hot tub. The polycarbonate sheets are tinted, which reduces light transmission and blocks harmful UV light.
Polycarbonate is an ideal material for UK conditions because it offers a high impact resistance and heat resistance. The strong plastic sheets are much lighter than glass and more resistant to breakage. We have hardtop gazebos in our online shop that can bear a snow load of ca. 80 kg/m².
All of our product lines are available with a polycarbonate canopy. That means you can select polycarbonate gazebos from either our stylish Rendezvous line, modern Sunset line or natural Forest line with wood finish.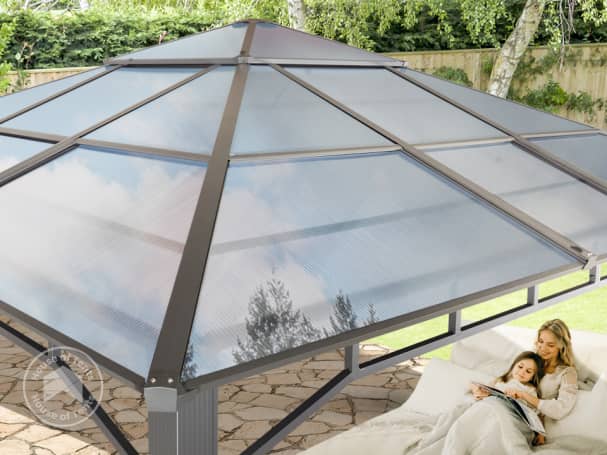 Metal roof gazebos: steel roofs built to last
A metal roof gazebo exhibits high weather resistance and stability. Steel in particular is an incredibly sturdy material for the canopy. A steel roof gazebo has a very high load bearing capacity. Just like the polycarbonate garden pavilion, the steel-roofed pavilion can be used all year round in the garden or on the terrace. A steel hardtop gazebo is also very easy to care for and doesn't require much maintenance. The steel gazebo roofs are made of ca. 0.7 mm galvanised steel and have an integrated metal hook for attaching outdoor lighting and decorations.
Our gazebos with a metal canopy all have aluminium leg posts that are particularly resistant to weathering. Forest Superior gazebos feature 16 x 16 cm square aluminium posts with a natural wood finish. The combination of the convincing wood-finish frame and steel roof delivers a striking impression.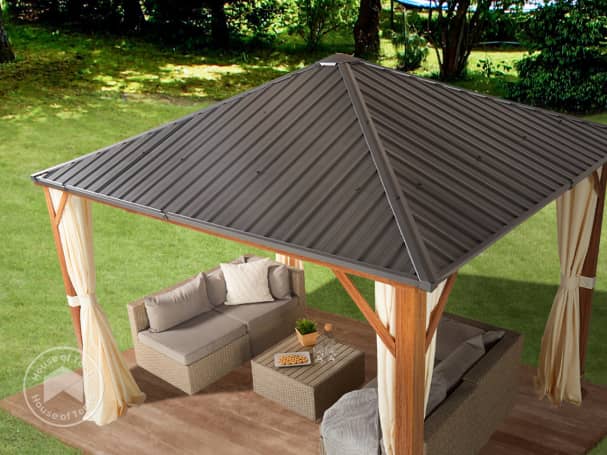 Hardtop gazebo sizes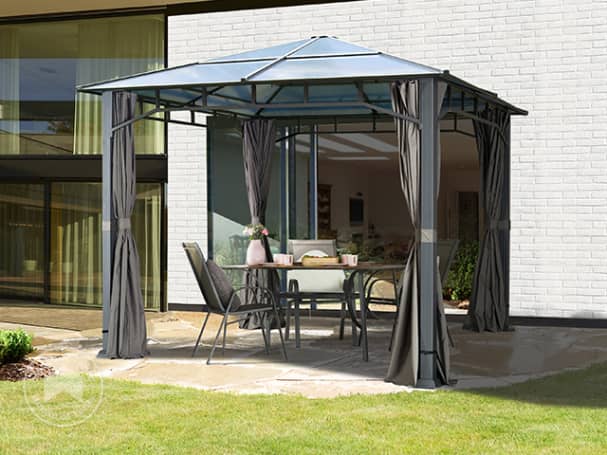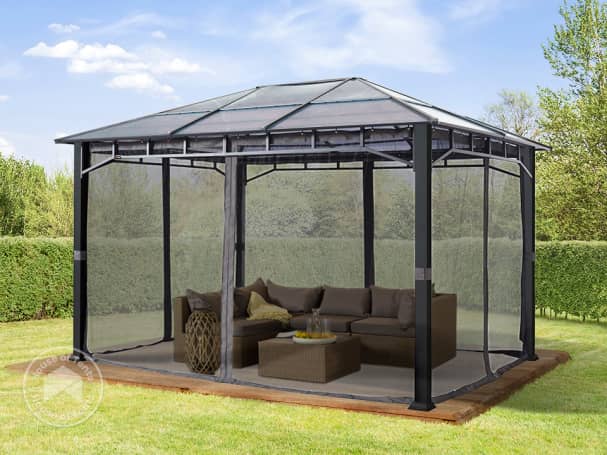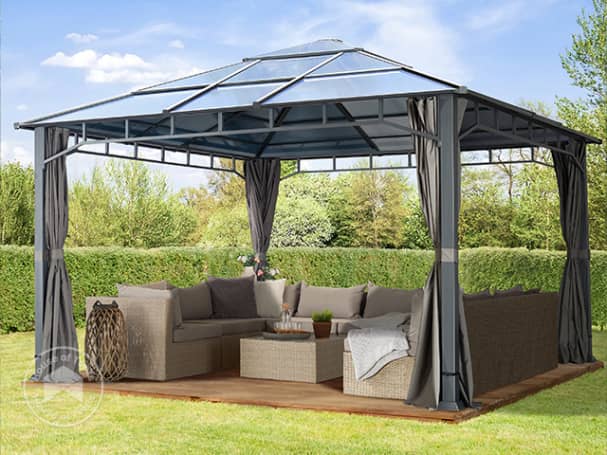 We offer gazebos with steel or polycarbonate roofs for all our designs in sizes 3x3 m, 3x4 m and 4x4 m. Hardtop gazebos in the size 3x4 tend to be our most popular. Possibly because it's the perfect size for brunch or an evening meal outdoors. A 3x3 gazebo with hardtop roof meanwhile is the best option where space is limited. There's still plenty of space to relax with family, but it won't dominate smaller gardens.
If you enjoy hosting get-togethers, parties, or even outdoor events in your garden or outdoor space, then a large gazebo measuring 4x4 m might be ideal for you. A 4x4 hard roof gazebo is the right size for hosting friends and family on your patio or in the garden. You can comfortably host up to 8-10 people under the polycarbonate or steel canopy of a 4x4 garden gazebo. A 4x4 hardtop gazebo is also big enough to be used as a year-round hot-tub gazebo. It's big enough to accommodate even the largest hot tubs!
FAQ: Frequently asked questions
How do I install polycarbonate roofing?
Which gazebo frame material is particularly suitable for year-round use?
How do I clean polycarbonate roofing?
Can the hardtop gazebo stand on the lawn as well as on the patio or does a foundation have to be poured?
How strong is polycarbonate?
How can I replace polycarbonate roof panels?
Our expert customer service will help you find the right gazebo!
Are you a little overwhelmed by the large selection of garden gazebos, folding tents or party tents and would like some personal advice? Do you have questions about the assembly of your garden structure or would you like to find out about current offers and prices? No problem! Our tent experts are more than happy to help you answer all your questions and help you find the perfect product.