What sets our garden greenhouses apart
Our polycarbonate greenhouses are made with high-quality aluminium and are therefore extremely durable and strong. We're so confident in the quality of our materials, that we offer a 15 year guarantee on the aluminium frames and a 10 year guarantee on polycarbonate panels.
Whether you want to buy a portable greenhouse, a hobby greenhouse or a commercial greenhouse - you will find the right size for every location in our range. Each individual greenhouse includes detailed assembly instructions, with video guides available online. Buy your greenhouse now at a great price from the garden specialists and start enjoying the benefits of your very own greenhouse!
Grow your own fruit & vegetables in a weatherproof greenhouse
Owning your very own greenhouse conveys many benefits. A garden greenhouse allows you to:
Grow organic fruit and vegetables

You have full control of the chemicals and fertilisers that you use for your plants. Ideal growing conditions mean that healthy fruit and veggies full of flavour can be grown with far less chemical input.


Extend your growing season

Using a greenhouse over winter allows you to grow plants all year round, even in areas with harsh winters. This means you can enjoy fresh, homegrown fruits and vegetables even when they're not in season.


Protect your plants from extreme weather events

Greenhouses offer shelter from wind, rain, and extreme temperatures, which can be harmful to your plants.

Control environmental conditions

With a greenhouse, you have complete control over the temperature, humidity, and light levels, which can be especially helpful for plants that have specific environmental requirements.
The perfect size greenhouse for each garden
The right size greenhouse is an important consideration. Not only do you need to factor in the size of your garden, but also the amount of planting you want to do, and your budget.
With best practices, you can expect a yield of around 4 kg of produce per year per square metre. Considering the different size greenhouses we have on offer, you can produce a yield of 10 kg to 66 kg with our products. Based on the consumption recommendations of the NHS, you can therefore grow up to 45% of your personal fruit and vegetable requirements in a single greenhouse.
Mini greenhouses for small gardens
If you don't have a lot of space, a small greenhouse measuring up to 8 square meters in area is the perfect solution. A mini greenhouse is even small enough to fit on most balconies, but still provides all the benefits of a traditional greenhouse. We offer small greenhouses like the SAPHIR 3 and TOPAS 4 mini greenhouses with an area of 5 m² each. In addition, the 2x3 m TOPAS 5 greenhouse and the COMPACT 5 greenhouse with a total area of 6 m² are small enough to fit within the smallest of gardens or yards.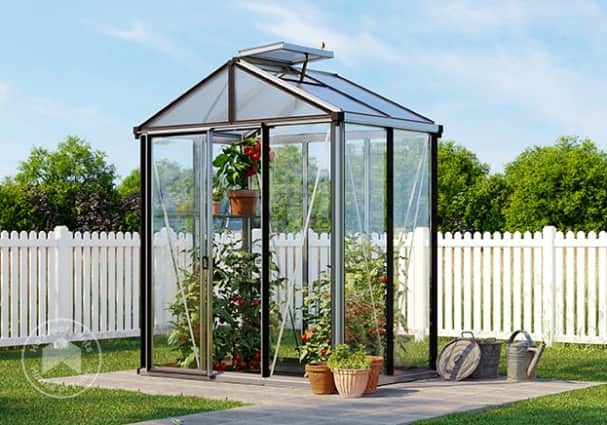 Walk in greenhouses for larger gardens
Our walk-in greenhouses are perfect for the serious gardener who wants to extend their growing season and protect their plants from the elements. Our large greenhouses are spacious enough to accommodate a variety of plants and provide plenty of ventilation to ensure that your plants get the air they need to thrive. Depending on which plants you sow next to each other, a distance of 40 cm between plants or more is required. Sufficient space is therefore vital for larger plants in particular, to prevent the build up of fungus, stress and disease.
Large greenhouses within our range include the ASTERIA 25 with a size of ca. 16 m² and the RUBIN 7 with a size of over 11.5 m². With dimensions of ca. 311x534 cm, our largest greenhouse, the ASTERIA 25 PREMIUM is the best option if you want to maximise space. Due to the extra width offered of ca. 311 cm, there's plenty of room for an extra row of potted fruit and vegetables, as well as storage areas and working areas.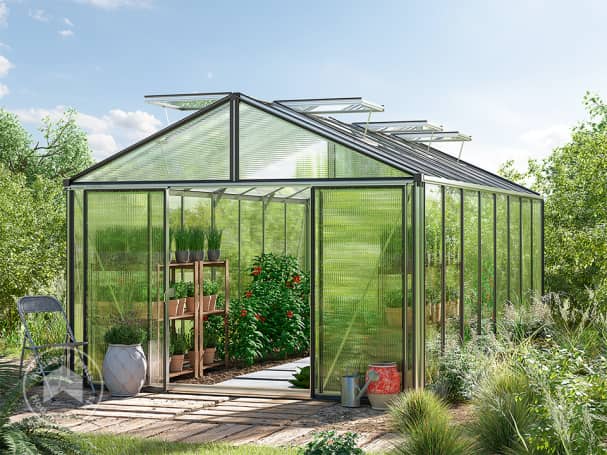 Overview of our greenhouse sizes
Greenhouses made of high quality materials
Polycarbonate greenhouses with twin-wall panels
Polycarbonate is an effective, long-life option for glazing a greenhouse. A plastic greenhouse with glazing of polycarbonate has a number of significant benefits. The polycarbonate greenhouse panels are twin wall, giving them great insulating properties. The layer of trapped air effectively traps heat within the structure. In addition, with high impact-resistance, plastic greenhouses are less susceptible to breakages than glass.
While allowing for plenty of light transmission, polycarbonate has another key advantage, as it diffuses sunlight evenly, preventing hot spots and reducing the risk of sunburn on your plants. Our multiwall polycarbonate panels are equipped with UV protection on one side, which means that in most cases, shading of the plants is not necessary. You can use the filter on this page to select from products with polycarbonate panels from 6 mm to 16 mm thick.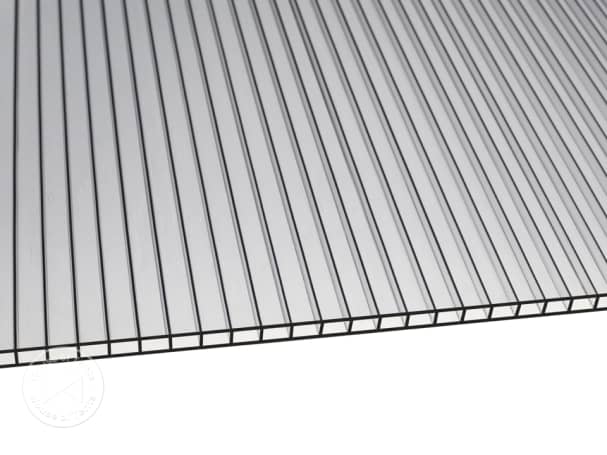 Optimise light transmission with glass greenhouses
We've carefully designed our glass greenhouses to feature high-quality glass sheets that ensure strength and long-lasting performance. The toughened glass( sometimes called tempered glass) goes is heat-treated to make it particularly strong and durable. Greenhouse glazing with this advanced glass is far better at handling changes in temperature compared to regular glass. Plus, these greenhouses don't just work well—they also look sleek and elegant, becoming eye-catching centerpieces in any garden. Add a touch of sophistication to your outdoor space and invest in the lasting charm of our high-quality glass greenhouses.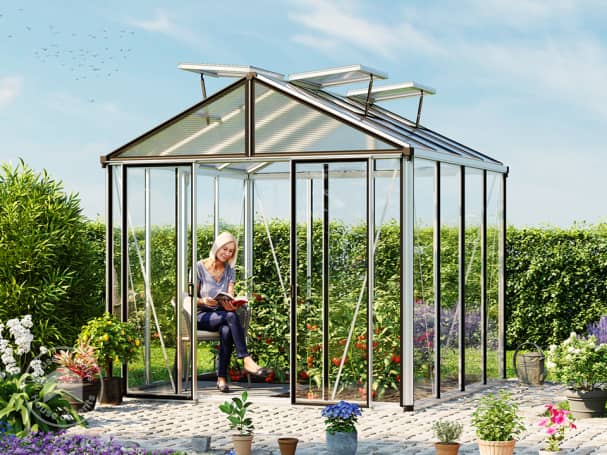 Aluminium greenhouse frames
Our aluminium greenhouses are notable for their top quality and functionality. But it is the freedom from maintenance and the longevity of our products that customers appreciate most about the aluminium frame used in our metal structures. In comparison, a wooden greenhouse kit requires a lot of care, inspection and maintenance.
In addition, aluminium garden greenhouses are very torsion-resistant and can withstand snow - the ideal winter greenhouses! Wind bracing on all sides serves as wind protection, and of course, aluminium is a highly rust-resistant material! A further benefit of our aluminium frame parts is that their design contributes further to the insulation of the greenhouse. The lightweight hollow aluminium profiles trap a layer of air that enhances heat retention while delivering the strength and durability required to afford you gardening joy for years on end.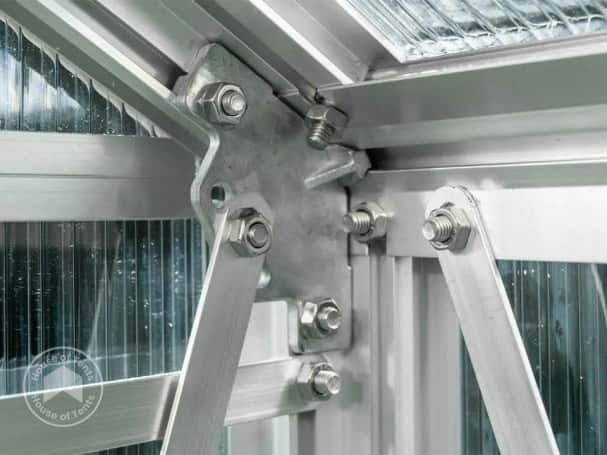 Greenhouse lines in comparison
Which greenhouse is the most suitable for you? We offer 4 different greenhouse lines in our online shop so that you have ample choice: the Standard, Hobby, Expert and Pro. Each of these product lines has individual quality features so that you can quickly find the perfect greenhouse model for you.
One feature that all have in common is that they include skylight windows in the roof so that you can ventilate your greenhouse well. All greenhouse also have high-quality aluminium frames and have a roof made of robust polycarbonate twinwall sheets. Now only one question remains: Are you a hobby gardener looking for a hobby greenhouse? If so, you will find what you are looking for in the Standard and Hobby Line. If you are looking for a greenhouse of the highest quality for professional plant cultivation, we recommend the Expert and Pro models.
Standard
Hobby
Expert
Pro
Thickness twinwall sheets
ca. 6 - 8 mm
ca. 6 - 8 mm
ca. 10 mm
ca. 8 - 16 mm
Greenhouse door
Hinged door
(except Viola 2)

Double sliding door
Double sliding door (except Premium 22*)
Single or double sliding door
Width
ca. 192 or 222 cm
ca. 225 or 259 cm
ca. 222 or 262 cm
various
Skylights / windows
1
up to 3
2
1 - 4


To the Standard models

To the Hobby models

To the Expert models

To the Pro models

* Premium 22 includes 2 automatic window openers.
Suitable greenhouse accessories
We offer greenhouses with accessories as a ready-made package: Simply select the desired package on the corresponding product page when purchasing online.
Greenhouse staging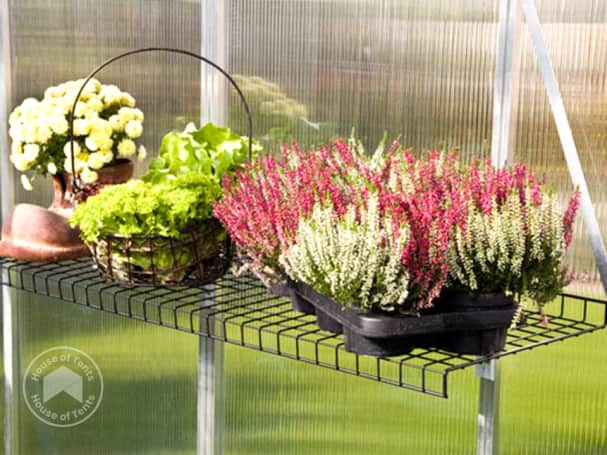 Create more growing space inside a small greenhouse with fold-out greenhouse staging. This is a great space-saving option and also makes caring for your plants easier. The fold-out lattice design also contributes to maximising air circulation and light penetration within the glasshouse. This useful shelving solution attaches to the aluminium frame and can be easily stowed away when not in use.
Automatic window opener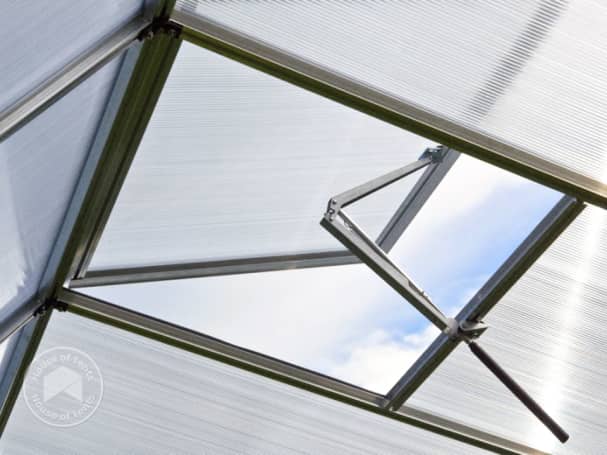 A must-have greenhouse accessory in summer: the automatic window opener. This window opener for your greenhouse automatically opens your window in case of overheating and closes it again when the temperature cools down to a comfortable level. Thanks to this accessory, optimal ventilation is ensured at all times, protecting your plants from heat build-up. You do not need a power supply for the opener. A piston attached to the opener contains a special oil that expands at approximately 22 degrees, opening the window.
Why a greenhouse base is necessary for your garden
A greenhouse should be equipped with a foundation. The foundation ensures an even distribution of stresses and loads across the entire frame.
To ensure the highest possible stability and excellent protection against external weather conditions, the greenhouse foundation should be cast in concrete. A concrete base plate, a kerb or strip foundation and a concrete point foundation are recommended. Choose the foundation for your greenhouse that best fits your budget.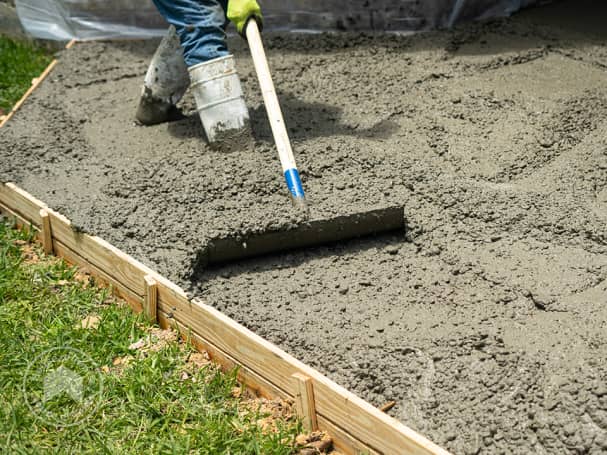 Tip: buy an aluminium foundation frame
Buy an affordable greenhouse with foundation included! The Expert and Profiline models already include a foundation frame. The foundation is attached to the floor profile providing a rigid and durable base. That also means that no extra concrete foundation needs to be poured. The free-standing Hobbyline and VIOLA models can be purchased with an aluminium foundation frame set. This frame not only saves the need to build a concrete foundation, but also makes it easier to erect the greenhouse on the patio or flat area of lawn.

Green house installation
Choose a sunny and wind-protected outdoor space for your greenhouse. By placing it close to a water supply, you'll save yourself time when watering. The greenhouse installation itself is uncomplicated and can be done by yourself. We have prepared detailed assembly instructions for each product including both pictures and text to guide you through the installation. You do not need to hire a specialist to build the growhouse for you.
Before setting out on installation, we have three tips to keep in mind. Firstly: Check that the greenhouse kit is complete and sort out all the parts the day before you plan to assemble the structure. At the same time, have the following tools ready: a spanner, cordless screwdriver, metal drill, tape measure or folding rule, spirit level, file and a step ladder. Secondly, plan enough time. It's best to start building in the morning so that you don't feel rushed afterwards. Most important of all is that you always and without exception follow the assembly instructions for your greenhouse.
Planning permission for a greenhouse
A common question we receive from customers is "do I need planning permission for a greenhouse?" In many cases, building a greenhouse in your garden does not require planning permission. However, there are some circumstances in which you may need to obtain planning permission before building a greenhouse.
For example, if you live in a listed building or a conservation area, you may need to obtain planning permission before building a greenhouse. Likewise, building a structure close to the boundary edge may in some cases require obtaining planning permission. Take a look at our advice on planning permission rules for building freestanding structures in your garden.
Frequently Asked Questions
What can you grow in a greenhouse?
When can you plant tomatoes in an unheated greenhouse in the UK?
How do you clean a polycarbonate greenhouse?
Our service
Our team of garden experts are ready to take your call. They can give you more information about our shatter-resistant polycarbonate greenhouse sheets, or the UV properties of glass alternatives. In addition, they can advise you on the weather-resistant properties of the aluminium frames.
*1
Our original price in this shop including 20% VAT.