Accessories for portable garages
What sets our garage tents apart
Portable garages are useful as a temporary garage, but are often used as a year-round garage tent. That's because all of our pop up garages are 100% waterproof, highly UV-resistant and stable. Using a heavy duty tent as a garage is particularly useful if you need a portable outdoor storage solution or if the shelter is only needed occasionally. Buy instant garages now from your specialist dealer!
Temporary garages for all types of vehicle
Our temporary garages and mobile carports are well suited to wide range of vehicle storage. From bicycles to motorhomes and boats, you can find a suitable garage tent in our selection.

Temporary garage as a carport
A mobile carport is a good alternative to permanent structures for storing your car. A big advantage of a portable garage compared to permanent garages or carports: no foundation needs to be poured. That makes our instant garages an obvious choice for anyone who needs a mobile car shelter for shorter periods.
Another plus point: a portable car shelter is easy to erect and dismantle and can be stored in a space-saving way when not needed. A permanently installed carport, on the other hand, is firmly attached to the ground and can't be moved. A portable garage offers shelter for your car from wind and weather. Unlike traditional carports, the car can be completely closed off from all sides. Not only does that maximise shelter from wind, rain and sun, but also puts your precious vehicle out of sight of passers-by. Finally, mobile car shelters are likely to be far cheaper in price than traditional car garages and carports.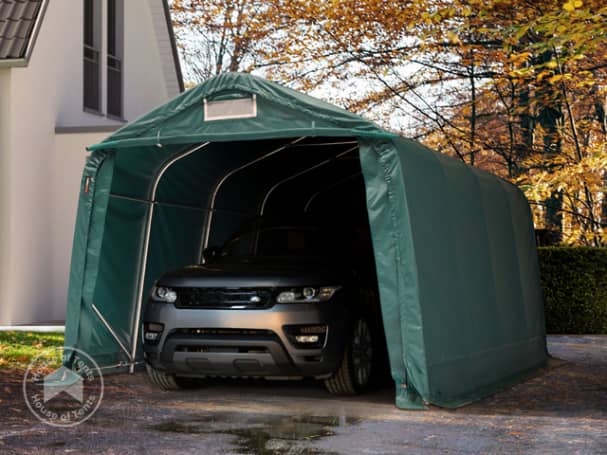 Temporary campervan garages
You can use a portable garage to store your motorhome or caravan. Especially larger tent garages make for ideal campervan garages. For motorhomes, a portable garage offers a number of advantages over leased campervan storage:
The rental prices of a leased parking space are very high. Also, you need to factor in the logistics of picking up your motorhome from the campervan storage lot. You may also find that reputable leased pitches have a waiting list. Temporary garages on the other hand, can be set up in a short time - even in your own garden. If you're planning to move house, your camper tent garage can move with you. There are also no additional costs after you've bought the campervan storage tent. At a managed storage lot, you can expect a monthly lease fee as well as a deposit.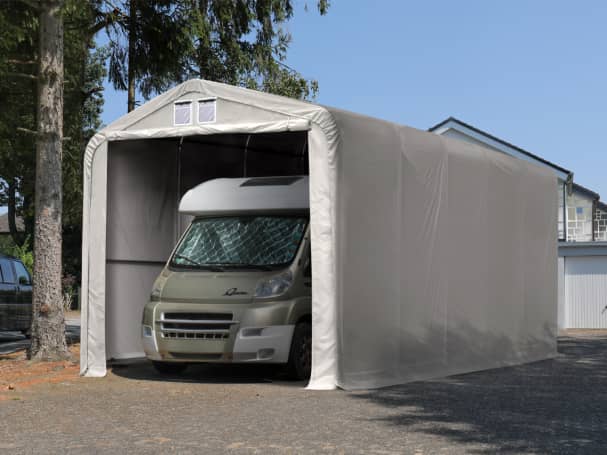 Portable garages for bikes and motorbikes
Get on your motorbike quickly and without fuss and enjoy the feeling of absolute freedom— a garage tent makes it possible! Motorbike storage tents can be moved at any time and fit into even the smallest corner in the garden. Our smallest pop up garages are just 1.6 m wide. The perfect fit for your bike. No more or no less storage space than you need!
These small tent garages are also perfect for bicycles in addition to motorcycles. Having bicycles on hand while camping, for instance is a must! You can explore your surroundings and enjoy the outdoor life with short cycle tours. A mobile bicycle garage is perfect for taking with you and setting up for the bikes overnight. If you have a permanent camping place, a storage tent for the storage of your bikes and garden equipment is something you can't do without.
Portable garages as a garden shed
Also for your home, a portable garage is an affordable and simple option for use as a portable garden shed. Our PVC canvas garages can be used year-round to store garden equipment such as a lawn mower, tools, outdoor sports equipment and barbecues. Our mobile garages are also useful as a log store, providing shelter to a firewood stack. Buy a slightly larger model and you can use it as a cost-effective portable garage workshop for DIY projects. Alternatively, you may be interested in our metal garden sheds.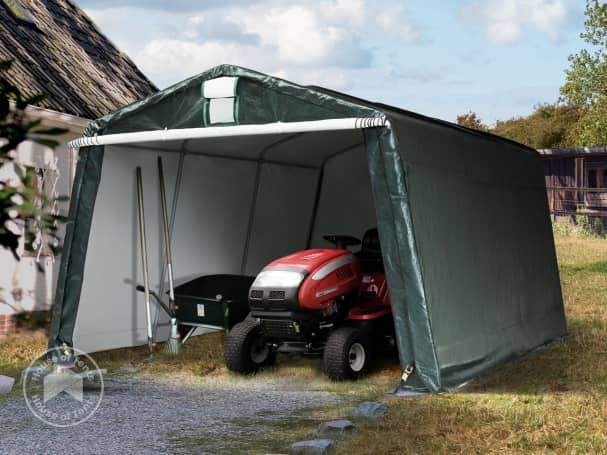 Portable garages as boat storage
In addition to cars, motorcycles and bicycles, garage tents are also ideal as winter boat storage tents. In particular, the 4 m, 5 m, 6 m and 8 m models are suitable garages for boats in terms of width. Protect your dinghy, your motorboat or even your yacht from any weather conditions!
The big advantage of a marquee garage for your boat compared to a rented space at the marina is cost. You're no longer competing with hundreds of other boat owners for limited space. You can access your boat at any time and will have the space to work on it at your own home.
Our range of products
All our carport tents are built using a strong tarpaulin fabric around a heavy duty metal frame. You can choose between tarpaulins made of PVC and PE. The PVC material has a dense inner mesh fabric, making it incredibly robust and tear-resistant. In comparison to PE tarpaulins, PVC tarpaulins are more tear-resistant, more hard-wearing and protect against UV rays that cause permanent damage to the paintwork of your car. On the other hand, our polythylene fabric (PE) tarpaulins are lighter and easier to store.
So if your carport tent is to be used over a long time, particularly over winter, a PVC tent garage is the best choice. If you will only be using the portable garage temporarily, a tarpaulin made of PE offers you the perfect compromise between durability and easy handling.
PE tarpaulins
easy to handle & space-saving to stow away

weighs less than PVC

is cheaper in terms of price

Tear strength²⁵ ca. 450 N

perfect for occasional use
See all PE parage shelters
Long-life PVC
particularly durable & tear-resistant

with dense grid inner fabric

similar to the feel of a lorry tarpaulin

Tear strength²⁵ ca. 500 up to 850 N (depending on model)

perfect for long term use
See all PVC garage shelters
A key advantage of our garage tents is that they have ventilation flaps in the gable ends to counteract the build-up of moisture in the shelter. Also, all our mobile garages are UV protected and 100% waterproof thanks to heat-sealed seams. Our winter-proof Premium and Professional shelters are also equipped with a floor skirt. In bad winter weather, this provides effective protection from the wind and also diverts rainwater away from the edge of the tent, ensuring that the base remains dry.
Fireproof tent garages
If you are planning to carry out work on your vehicle or if your mobile garage is to be used by the public, we offer fire-safe tent garages. These shelters feature a PrimeTex PVC tarpaulin that is certified fire safe according to EN-13501-1. Compared to commercially available PVC tarpaulins, these fire-safe certified tarpaulins are 3x more tear-resistant with a tear strength of 850 N²⁵. This tarpaulin also stands out with its weather resistance. Our falme-retardant PrimeTex PVC tarpaulins have a strong 50+ protection from UV rays.
Portable garage sizes and features for all your needs
A wide range of sizes means that our portable garages cater as a canopy for every type of vehicle. The entrance width extends from narrow 1.10 m roll-up doors to extra-wide doors of 4.10 m for our largest tents. Extra large Viking tents are available with a door height of up to 4 m for some models. Our professional and Viking pop up garages feature a tarpaulin tensioning system that allows you to adjust the tensioning of the garage covers, maintaining a great fit over many years.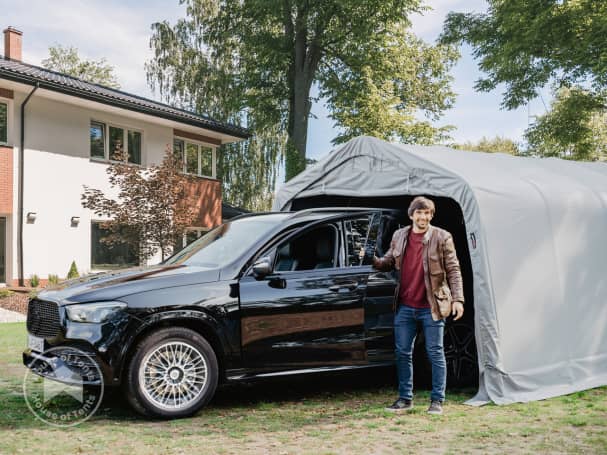 Portable garages and planning permits
Under planning permission rules, portable garage shelters are considered outbuildings. Outbuildings are considered permitted developments (meaning that you don't need to apply for planning permission) if a number of criteria are met. These include that the storage shelter is situated behind the front wall of your house, less than 4 m in height at the apex (or less than 2.5 m if it is within 2 m of the property boundary), and that the area of the instant garage and any other outbuildings on the property is less than 50% of the original building.
Heavy duty portable garages for extra stability
Robust portable garages are characterised by their sophisticated construction: bolted steel poles, cross-beams in the roof and diagonal braces in the gable sides ensure stability and additional support for the tarpaulin.
Our mobile garages have a heavy duty corrosion resistant steel frame. This high quality material is resistant to scratches and impacts and protected against corrosion thanks to thorough galvanisation. The sturdy steel tube frame of the garage tents is easy to assemble, with the steel poles being bolted or screwed together. The result is a stable and wind-proof shelter for your vehicle.
Our Premium, Professional and Viking lines have been tested for their stability and the heavy duty portable garages have been certified by an engineering office. A structural analysis, included in delivery, contains a detailed list of the snow load (in kg/m²) and wind load limits that the shelter can withstand when anchored correctly.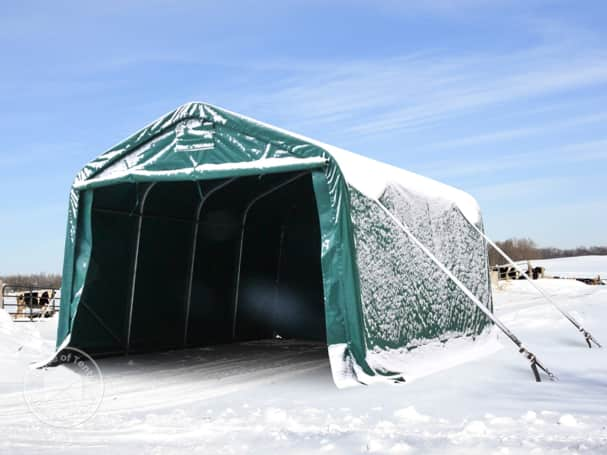 Our portable garages with statics package
Our Professional lines with a width of 3.3 m also come with a statics package including structural supports and an accompanying analysis, carried out and certified by an engineer. The structural analysis manual contains a detailed list of the snow load (in kg/m²) and wind load limits that the portable garage can withstand. The statics package is optional for Viking models.
Strengthen your garage tent with a tie down kit
Special accessories can increase the stability of your outdoor shelter. Investing in storm protection comes at a low price, when compared to the potential for damage to your car or motorcycle. With tie down ratchet straps your car shelter can be anchored to the ground using robust tension belts, ratchets and pegs or concrete anchors.

Our lines of garage tents and carports at a glance
| Product line | Economy | Premium | Professional | Viking |
| --- | --- | --- | --- | --- |
| Tarpaulin | PE | PVC | PVC (fireproof) | PVC (fireproof) |
| Colour | dark green | dark green or grey | dark green or grey | dark green or grey |
| UV protection | | | SPF 50+ | SPF 50+ |
| Frame | powder-coated steel | powder-coated steel | fully galvanised steel | fully galvanised steel |
| Ground bar | | | | optional |
| Statics package | | | | optional |
Assembly of a garage tent and carport
The assembly of a portable garage is easy. Along with your shelter, you will receive all the necessary parts and detailed step-by-step instructions. Follow the instructions and once the frame has been erected, fit the tarpaulin correctly and fix it securely to ensure the stability of the tent. An optimally taut tarpaulin prevents movement of the canopy and facilitates rainwater run-off. Our YouTube page is also a useful resource for seeing how the storage shelters are assembled.
Our service
All of our garage tents and carports can be found on this page. If you'd like advice, our customer service team is available to answer your questions about our products and help you choose the right model.
*1
Our original price in this shop including 20% VAT.
*25
According to the standard "DIN EN ISO 13934-1", the tearing strength is determined in a stretch test using a 5 cm wide strip sample of the tarpaulin. The specified value thus indicates the tearing force per 5 cm of tarpaulin width (in the lengthwise direction).