What sets our storage tents apart
With a wide variety of sizes, features, colours and materials, there's an outdoor storage tent for everyone. Solid steel frames, strong PVC tarpaulins, and flexible options for entrances, doors and lighting all contribute to creating an all-purpose portable storage shelter for the protection of goods, machinery and building materials.
The many possible uses for a storage tent
Whether for private, commercial or industrial use, the possibilities of a storage tent are diverse. Tent storage ideas include using it as a garden storage shed, a work tent, as a shelter for your vehicles or machinery, or as a utility tent at a sports club or camp site. Because storage tents are easy to put up and take down, they're ideal for setting up on-site for a matter of days, weeks or a few months. Many customers need the shelter for long-term use and leave them standing over a period of years. The durability of each and every part means that you can get the most out of your storage space for years on end.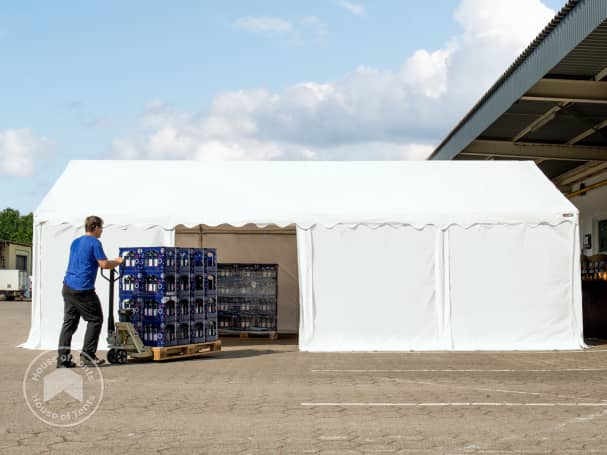 The perfect storage shelter for camping
Small storage tents or tent garages can serve as a portable shelter to be used while camping. A storage tent for camping offers maximum privacy. They can be used to store bikes, or as a shower tent. They're particularly useful if you have a permanent camping place. Set up in the corner of your campsite, a utility tent provides storage for bicycles, garden furniture, garden tools and beach gear. When used on grass, a groundsheet can be a sensible addition, to limit the amount of condensation that builds up in the utility tent.
Fans of camping might also benefit from a caravan storage tent with an entrance of up to 4m high for wintering their campervan or motorhome.
Weatherproof storage tents for all year use
A storage tent must be suitable for all weather conditions. As well as high-quality frames, connectors and tarps, our waterproof storage shelters feature extra strong anchoring.
The tarpaulins of our storage shelters are made of stable, tear-proof PVC - which is comparable to a robust lorry cover. The PVC has a high level of UV resistance and can withstand hot and cold temperatures. Seamless roof and side panels sit especially tight against the frame, reducing the amount of surface area open to wind. Special pulley systems in some product lines further improve the secure attachment of the tarpaulin to the frame. From our mid-range of storage shelters upwards, the frame features a retractable system of support cables or poles. As a result, rain runs off without settling on the canopy.
The stable, fully galvanised frame is a big factor in the stability of the utility tent: Extra-strong poles, connector and solid ground anchors made of 100% steel withstand wind and bad weather, making the tent stable. When stability is a concern, tie down ratchet straps can further improve the strength and load bearing capacity of the work tent.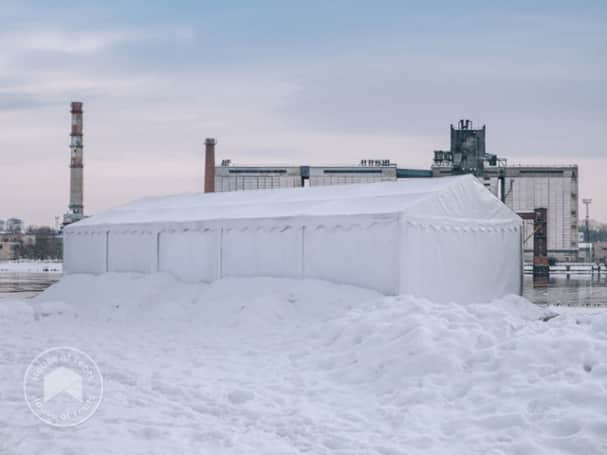 Storage tents in the right size
You can choose from a huge variety of storage tent sizes. A small storage shed of 3x2 m could be used to store a barbecue, a ride-on mower, or garden equipment. They're also ideal as a log store to shelter a firewood stack. Since the side walls can be removed, you could even use it as a makeshift gazebo or canopy to provide pleasant shade in the garden during summer. For large storage tents, dimensions extend to 10x20m, which makes the shelter suitable for commercial storage or as a work tent when your business needs to expand quickly. Sidewall heights extend from 2 up to 4 metres high giving you the ability to order the tent that fits your requirements perfectly.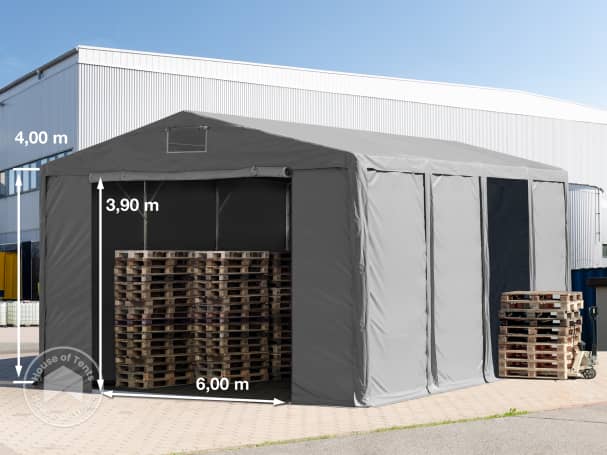 Choose the right storage tent product line
Our different product lines of storage tents are designed to be used year-round and are extremely durable. All steel parts are fully galvanised, making them anti-corrosive. Only robust, durable PVC tarpaulin material is used. PVC is 100% waterproof and offers high UV protection. Given their strength and durability, our storage shelters make an outstanding alternative to a permanent building structure.
An Economy storage tent can be strengthened with a base frame or roof reinforcements and features a PVC tarpaulin. If you're looking to keep outdoor equipment safe and dry in a garden shed, this will do the trick just fine. Due to it being lighter and fairly simple to assemble, this storage tent is especially suitable for portable or short-term use. Carry and storage bags make it even easier to transport.


The Premium product line represents our mid-range shelters. Premium shelters feature a strong PVC cover, a base frame and two-fold roof reinforcement. As a result, the storage shelters are very stable and durable. Schools and clubs may consider a premium shelter for use as a bike shelter or an outdoor canopy for students or members.


The Professional product line is part of our upper range of storage tents and in comparison to the other product lines, features an extra-strong frame and heavy tarpaulin covers. It also features two-fold roof reinforcement as well as a base frame, making it extremely stable. Heavy duty professional shelters are available with wall heights from 2 to 4 m. Two types of material are used: robust PVC tarpaulins, as well as extra heavy Prime PVC tarpaulins. These are 3x more tear-proof than standard PVC tarps, are certified as flame retardant.

The most important differences between our product lines
Economy
Premium
Professional
Tarpaulin tear strength[25]
700 N
750 N
800 N up to 1400 N
Frame:

lightweight
stable
sturdy

strong
very stable
very sturdy

especially strong
most stable
most sturdy

Ground bar:
no
yes
yes
Roof supports:
basic roof supports
2 factor roof supports
2-3 factor roof supports
Skylights (PVC):
no
no
options with skylights


To the economy tents
To the premium tents
To the professional tents
House of Tents exclusive: Fire-resistant storage tents and skylights
Fire-resistant certified storage tents are available in every product line, according to the following European standards: EN 13501-1 or CH-BKZ 5.2. This guarantees the highest level of security and complies with fire safety regulations required for public events. Insurance companies may require that you use flame retardant materials. You can find our fire-resistant storage sheds with the characteristics filter on this page.

If you're planning to do some work on an old car or DIY project you need light, making our storage tents with skylights the perfect choice. Just like the rest of the tarpaulin, the skylights are made of sturdy PVC. This PVC material is translucent, letting natural light flood into the tent.
The key advantages of a storage shelter
Fast, easy use: A storage shelter provides an ideal solution for on-demand storage and warehousing problems. Assembling or dismantling a storage tent is quick work - you can create a sheltered space for materials, goods or machines in no time. As a result, you can pop up a tent without fuss, and it can be stored or sold if no longer needed.
While the construction of a permanent building will need to be permitted by authorities, a temporary outdoor structure saves you time and money. In general, storage tents can be set up immediately and are far more cost-effective than a comparable permanent building structure.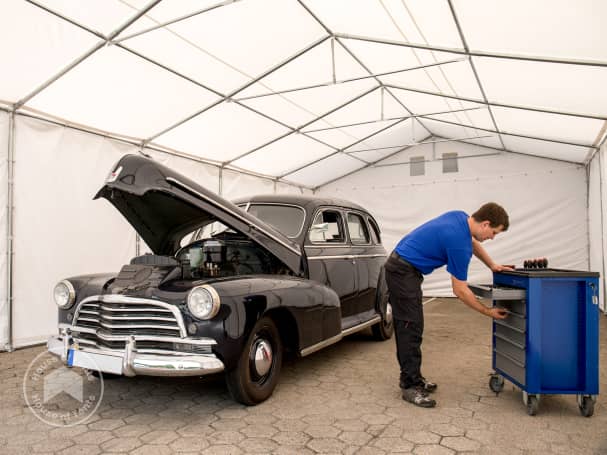 These utility tents are also modular in design, giving you the option to increase the size of the sheltered storage area in any direction using connecting gutters. The outstanding functionality of our tents assists smooth workflow at construction sites or logistics operations.
For all of our models of storage shelter, the awning tarpaulin and wall sections are separate. The side walls can be individually attached or removed at intervals of 2m. This creates numerous possibilities for entrances on the sides of the work tent and even gives you the option of removing all side panels to use the shelter as a canopy during warmer weather. You may also want to add a window panel to provide more light or shelter. For storage shelters with a width of 8m you have a choice of custom gable panels with either a standard zipped gate, a pull up gate including utility doorway for personnel, or a large sliding entrance gate.
Professional storage tents with roof supports and adequate anchoring are suitable for year-round use and will provide years of service.
Flooring for storage tents
A hard floor is a necessity for many permanently installed storage tents. There are numerous options for installing either a temporary or permanent floor, including plastic matting, a chipboard floor, or a concrete slab. We weigh up the advantages and walk you through a how-to guide for building a chipboard floor in our magazine article DIY flooring for marquees and storage tents.
Our service
If you're not experienced with outside storage tents it can be hard to know what to look for. This page gives you an overview of the various models available in our shop. You can find even more details about our high-quality materials on the individual product pages. For the majority of our products, we also offer guaranteed availability of replacement parts for a period of 10 years from the date of purchase. Do you have questions about our heavy duty storage tents? Our expert customer service will be happy to advise you personally!
*1
Our original price in this shop including 20% VAT.
*25
According to the standard "DIN EN ISO 13934-1", the tearing strength is determined in a stretch test using a 5 cm wide strip sample of the tarpaulin. The specified value thus indicates the tearing force per 5 cm of tarpaulin width (in the lengthwise direction).