A patio at home is simply something very special. Sitting outside, reading a book, dining outdoors or simply relaxing – just to name a few advantages. But when it rains or the sun is too strong, it can quickly become uncomfortable.
To enjoy shade and shelter on your terrace to the full at any time, a roof over your head is a smart choice. But there are so many different types of patio shelters – which one should you choose? Alongside garden awnings and gazebos, there are pergolas and parasols. Not only that but there are structures that are retractable, and motorised canopy slats that can open or close.
These contents await you in the article:
Which is better: a canopy that's fixed in place or one that you can move?
Before you give your patio a roof, you have to decide – either for a mobile or a permanent solution. Often this decision depends on your budget. Also, the choice is influenced by whether a building permit is necessary, whether the owners of your building agree to building changes at all and whether you buy or hire the patio roof.
You don't want to change your mind after installing an expensive structure. For that very good reason, we'll present the advantages and disadvantages of some of your options in more detail below.
Permanent patio roofs
Pergola with roof slats
Whether a lean-to design or freestanding, a pergola is a stylish addition to your garden or outdoor area. They have a roof made up of cross beams or slats that either provide shade themselves or provide a framework for vines to grow and create natural shade.
Modern designs often have adjustable slats that can be set in an angled position to block direct sunlight, while still allowing indirect light to enter your patio through the roof.
A modern pergola with adjustable slats requires installation by a professional, but can be left standing year-round.
They are generally mounted on the ground and are free-standing, but a lean-to pergola attaches to the house façade in addition to the patio itself. You must therefore ensure that it can be attached to the wall at all, i.e. that holes can be drilled into your exterior walls, for example.
The pergola will need to be stable and of high quality. A cheap structure won't withstand the effects of the weather. This applies especially for the mechanics that control the adjustable pieces. Therefore, the roof must be 100% waterproof, UV-resistant and stable, among other things.
The advantage of pergolas is that components are firmly attached to the ground. One side may lean against the house wall, so fewer posts are needed here.

Even though both options generally have open sides, they are an ideal rain and sun shelter. Being able to adjust the roof slats is a real bonus too. Especially when the sun is strong, you can open up the canopy while still benefiting from shade from the sun.

The disadvantages of the pergola are of course that they are generally very expensive. They also need to be installed by a professional and this can be expensive and time-consuming.

Damage to an adjustable piece or to the electronics could also be a nightmare.
Patio awnings
An awning that is fixed in place and isn't retractable can be a cost-effective option for providing shelter to your outdoor terrace. These patio awnings generally don't extend too far from the wall, often acting as a door canopy, providing just enough shelter to stop rain from entering the home.
Our recommendation: the freestanding hardtop garden gazebo
In addition to the pergola and the lean-to gazebo, garden gazebos are also an example of a permanent patio shade provider.
These structures are stylish and robust. They provide great protection from both bad weather and sun. The ground anchors are completely sufficient for the stability of the garden pavilion. Garden gazebos are of course 100% waterproof and have a high UV protection.
It's worth investing in a canopy with a solid roof, a hardtop. Tarpaulin canopies made of polyester fabric with a PU coating should be taken down over the winter, while hardtops can be left standing all year round. At least that's the case with a garden gazebo from House of Tents – the high quality polycarbonate panels are designed to stand up to all kinds of weather conditions.
Garden gazebos have several advantages over a garden pergola:
They're cheaper and more cost-effective

Installation doesn't require an expert and can be done by yourself. At House of Tents, instructions are delivered with the product as well as the necessary tools.

You have the option of enclosing or partially enclosing your outdoor living space at any time with the side panels included in the delivery. The side panels are simply attached to the canopy frame using a curtain pole or curtain rod and offer you the perfect wind and privacy protection. They're also ideal shelter from sun and rain. And if mosquitoes plague you in summer, you can order mosquito nets as optional accessories.

They're mobile. Unlike an awning or lean-to, which requires fixing to a house wall, you're free to move the garden gazebo and set it up somewhere else in the garden.
They also have several advantages over garden awnings:
They provide far more shade and shelter than a garden awning. Side walls can be used flexibly to provide shade from whichever direction you need it.

Garden Gazebos are more sturdy than a patio awning. You'll enjoy years of maintenance-free sun and rain shelter for you and your garden furniture.
Comparing our three polycarbonate gazebo models
Did you know?
The frame of the hardtop shelter is ideal for decorative purposes. You can create a wonderful outdoor lounge area using the patio roof by adding climbing plants and LED lighting, for example. Thanks to the climbing plants, your gazebo becomes an individual climbing aid and comes very close to a pergola in terms of planting – albeit of a much higher quality. The Deluxe models are available at House of Tents in the colours cappuccino, champagne and loft grey and in the sizes 3×3 metres, 3×4 metres and 4×4 metres.
Temporary and moveable patio canopies
Temporary canopies for your patio are also extremely fashionable. Unlike permanent canopies, these stay in the garden for a few weeks at most and are then taken down and stored away. This gives you more flexibility. In addition, they are also extremely attractive from an economic and administrative point of view, because, in most cases, no building permits are required. For more information, please contact your local building authority.
Retractable patio awnings
We also classify a retractable awning as a temporary design, as it can be retracted and extended at any time.
A retractable garden awning provides good protection from strong UV rays. It also provides privacy from upstairs neighbours. For example, if you live on the first floor and there are other flats above yours, these neighbours can't catch a glimpse of you enjoying your morning coffee from their balcony when the awning is extended.

In theory, a retractable awning also doesn't need to be as sturdy as a fixed patio awning, because it can be stowed away in bad weather.

The awning doesn't provide sufficient protection from sideways wind or rain.

The awning usually needs to be installed by a specialist. This costs time and money.

You can't mount side walls directly, so the awning doesn't provide shade or privacy from the sides. Although there are models with additional side awnings, these are generally only available for a specific side and not for the entire terrace. An awning is also less stable than other outdoor enclosures – such as a pergola, a hardtop gazebo or an arbour.
We recommend: pop up gazebos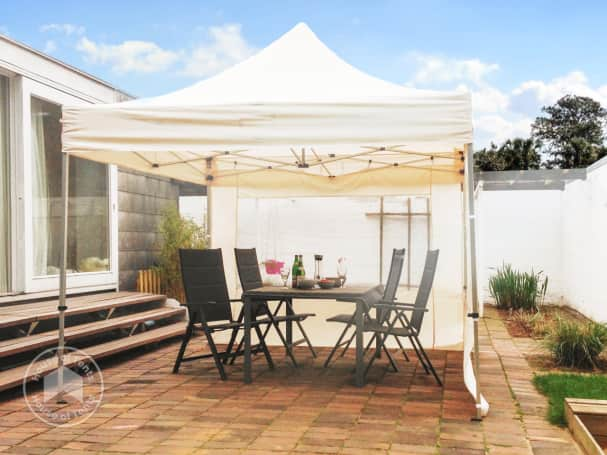 In addition to the patio awning, temporary solutions also include pop up gazebos, marquees and garden gazebos with a tarpaulin fabric canopy. You'll find all of these garden tents in the House of Tents range. However, we particularly recommend pop up gazebos. Why? For the following reasons:

They are flexible and mobile

The great advantage of a pop up tent is that it can be transported anywhere. It can be erected and dismantled within a few minutes - not least thanks to its folding canopy and light weight. In order to make transport and storage as convenient as possible, you can find special bag sets in the House of Tents range of accessories.

They're completely encloseable

You want to dine alresco in your garden in peace and quiet and above all unobserved by the glances of the neighbours? Then the pop up tent is exactly the right model for you, because it's available in many different sizes and with side walls. You can decide at any moment how many side walls you'd like to have set up. These are also available in many different colours - from plain white to bright orange.

They protect you from sun, rain and wind

You'll find pop up tents in our range with both aluminium and steel frames. You also have a choice of fabric. You can choose between tarpaulins made of high-performance polyester, which are PVC-coated, and PVC tarpaulins. Both versions offer high UV protection, are 100% waterproof and stable. They also offer ideal protection for your garden furniture if you place it outside.
What material is best for the frame?
Once you've decided whether you prefer a temporary or a permanent patio roof, the next decision to be made is the choice of material for the frame and canopy. For the frame: choose from wood, steel or aluminium. Naturally, some materials require more maintenance than others or are more or less resistant to the damp or to harsh UV rays. Such criteria should therefore be taken into account before buying so that your pergola, gazebo, lean-to, or awning will last as long as possible.
Timber, for example, is very often used as a frame for a garden awning. Wood is a classic material that fits well into garden designs. However, choosing a wooden structure is not necessarily the best solution. The assembly requires a lot of time and effort. In addition, wood is a high-maintenance material and needs to be treated regularly. If too much moisture settles on the wooden boards, mould and fungi can develop and eventually the patio cover can start to leak.
For those reasons, the use of metal is common for patio canopy frames. Steel or aluminium frames in particular are considered to be extremely robust and durable. Both metals are ideal for year-round use. We recommend that you choose an aluminium frame. Steel frames are heavier in weight, but aluminium is naturally more resistant to rust.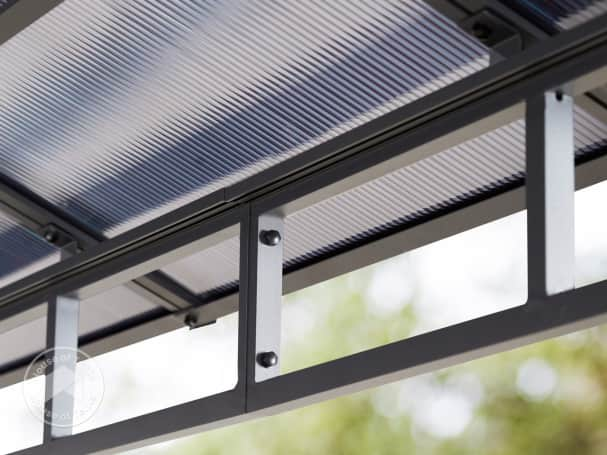 Patio cover ideas in summary
Both temporary and permanent patio canopies are available for you as a shelter for your outdoor space. Decide for yourself how long you would like to have your terrace covered, which quality you prefer and set your budget.
Temporary options include patio awnings, pop up tents, marquees and garden gazebos with a tarpaulin fabric canopy. A patio awning that is retractable shares many of the advantages of the temporary options, but requires costly installation. Permanent canopies include the patio pergola, the lean-to, or a garden gazebo with a hardtop roof.
Weigh up the advantages and disadvantages at your leisure, choose the right colour for your preferred option and enjoy your new outdoor roof!
Would you like personal advice? Would you like to have more information about the options we have available in our shop? No problem! Feel free to call us at +44 (0)118 31 50 873. Of course, we can also be reached by e-mail. Send us your email to: service@houseoftents.co.uk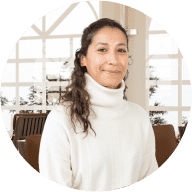 Raja
Editor
Welcome to our online magazine!
I'm Raja, one of the editors. Here I share with you everything about our products: practical information, tips and tricks to make you an expert and choose the most suitable model for your project. Through my articles, I propose ideas for arranging your garden with a gazebo, decorating your marquee for an event and much more. The world of garden design will no longer hold any secrets for you! See you online!
All my articles
You may also be interested in: