Steak, sausages, burgers and salads? Check! Ketchup? Check! Gazebo? Check!
Stock the fridge with ice-cold drinks, invite friends and family, and polish your utensils! Barbecuing is only getting more and more popular. More than 75% of households in the UK now own a barbecue. Of course, you probably don't need any convincing yourself. If you're looking to raise the bar and deliver a garden party that your guests won't forget, read on!
Here's what you can expect in this article:
The essentials to prepare in advance for your barbecue
Planning who to invite, seating arrangements, decorating your garden, to writing out a shopping list: For the perfect barbecue and party, a lot has to be considered!
But don't worry, with our checklist you can keep track of all the essential items for your barbecue party so that it will be a complete success. It's a good idea to print out the checklist directly and tick off what's already done.
Keep your neighbours on side and let them know if you're inviting more than a couple of people. If they're easily annoyed by noise, they always have the option to make other plans for that evening.
Think about your outdoor area and where you will set up the BBQ, and where people might sit or stand, and how many tables you will need for serving the meats, veggies, sauces, plates and cutlery – not to mention drinks!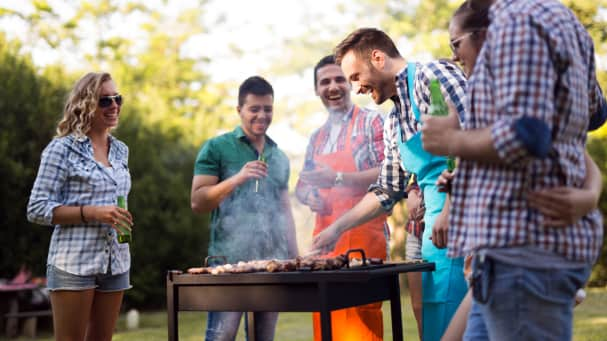 Important points for planning your barbecue:
Find a suitable date that will work for you and your best friendsSend out invitationsPrint out one or two barbecue recipesInform neighbours and invite them if you wishEnsure that you have enough garden furnitureOrganise a shelter in case of rain.
Find a suitable date that will work for you and your best friends

Print out one or two barbecue recipes

Inform neighbours and invite them if you wish

Ensure that you have enough garden furniture

Organise a shelter in case of rain.
From aioli to courgettes: A party with all bases covered
When barbecuing, there should be something delicious to eat for all of your guests – meat-eaters, vegetarians, the finger-food fiends and those with a sweet tooth. So in addition to the barbecue basics of equipment and accessories, there should be a colourful selection of all kinds of grilled foods, vegetables, salads and desserts. And don't worry – simple barbecue recipes are totally fine!
Meat

Meat, such as a juicy steak, should of course not be missing from any BBQ party – whether T-bone or minced beef for burgers, marinated steaks or sausages. Our tip: Provide a colourful mix of meats so that everyone can find their favourite. Ask at the meat counter in your supermarket how many grams of meat you will need for the number of people invited. If you're aiming to impress and take your barbecue to the next level, fish could also be on your checklist.

Grilled vegetables and salads

Prepare your own delicious salads, provide fruit and bread with various dips. A large potato salad, and plenty of bread are great to have at a backyard BBQ because they can appease the most voracious appetites!

Preparing vegetarian dips meanwhile, will satisfy those with more delicate tastes. Veggies also taste great on the grill.

Store bought vegetarian burger patties are rarely appetising. Either make your own veggie burgers or stick to grilling.

Chargrilled asparagus are a super-simple go-to idea for the BBQ and vegetable kebab skewers, perhaps with mushrooms, aubergine, and halloumi will be just as popular as the meat dishes.

Beverages

When it comes to drinks, there should also be plenty of soft drinks, non-alcoholic beer and even coffee on hand for your summer BBQ. Try to arrange something more interesting than coca-cola. There's plenty of upmarket lemonades and juices at your supermarket. Our tip: On balmy summer evenings, why not also offer iced coffee to drink?
Ask your guests in good time whether they have allergies or food intolerances. If so, be sure to plan for and take them into account when purchasing the food. Estimates suggest that over 8 million people in the UK prefer to eat gluten free, while more than 1% of the population identify as vegan. Our tip: Go shopping in pairs, it's more fun, you can split up, and you don't have to carry the whole lot to the car when you're done.
Our shopping list - BBQ ideas for successful parties
Barbecue and accessories:
BBQ party location: a roof over your head for all weather conditions
Just set up the barbecue and go? This might work with a handful of friends in your own garden, but for an outdoor event that you've planned for weeks, you need to prepare for all possibilities.
To ensure that the long-planned party is a success and doesn't fall through because of rain or strong winds, you should ensure that you have a canopy for shelter, particularly in case of a passing shower.
If you're someone who loves to spend time in the garden, a garden gazebo with a polycarbonate hard top canopy is a must-have. As well as enjoying long summer evenings and sun-soaked brunches, you'll be able to extend the 'outdoor season' with picnic dinners and get-togethers through Spring and well into Autumn. With a roof over your head and side walls to block any cold breezes, it's a great investment in your garden!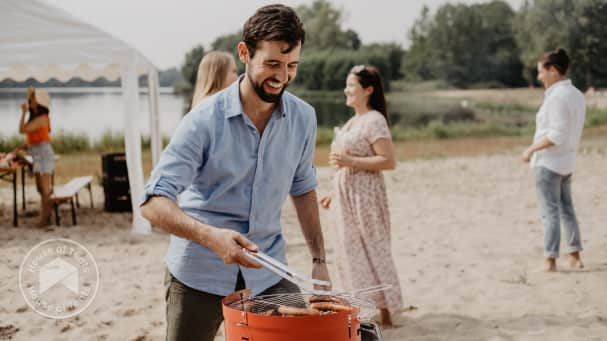 On the other hand, if flexibility is your focus, consider a pop up gazebo. With a pop up gazebo you have the ultimate in flexibility. You can use the gazebo as a sun shade for an outdoor party one weekend, and use it as a market stand the next. It's easy to transport and comes in 10 colours.
Last of all, a Marquee is an excellent option for larger groups, especially when you want a shelter that can keep everyone dry and out of the wind, in case the weather turns sour.
Decoration checklist for your BBQ Gazebo
Our tips
In addition to the right barbecue, also decide on some outdoor decoration. Beautiful decorations and lighting creates the right ambience at your party, especially in the evening. For more on how to create a wonderful atmosphere for your BBQ gazebo, you can read more in our article Creating Atmospheric Light in the Garden Gazebo.

If you'd like the party to continue late into the evening, have some blankets on hand for anyone starting to feel chilly.
Get in touch with our experts
Are you organising a BBQ party soon and still have questions about your checklist? Are you wondering about how to install a BBQ shelter on your patio? Our experts will be happy to help you directly. Just give us a call at +44 (0)11831 50 8734, or email us at: service@houseoftents.co.uk.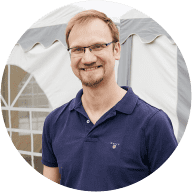 Alexander
Editor
Hi everyone!
I'm Alexander, one of the editors of the magazine. As a creative mind, my mission is to inspire you and show you the many ways in which our products can be used. I particularly like the practicality of marquees for a garden party. These outdoor shelters offer so many possibilities!
All of my articles
You may also be interested in: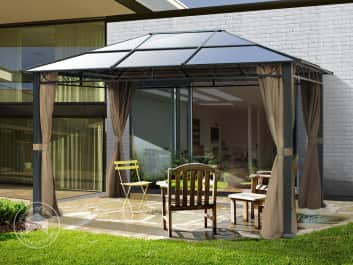 Patio awnings in comparison: Which canopy is right for you?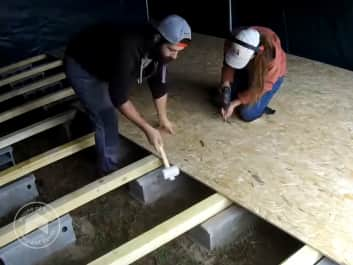 DIY flooring for marquees and storage tents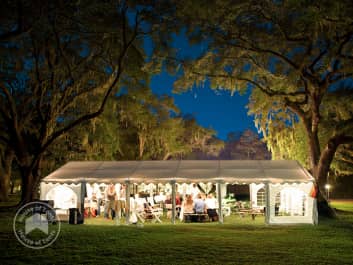 Create your own corporate event venue on-site