Sitting back with friends under the shelter of a garden gazebo, making the most of the evening light, and then talking long into the night. Taking the time to enjoy life is a real art.
To create the right atmosphere in the evening, we at House of Tents have put together some outdoor lighting ideas to make your gazebo extra cosy. From torches and fairy lights to LED strings – read our tips for the ideal lighting for your outdoor living space in this post!
The ideal gazebo lighting mix: Combining real flame with LED
Start with the right basic light
As the sun slowly slips away below the horizon, it's time to switch on the lighting for your gazebo. A light that is too bright can quickly spoil the mood. So instead of a floodlight, opt for warm, atmospheric gazebo lights.
A pleasant background light can be created, for example, by lanterns or candles. With garden gazebos from House of Tents, these can be flexibly and quickly attached to the hooks hanging from the canopy frame supporting the roof.
This helps to keep lights out of the way of food and drinks, and reduces the risk of an accident. It also has the advantage of spreading the light of a lantern, light bulb or large candle evenly around the whole gazebo.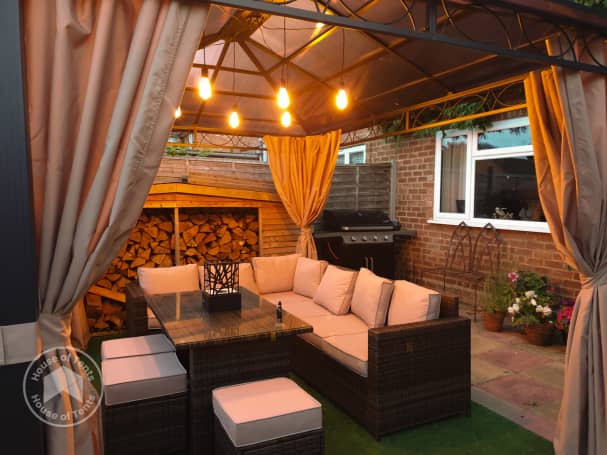 You might also choose to use outdoor string lights that can be attached along the frame to further enhance the pavilion lighting. A series of waterproof LED lights are ideal. The price of LED lighting has continued to fall and in 2023, LED lights are now significantly cheaper than traditional lightbulbs. In addition, technology has adapted to produce lighting options that closely resemble the aesthetic of traditional lighting.
Your foundation lighting will be the basis for your gazebo lighting. They shouldn't be too bright. Even better is if the lighting is adjustable. This can be achieved with dimmable lights, but a more low-tech option is simply using a series of individual outdoor lights.
Build a warm atmosphere with lanterns, fairy lights and net lights
To further improve the ambience of your outdoor shelter, you can add layers of lighting. In addition to lanterns and candles, you can place small tea lights on the table of your garden gazebo.
It's best to think about the type of gathering you're expecting when setting up lights on the table. With small children and other boisterous guests, solar-powered LED tea lights could be a safer option. Lanterns and oil lamps are also relatively safe because their flame is shielded.
Outdoor net lights can have a dazzling effect. They can be used in a variety of different ways. How about curtain lights? Hanging from a curtain, net lights can produce a real decorative feature in the garden. Another option is to drape the net over a bush, hedge or fence to illuminate a darker side of the gazebo.
Alternatively you have the option of attaching the net to the underside of the waterproof roof, subtly illuminating the gazebo ceiling like twinkling stars. With net lights and spot lights, you can start to really explore the world of gazebo lighting ideas. The number of design possibilities that net lights afford is only limited by your imagination.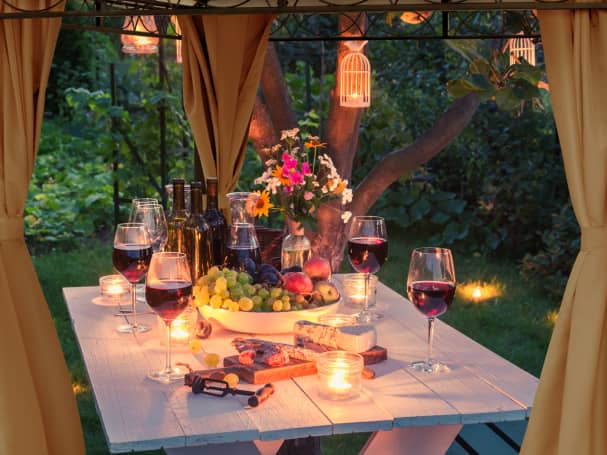 Around the outside of the garden gazebo, you can set up torches or fire bowls as an additional indirect source of light and heat. Open flames have their appeal because they seem warmer and more natural, creating a beautiful atmosphere in the garden.
Natural lighting solutions like torches and fire bowls can tip your outdoor lighting from good to great and have your guests experiencing a touch of magic at your barbecue party! Festoon lamps on the other hand, have a wonderful decorative ambience, hung between the exterior of the pavilion and a nearby tree or fence post.
Alternatives to open flames or torches in the gazebo
If you don't want open flames in or around the garden gazebo, you can use table or hanging lamps that are powered with batteries. LED lamps are particularly suitable for use as gazebo lights. LED powered lights are now available in a wide range of colours and lighting moods. In large numbers, they can create a beautiful LED light network. And if you like, you can even create a colourful LED grid net by using a series of differently coloured LED strings.
LEDs also have the advantage of low power consumption, which means they can light up your garden gazebo for many hours. With battery-powered LEDs, you also don't need a cable to the mains power supply.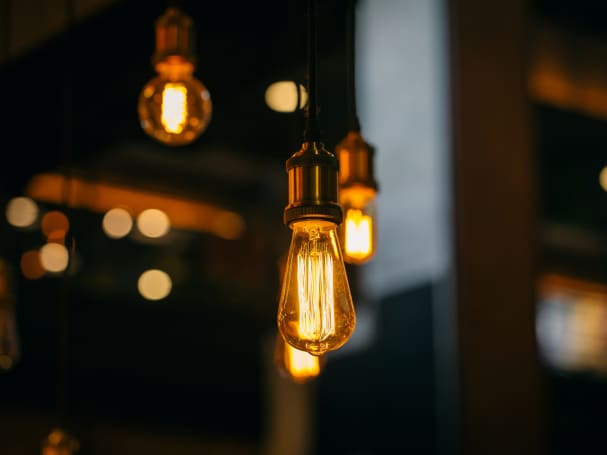 As a substitute for the torches that would create an atmospheric light around the frame of the garden gazebo, you can also use solar outdoor lights. These save you the trouble of laying wires, using a solar panel to charge automatically during the day and glow when it gets dark. So light up your outdoor shelter around the exterior too and make it a highlight in the garden – or at your next party.
Indoor / Outdoor flow: Connect your gazebo to the house with subtle outdoor lighting
A subtly lit pathway from your patio to the garden gazebo sets the scene from the moment you walk out into your outdoor area. While outside lights triggered by a motion sensor might seem like a good idea to brighten the patio and pathway, keep in mind that the sensor would need to reach to the end of the path for when you go to return indoors. Solar string lights or lanterns could be a good energy-saving option for outdoor lights along the side of the path or lawn.
Warm white versus cool white: What colour for outside lights?
The first question that needs to be answered is, what is the difference between warm white and cool white? The best explanation is to compare the warm white (almost yellow) colour of a candle, to the cool white (almost bluish) colour of a bathroom light bulb or of a halogen bulb.
For outdoor areas, a cooler shade of white light might be suitable for use as a floodlight. For gazebo lighting, warm white tends to be more inviting, mimicking the light given off by candles or incandescent bulbs.
Another key to success for gazebo lighting, is mixing low and medium intensity lights, rather than using a single high intensity lamp. We recommend using bulbs that provide illumination of no more than 500-600 lumens.
A useful accessory to pair with gazebo lights: Mosquito nets
The downside of using outdoor lights is definitely the influx of mosquitos and midges. Mosquitos and midges are attracted to lanterns, bulbs, and candles, well, like moths to a flame!
You will find mosquito nets to be a god-send on warm summer nights. In the House of Tents shop, mosquito nets can be found alongside the garden gazebos. The steel frame Sunset Premium and the aluminium Sunset Deluxe garden gazebos include a double- curtain rail design, allowing you to have both sidewalls and mosquito nets attached simultaneously.
Your little paradise of light in the garden
Make yourself and your friends comfortable and conjure up a romantic atmosphere in your garden gazebo with the help of outdoor lighting. With just a few tools, such as string lights, or a simple installation of lanterns and net lights, you can turn your garden gazebo into an inviting outdoor lounge. And where would you rather enjoy the warm summer evenings than outdoors in the fresh air?
Do you have any further questions on the range of options for gazebo lighting, including LED lights, net lighting, or solar lights? We would be happy to give you more practical tips on how to design a wonderful oasis with your heavy-duty garden gazebo and outdoor lighting.
Call our expert customer service on 0118 3150 873, or send an email to: service@houseoftents.co.uk.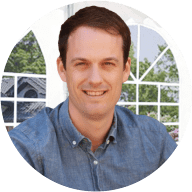 Brett
Editor
Hi, I'm one of the editors of this magazine.
I love my job and especially like to tell you about the advantages of our tents and accessories. In my articles I give you tips on how to make your next birthday party a success, ideas on how to arrange your garden and all the possible uses of our marquees, gazebos and garden products.
All my articles
Similar articles you might like