Whether it's the summer party, a company anniversary or a kick-off event, pulling off a successful office party is a real skill, and requires a lot of planning. For a fun corporate event, you don't always have to dig deep into your pockets and book an expensive venue.
Make things easier for yourself and for your colleagues and plan a party in an outdoor space on-site outside your office.
Our favourite office party ideas
Due to lack of time or because the task sometimes seems complicated, companies prefer to delegate the organisation to specialised agencies. By taking charge of this project, you will be more flexible and above all, you will have total control over the budget.
Celebrate in the sun with a summer party
Summer, sun, and sunshine. Even if its more common to celebrate at the end of the year, there's a lot to be said for inviting your team members outside for cold drinks over summer. The summer months are the best time of year for getting your team together for an office party.
While most will want to enjoy the sun, it's important that you also provide shade for your guests. A Marquee is an essential when preparing your outdoor venue. It also affords you plenty of flexibility. You can open a few side panels of your marquee and equip it with additional entrances for maximum air circulation, if necessary. You can also leave out the side panels completely – this decision is entirely up to you!
Talking of flexibility, with a marquee you can hold the party wherever you like. If there's a nearby park or even a beach, think of it as a possible party venue! If you're not so lucky, you can always bring the beach to your workplace with a beach-themed summer event.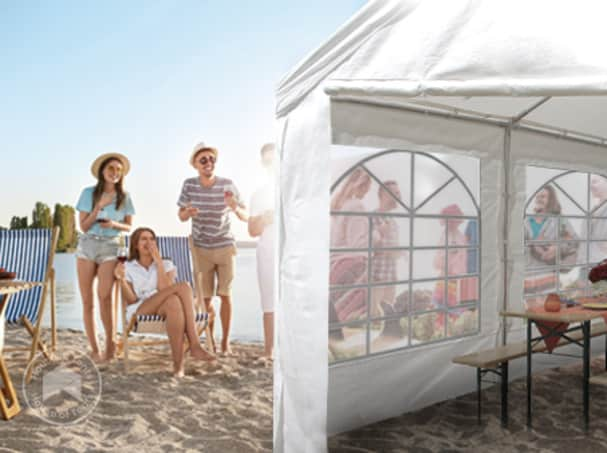 Make it a beach themed summer party
Set up a marquee on your work premises but add some creative touches and transform it into an authentic feeling beach club! How exactly does that work?
Our best ideas at a glance:
Send the message out to all staff: A beach theme means bright colours and prints

Erect a couple of sun umbrellas using buckets filled with sand.

Get creative with the event theme, e.g. with inflatable palm trees & beach chairs

Decorate the tent frame with beach decorations. (fishing rope, nets, and drift wood)

Provide flip flops & sun cream branded with your company's logo at the entrance (a great souvenir to take home!)

Distribute decorative items on the tables that match the theme (e.g. shells, small boats, colourful sunglasses)

Create a chill lounge space – with cosy beanbags or rattan furniture

Drinks – Pimms is a must over summer, and mocktails are a fun non-alcoholic alternative

Music – play the most popular summer hits!
In terms of food, the answer is obvious. Summers are for barbecues after all. Larger workplaces might require catering, but a team of 30 or less is manageable with a large BBQ or two. And to make sure you don't forget anything when planning your guests' dinner for the summer party, we've put together the ultimate BBQ checklist. Sounds like the perfect corporate event!
Our tip:
In addition to your marquee, how about a pop up gazebo? Set up a pop up gazebo in the space next to your marquee and use it as a weatherproof buffet stand – or even as a cloakroom. As you can see, there's a wide range of uses available to you – you'll quickly find the one that best suits your office summer party!
Celebrate a launch or other corporate event
At a launch, two worlds collide: the fun factor with the formal. Corporate events, such as product launches, often begin with a presentation by the CEO. He or she can then recognise recent successes and the hard work of employees and discuss what opportunities lie ahead in the coming year. Following the speeches, the focus can turn to fun activities, some canapés, and a couple of drinks.
This means: the venue for your corporate event must be able to adapt to the change in tone. No problem with a large marquee!
Here's how you can successfully implement this plan:
Set up chairs in a cinema seating style

Place a lectern on a small podium

Ensure you have a microphone available.

Arrange for a beamer and laptop (to play the presentation).

Choose a white marquee – it looks professional and won't distract people
Use the opportunity provided by your event, to do some team building, connecting people from teams across the organisation with activities such as a short scavenger hunt or a fun quiz.
Project the presentation slides on the back wall of the marquee, behind the speaker. And after the informal programme? Then the party begins! Have teams quickly move the chairs to the side and replace the lectern with a DJ booth. Finish setting up your social space with a few high tables and equipment for any activities that you have planned.
Celebrate your past - a company anniversary to remember
Make your next anniversary an unforgettable experience by crowning it with a successful office party!
For every company, the way you celebrate an anniversary will be different. There's lots of flexibility for you – but it's important to ensure that it fits your office culture. A lively party with a dance floor might not be the right choice if staff aren't used to socialising together.
More ideas for corporate parties celebrating an anniversary:
Order catering and don't forget about common dietary requirements with vegan, vegetarian, and lactose free foods.

Provide entertainment after the meal (e.g. book an entertainer)

Show your company's history (e.g. with photos from then and now)

Set the scene for the marquee with decorations! (Garlands, confetti, fairy lights etc.)

Give your invited partners, customers and employees a small gift as a memento
Divide the marquee for your corporate party into two rooms – in one you celebrate and in the other you set up the buffet. How does this work? It's easy – with a partition wall. In our range you'll find fireproof partition walls made of high-quality PVC. These can be quickly mounted onto the frame of the marquee with bungees. If you need more space for your corporate party again after the meal – simply hang up the mobile partition walls again!
Why you should organise your company event in a marquee
Office parties in the outdoors – a good idea in summer as well as in winter. To ensure that your employees are protected from the worst of both seasons – whether harsh sunlight or rain and cold, marquees are simply indispensable must-haves at your event. You can also really set the scene for them (e.g. with decorations) and thus give your party venue a very personal touch.
Speaking of individuality – there are no limits to what you can do here. Keep the side panels closed or partially open, or remove all the side panels to transform the marquee into an open canopy.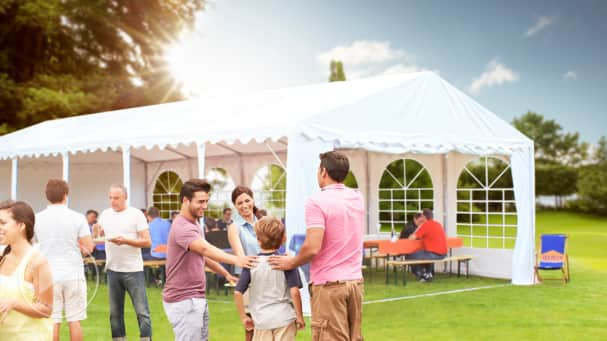 Other reasons for using a marquee:
Without a marquee, your event can fall through in bad weather

You can bring parties to unusual locations – whether by a lake or in a park

You save costs on hiring a venue and thus have more in the budget for what people really want: great food and drinks

You're completely flexible in terms of the venue, entertainment and food

There are so many different sizes – suitable for any size of business

You can design and use the marquee to suit your individual taste

You can reuse the tent sustainably (e.g. at future trade fairs, events or your next corporate event)
The wrap up: Office events that motivate and celebrate your people
A summer office party on a budget that no one will forget in a hurry – with a party marquee, it's possible! No matter what your next event is, with a marquee venue you can cater for all your guests. And that's not all – holding your office parties in a marquee is even cheaper than booking a venue, offers 100% weather protection and on top, gives you flexibility and individuality. You decide:
where you want the marquee,
whether you want additional entrances or a partition wall, and
how to set the scene with decorations and lights.
Another bonus? You can simply reuse and redesign the marquee for other corporate parties, as an on-site venue for team building, or for relaxed get-togethers with a few drinks after work!
You need a suitable venue?
Are you looking for a corporate party venue for an office summer party? Have you considered hosting your celebration in-house with a party marquee? If you have any questions, feel free to call our expert customer service on 01183 150 873, or send an e-mail to: service@houseoftents.co.uk!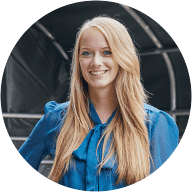 Julia
Editor
Hey, I'm Julia and I'm very happy to be part of this colourful magazine. Whether it's tips on how to decorate your garden gazebo, informative articles on the many uses of professional tents or interviews, my aim is the same: to transport you into the world of tents and share my knowledge with you.
All my articles
Similar articles you might like: