It's summertime and finally you can enjoy long days again with lots of sun, outdoors with the family. And where do you prefer to spend them? Exactly – at the nearest lake, beach or outdoor pool.
A pop up gazebo is a must-have for a trip to the seaside and an ideal beach shelter. Why we recommend a pop up gazebo and not another tent or windbreak and what exactly speaks for a pop up gazebo at the beach or lake, is all here to discover!
These contents await you in the article:
Why is a beach canopy needed?
If there's a lake, summer pool, open-air swimming pool or beach near you, it's probably top of your list of favourite summertime spots. It's tempting to spend all your free time out in the sun, but along with that comes the responsibility to protect yourself from UV rays. The more time we're exposed to the sun, the higher the risk of sunburn and sunstroke.
Children in particular like to play in the sand for long periods of time, and a sunscreen with a high sun protection factor is simply not enough protection. The solution: a shelter with a high UV rating. With a high quality sun shelter you and your children can always take a break from the blazing sun and relax in the cool shade. You also protect your skin from skin cancer, among other things. But what outdoor options are there for this?
Why use a pop up gazebo as sun protection at the beach or at lakes and resovoirs?
For our trips to our local beach or lake we've decided against an umbrella or beach tent – but the pop up gazebo is one of our must-haves. The heavy duty gazebo tent offers us both shade and exactly the UV protection we want. And in an eye-catching colour like green or blue, it also catches the eye immediately. But why is the pop up gazebo the best beach canopy for the summer? We've put together 4 reasons why a pop up gazebo should definitely be part of your next beach trip!
High sun protection

After a swim in the lake, there's hardly anything better than relaxing in the sun and getting a bit of a tan, but your sense of time gets lost very quickly. And then all of a sudden your back is no longer beautifully tanned, but starts to burn. UV protection is therefore important when choosing a canopy. The higher the UV protection, the more effective your sun protection. Especially with a baby, you should choose a beach canopy with a high UV protection.

Easy assembly and low weight

Like lightweight sun shelters, pop up gazebos are the perfect beach tents in terms of weight. Our Economy Alu and Professional Alu gazebos are so light that they can be easily transported from your home to the beach or lake. They also have a small packing size – ideal for mobile use! While a beach shelter often comes with a carry bag including pegs, at House of Tents you always benefit from a practical carry bag. Thanks to this bag, your beach tent is safely stowed away within minutes and can even be popped over your shoulder. In addition to the bag, ground anchors are also included in the delivery.

Both pop up beach tents and pop-up gazebos are set up extremely quickly. The pop-up beach shells owe their speed of erection to their pop-up function, which is why they are also often referred to as throwing tents. These beach shells are thrown and the frame locks into place by itself. With pop up sun shelters, the frame still has to be briefly snapped into place. Even though pop up gazebos are not throwing tents, they are also erected within a few minutes – thanks to their practical and quick scissor mechanism. You don't need any tools or much time – just pull up the poles a little, put on the roof and then pull up the entire gazebo tent, done!

Space for the whole family

Even though a pop-up shade tent can be set up quickly, it has one decisive disadvantage as a beach tent compared to a pop up gazebo – the size of the canopy and the amount of shelter provided. Of course, you'll find so-called family beach shades on the market that say they are a 4-6 person beach tent, but they don't exactly offer you much freedom of movement. The situation is different with a pop up gazebo.

With a gazebo, you can move freely, sit or even stand. These are advantages that a beach shell doesn't offer. For example, set up a folding chair in the sand, relax and read your latest book in it and let your children play and romp in the sand in front of you or next to you – protected from the sun under the canopy, of course. Would you rather lie down? No problem! There's enough space under the gazebo to set up deckchairs or even a table. Do you have a dog? Of course, it will also fit under your beach canopy. Beach gazebos are the perfect beach tent, offering shade and high UV protection for the whole family!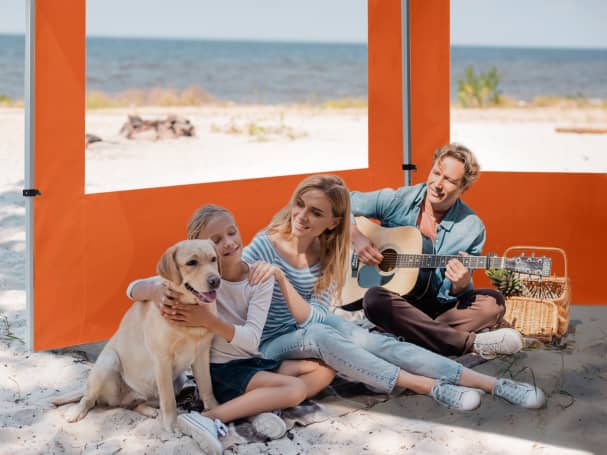 Pop up side walls for more flexibility
An open gazebo without side panels gives you an unrestricted view of the beach or lake at all times. However, the sun moves during the day and we therefore recommend that you buy a model with two side panels. So that your view is not limited, you'll find side panels with windows in our range. If, in the afternoon, the sunlight comes from the side where you have not attached a side panel, you can simply remove your side panel and hang it up again on the other side in no time at all, via zip-up fasteners or velcro strips. If you prefer complete privacy (for getting changed in and out of your beach clothes), you can also opt for gazebo models with four side panels - with or without windows. You can also choose gazebo side panels with a roll-up door.
Quality that convinces

A folding gazebo is not only the ideal beach tent because of its functionality, but also due to its high quality. Did you know, for example, that our House of Tents gazebos have tarpaulins made of high-performance polyester with a PVC coating? These tarpaulins are not only UV-resistant, but also 100% waterproof.

While beach tents made of polyester cannot withstand heavy rain, the hard-wearing pop up gazebo as a beach canopy offers you all-weather protection. So if a passing shower arrives, you don't need to get nervous sheltering under your waterproof pop up gazebo.

In addition, the seams of the roof are thermo-sealed, so that the service life of the material is significantly increased many times over.

Would you rather have a fire-safe certified gazebo? That's no problem either, because: In our range you'll also find 100% waterproof and robust models made of heavy duty PVC!
We provide our foldable aluminium gazebos with a special alloy. Thanks to this alloy, the lifespan of the pop up gazebo is increased so that you benefit from this beach canopy for a longer period of time. In addition, our aluminium gazebos are rust-proof – just like our steel models. For mobile use as a beach canopy, however, we advise you to choose a model made of aluminium, as these are lighter and much more flexible to handle than those made of steel. They're also 5-way adjustable in height – suitable for the height of whoever is seeking shelter from the blistering heat.
Comparison of other beach shelters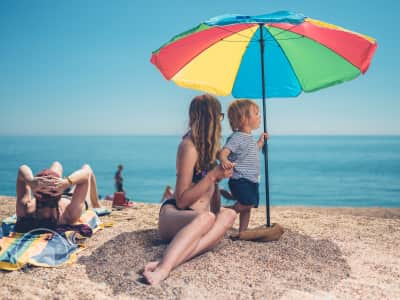 Beach umbrellas – Cheap sun shelters but a bit of a hassle
If you have children or even a baby, sun protection on the beach is especially essential. The classic sun shelter is the parasol. It can always be flexibly moved according to the angle of the sun, fits into any family budget in terms of price and is available in so many colours, patterns and variations that it can even help you find your place when your return from the water.
But when it comes to transport and functionality, the umbrella doesn't do particularly well. It's inflexible to transport, can pop out of its holder in strong winds and often does not offer a high UV rating.
We therefore advise you to rather invest a little more money in your weather protection so that it's of a correspondingly high quality.
Advantages:
budget-friendly

large selection of colours, patterns & models
Disadvantages:
doesn't offer sufficient protection against UV radiation

unwieldy in terms of assembly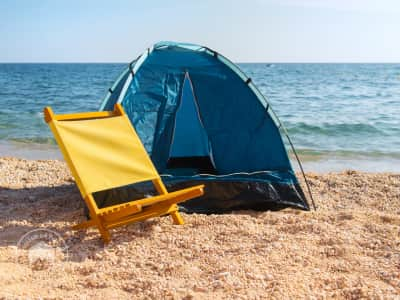 Lightweight pop up beach tents - practical but not windproof
An alternative would be a pop up beach tent. Beach tents in the shape of a cove are very popular with families with small children. Thanks to their semi-open design, they provide both shade and a constant view of the beach and your children playing in the sand. Pop-up sun shelters can be set up in seconds thanks to their pop-up function. They often weigh no more than 1 kg. Beach tents often come with a carry bag and pegs.
However, pop-up beach tents also have some decisive disadvantages: they aren't 100% waterproof in heavy rain, they're not strong enough when the sea breeze picks up, and they're a nightmare to fold up and put away.
Advantages:
quickly erected thanks to pop-up function

light weight; often incl. carrying bag
Disadvantages:
not 100% waterproof in heavy rain

not optimal wind protection
Don't let your beach gazebo blow away with the sea breeze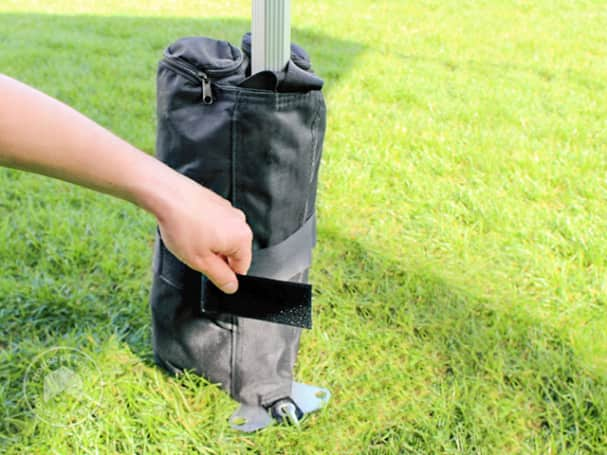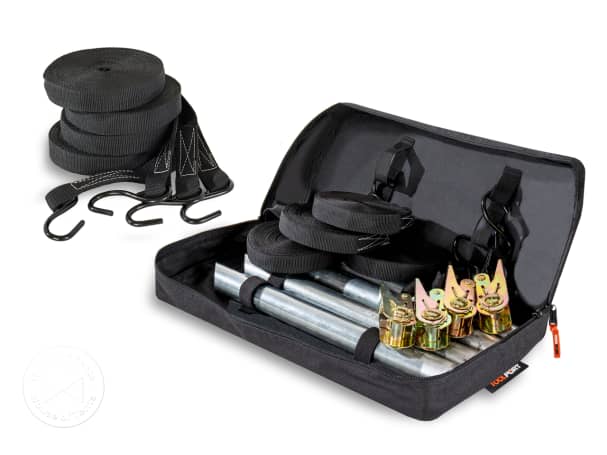 In addition to the tents, we also offer a range of useful accessories in our online shop. Is there a lot of wind forecast for your upcoming trip to the sea? Would you rather play it safe and ensure your prepared for stronger winds?
No problem! Upgrade your tent with four sandbag leg weights! Thanks to the carry handle, the sandbags are easy to transport to the beach or lake and can then be easily attached to the legs of your pop up gazebo on site using Velcro.
Open the weight bags easily with a zip and fill them with sand – even better, make it wet sand to increase the weight. After all, you're surrounded by the stuff! And now? Now even windy conditions are no problem. Your tent is weighted down to the maximum, which in turn significantly increases its stability.
In addition to the sandbags, tie down straps with ratchet tensioners are an option. It increases the stability of your tent many times over, but you will need to find a great place to pitch with a lot of distance from other bathers on all sides, as the guy ropes need to extend at a 45 degree angle from the canopy.
To our pop up gazebo accessories
Are pop up gazebos also suitable as sun protection outside the beach?
Do you have your own garden? A terrace? Great – use your gazebo as a sunshade here too! If your children want to make the most of the good weather and play in the sandpit, for example, you can erect the gazebo in the garden in seconds. Now they can play to their hearts' content in the shade.
As with the use as a beach tent, not only the children benefit from the shelter – but also you. Set up the shade tent in a suitable place in the garden, equip it with side walls with windows and retreat for a while with a book, a podcast or your favourite music. This is how relaxing a holiday in your own garden feels!
As with the use as a beach tent, not only the children benefit from the shelter – but also you. Set up the shade tent in a suitable place in the garden, equip it with side walls with windows and retreat for a while with a book, a podcast or your favourite music. This is how relaxing a holiday in your own garden feels!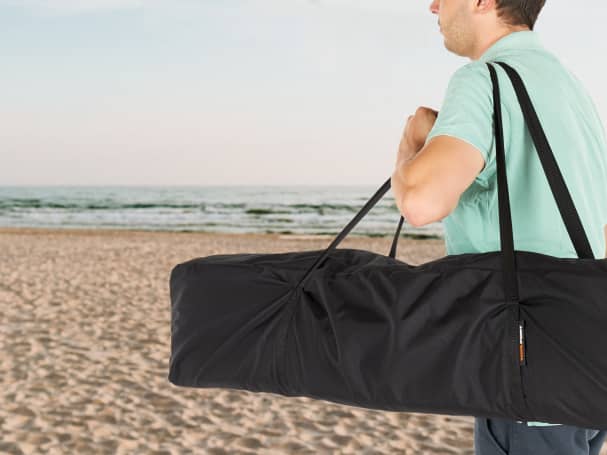 You can also spend special moments together with your children in the garden under the tent. For example, organise a picnic in the garden and use this foldable garden tent for shade. Organise a BBQ on your terrace, use the pop up tent as a patio canopy and place seating and a table under the canopy – for shared culinary experiences. There are already too many people at the lake and a trip there with your children plus baby would be too stressful today? Convert your beach canopy into a sun shelter for your paddling pool. Bring the fun of swimming from the lake directly to your home in the garden!
Great for trips to the seaside, excellent for your garden, and ideal as a camping shelter for your summer camping trips too! Pop up gazebos will get a lot of use on camping holidays. You can read more about the advantages of these heavy duty shelters while camping, including whether they're suitable for sleeping, in our article Camping Gazebos – a great alternative to caravan awnings.
Garden gazebos as a permanent sun shelter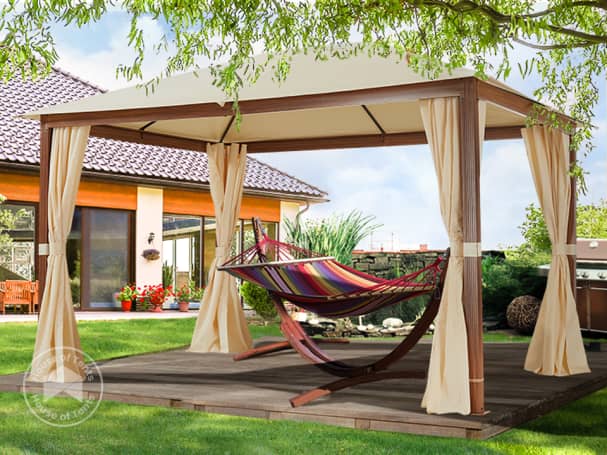 If you're more interested in a heavy duty sun shelter for your garden, we recommend that you check out our garden gazebos. Garden gazebos really set the scene in your garden and are particularly popular for get-togethers, relaxing with friends under the canopy of a stylish gazebo. Like marquees, they are 100% waterproof and have a high UV protection uee can be used perfectly as a marquee for garden parties, as a pool shelter or hobby room. And with side walls in the colours beige-white, green-white, blue-white and green, your marquee becomes an absolute eye-catcher at the same time!
To our garden gazebos
Beach umbrellas, light weight pop up tents and heavy duty pop up gazebos are all well suited for use as beach canopies. Cove-shaped beach tents in particular are popular for use as a beach shade.
But as can be clearly seen in this article, the best beach tents cannot compete with a pop up gazebo. If, for example, there is a lot of wind or rain, you and your small children are not sufficiently protected. You need optimal weather protection.
We therefore recommend the pop up gazebo for use as a beach tent.
Why? Quite simple: it's lightweight (as long as it's made of aluminium), easy to carry and transport, erected in seconds thanks to the pop up design, offers high UV protection, is 100% waterproof, is available with two or four side walls and creates a large shaded area for several people to stand in and move around freely. Plus: it also has a high-quality finish. Simply the ideal mobile beach tent!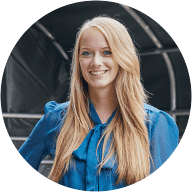 Julia
Editor
Hey, I'm Julia and I'm very happy to be part of this colourful magazine. Whether it's tips on how to decorate your garden gazebo, informative articles on the many uses of professional tents or interviews, my aim is the same: to transport you into the world of tents and share my knowledge with you.
All my articles
Similar articles you might like: