Let's dive in to the bathing season at home and spend time kicking back in your own pool! But beware of too much UV radiation – water doesn't block UV rays, and you're less likely to notice you're getting burnt. Some form of shelter, to provide shade is therefore definitely a good idea. Conversely, a canopy over your swimming pool allows you to spend time in the water, even when its raining.
In this article, we'll give you some tips on choosing the right shelter and go into the respective advantages of different types of gazebo or marquees. After reading this article, you will certainly have found your perfect pool canopy!
These contents await you in this article:

Waterproof & UV-resistant pool canopies
Children in particular love to splash around and spend hours in the water. And that's precisely why it's all the more important to protect them from the sun and its UV rays. What are your options? Search Google for pool cover and you'll just find covers suitable for keeping dirt and leaves out of the water. But what you need is something else: shade and weather protection. And what if you could solve all three problems at once – protect your pool from dirt and UV radiation and rainfall at the same time? In the following, we'll tell you how this idea can be easily realised with marquees, pop up gazebos and garden gazebos!
Marquees as an enclosure for your pool
Marquees are our great all rounders. Not just suitable for weddings and parties, but also excellent to transform an outdoor pool into a fully enclosed space with a canopy, removable sides and windows*. If the side walls are completely closed, your swimming pool is protected from wind and bad weather on all sides.
Another plus point: the side walls help to keep the heat inside the tent as well as dampen the noise of rowdy children. Not only an advantage for you, but also your neighbours will be pleased.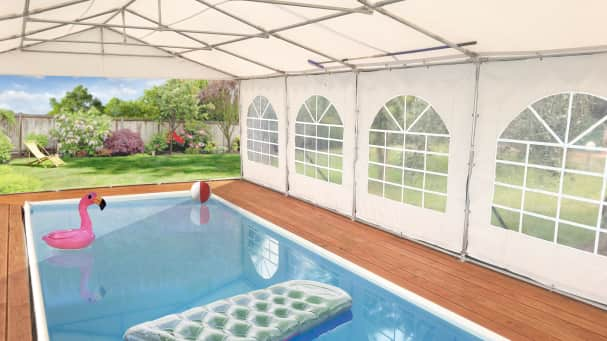 Which marquee is best suited to shelter a pool?
First of all, it should be noted: There is not the one marquee that is best to use to provide shelter to your outdoor oasis. But there are some criteria that will help you choose the right one for you.
The most obvious criteria is size. Whereas with solid structures you would have to specially make a canopy to measure (which is also very expensive), with us in the online shop you can simply choose your desired marquee dimensions, buy it and it will be delivered to your home quickly. We have well over 50 different size marquees available in our shop! We recommend that you don't buy a size that corresponds exactly to the surface area of your swimming pool, but rather a slightly larger one – so that you still have a covered, shady spot at the edge of the pool.
In addition to the size, the model and the material used are also important. In concrete terms, this means that you have to decide between a Optiline and a Profiline marquee. Our FLEX tents are made of PE and the PRO tents of PVC. Compared to PE, PVC is more robust, tear-resistant and durable, making a PVC marquee ideal for long-term use as a pool enclosure. All our marquees are equipped with a high-quality steel frame, which not only protects against rust, but also remains in excellent condition when in contact with water.
Tip: Acessories for improving a pool gazebo
If you want to make the most of the view of your backyard, you can always equip your marquee with additional windows. Under accessories in our shop you will find gable walls with windows. A side panel that includes a zipper door also brings some advantages, allowing you to open and close the entrance with ease. For more stability, we also recommend that you buy a ground bar, if your marquee doesn't already have one.

Pop up gazebos as a swimming pool canopy
In contrast to the marquee, pop up gazebos are often smaller, and they are certainly easier to set up and put away. That makes them useful for use with a hot tub, or even to cover a portion of the pool, rather than the whole area. You benefit from both shade and sun!
If you have an inflatable pool, the pop up canopy can be moved to where it's needed. Another advantage of the pop up gazebo is that it can be set up and taken down in seconds. If you are too warm in the sun, you can simply set up the pop up gazebo quickly on the spur of the moment, swim to the shady side and take full advantage of the sun protection.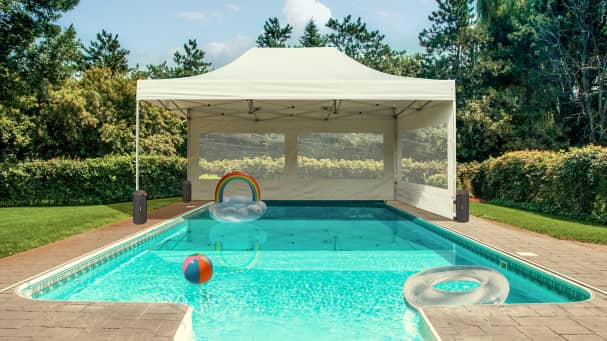 Which pop up gazebo is best suited as a pool gazebo?
As with the marquees, a few criteria will help you find the right gazebo for your pool. Unlike marquees, pop up gazebos are available with either aluminium or steel frames. Pop up gazebos are easy to assemble and take down. In comparison to marquees, they're not designed to be left standing for longer periods. An aluminium frame is therefore a great advantage, being much lighter, it is easier to handle.
So that you can always enjoy the view of the landscape, we recommend that you buy a model with a window. Buying a gazebo with panoramic windows is particularly worthwhile.
Our foldable shelters are adjustable in height! Whether you need the canopy to be set high or low, our pop up gazebos are adjustable up to 5 levels. With a low height you benefit from more shade while a higher setting of the gazebo gives you more freedom of movement, e.g. to jump into the water. Our Economy Alu, Premium Steel and Professional Alu garden gazebos are 5-stage height-adjustable.
Hot tub gazebos for relaxing in the jacuzzi in style
A garden gazebo is certainly the most stylish way to put up a hot tub canopy, providing a wealth of benefits.

As well as looking great, they provide sun shade, privacy, a cosy atmosphere, and even protection from mosquitos. They not only protect you from strong UV rays, but are also extremely decorative in design and blend in perfectly with the landscape of your garden idyll.
You can create a first-class outdoor spa and wellness oasis at home in the backyard or on the patio! Garden gazebos are the perfect thing, protecting you from wind and rain, leaves, dirt and the prying eyes of the neighbours.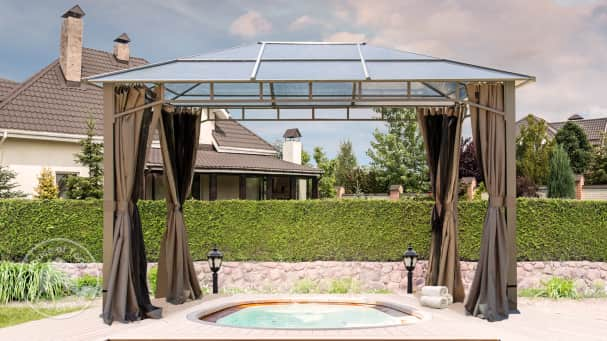 A poolside gazebo or an outdoor living room?
Some of us are swimmers and some of us are loungers. Erect the shelter in the space around your pool or on the patio to develop the pool area for lounging! Relax comfortably with a view of your own swimming pool – what more could you want?
Again, there are plenty of possibilities. Ideas include using the sheltered space for furniture, as a changing room, or you could attach a solar shower to the roof frame to create a private outdoor shower. If you set up the pool gazebo on the patio you can combine swimming with BBQ dining under a canopy to enjoy the perfect backyard party.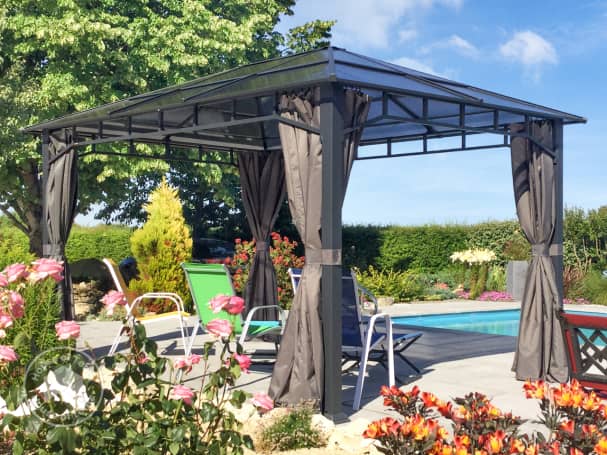 Which garden gazebo to choose for your backyard?
In our range you will find two different garden gazebo models: those with a soft top and those with a hard top roof. Which roof is best for you depends on your intended use. If you want to use your garden building all year round, a model with a fixed, hardtop roof made of polycarbonate panels is the right choice for you.
However, if you are only planning to use it during the summer, a soft top canopy (made of polyester fabric) is perfectly adequate. No matter which style you choose, both are 100% waterproof, stable and of excellent professional quality. The advantage of our models is that mosquito nets can easily be attached, protecting you from annoying bugs.
A gazebo also allows you to get creative with the gazebo design and to create a wonderful indoor-outdoor living space. Side panels can be closed off individually to block the views of neighbours while retaining views of the surrounding landscape. When open, the side panels can be collected at the legs like drapes to produce an eye-catching and inviting feel.
To produce a true focal point for your outdoor area in the evenings, lanterns and other outdoor lights bring an element of romance to your backyard. Read more about lighting in our article "creating atmospheric light in the garden gazebo."
Summing things up
A gazebo is the perfect thing for combining the freedom and fun of a swimming pool, with the protection afforded by a high quality pool canopy. You can spend the whole day at the poolside without having to worry about the weather or potential sunburn.

Our range of marquees and pop up gazebos make ideal pool gazebos while the garden gazebo is also ideal as a hot tub shelter. All three products are of the highest quality, modern, and available in various materials and sizes.
Do you still have questions about the topic, for instance about installing a gazebo on a patio or deck? Call 01183 150 873, or send an e-mail to: service@houseoftents.co.uk. Together we'll find your perfect swimming pool enclosure!
* Please ensure that your marquee is adequately ventilated at all times. If you do not ventilate enough, chlorine can build up and react with the zinc coating of the marquee frame. This in turn can lead to the formation of zinc chloride, which appears as a white, grainy powder. House of Tents accepts no liability or guarantee for potential damage to the marquee.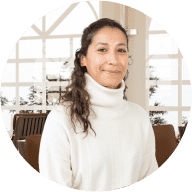 Raja
Editor
Welcome to our online magazine!
I'm Raja, one of the editors. Here I share with you everything about our products: practical information, tips and tricks to make you an expert and choose the most suitable model for your project. Through my articles, I propose ideas for arranging your garden with a gazebo, decorating your marquee for an event and much more. The world of garden design will no longer hold any secrets for you! See you online!
All my articles
Similar articles you might like