Additional entrances for your marquee
High quality tent entrances - your tent accessories
The accessories offered by House of Tents range from entrances that are covered by a canopy to tent side walls and gable end walls that can be opened and closed quickly and easily. Of course our marquees and storage tents are adaptable and entrances can be added where needed. This guide includes information about how these accessory products differ from standard sidewalls and gable ends, and provides inspiration for those wanting to customise their marquee for the perfect outdoor event, or their storage tent to maximise logistical efficiency for their business.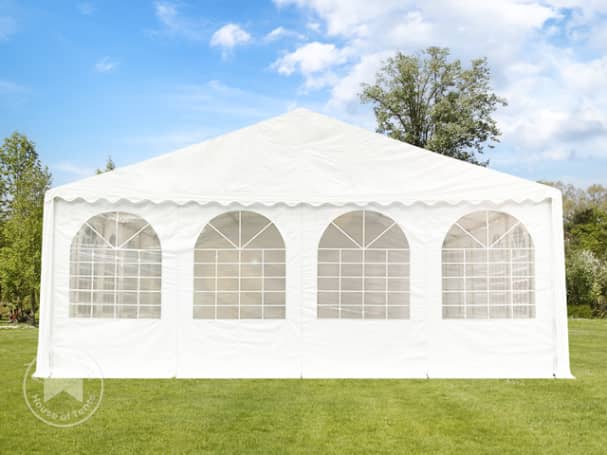 Additional tent entrances - do you need them?
It is of course up to you whether you want to create additional doorways for your marquee. However, our experience has shown that these offer your marquee a point of difference, and can provide additional protection against sun, rain and wind. All our sidewalls and gable end walls are therefore 100% waterproof and UV-resistant.
Our sidewalls and gable walls are made of robust PVC material, and are only available in white. In contrast to PE, PVC is more durable, more robust and therefore heavier. Our heavy duty PVC tent sidewalls include an inner mesh fabric, making them incredibly tear-resistant. Made of a solid PVC material, your marquee is ideally protected against external influences and is characterised by high quality.
However, it is not only the material of the tent sidewalls and gable ends that are decisive for the purchase decision, but also how visually appealing they are. Doorways further enhance the value of your party tent and give you more freedom in designing your outdoor event. Decide for yourself whether or not you want to install an additional doorway at your next party or event. These accessories offer you maximum flexibility, after all, the sidewalls and gable ends are quickly and easily mounted to your marquee. A major advantage of the gable ends offered on this page are the windows, flooding the event tent with light and creating a more inviting atmosphere.
Gazebo sidewalls - half-height sidewalls for market and information stalls
You won't find entrance doors for pop up gazebos (folding gazebos) on this page. When selecting a pop up gazebo, for most models you will have the choice of purchasing 1, 2, or 4 full height sidewalls that are included in the delivery of the pop up gazebo. However, listed alongside pop up gazebo accessories, you will find half-height side walls for folding tents in our range, in white or black. These half-height walls are made of high-quality, high-performance polyester with PVC and can remain outside for a long time. These are particularly suitable for trade fairs and markets, sitting in front of a table on which products or information brochures are laid out. Professional sign writers can print out your company or organization logo and decorative elements, to catch the attention of passers-by. Obviously, this also allows you to store things out of sight, behind the half height sidewall. The sidewall can also be quickly and easily attached and removed, meaning there's no need for an entrance doorway.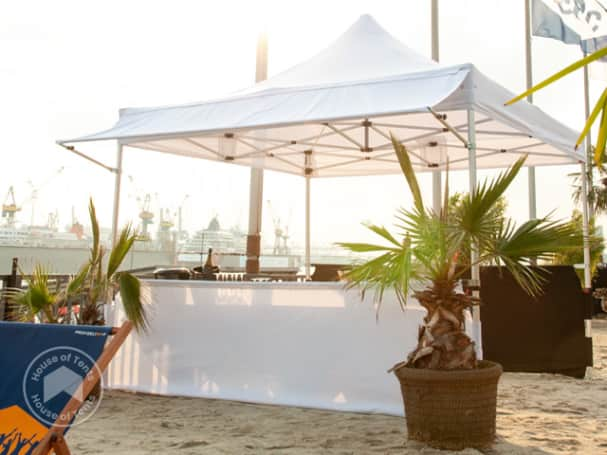 The Arabian doorway - a regal canopy for grand entrances!
Bringing the dream of 1001 nights to your wedding or outdoor party - the Arabian marquee doorway delivers shelter, plus a sense of character and style. This doorway is particularly elegant and will have your guests feeling a little bit special, entering the party.
But what distinguishes it from the standard doorways on our marquees? This entryway has a canopy for shade and shelter extending up to 2 metres from the event tent. The waterproof tarpaulin is attached to two sturdy steel poles and is therefore perfectly suited as rain and sun protection. The Arabian doorway comes in handy if you would like to check off the guest list for a particular event before the guests enter the party.
This canopy doorway is available for all marquees with a sidewall height of either 2 or 2.6 metres.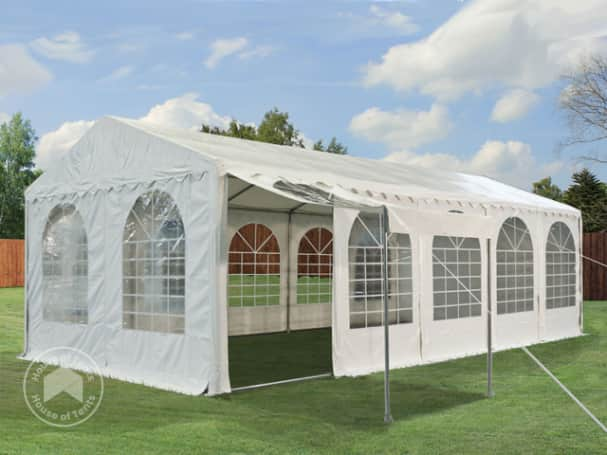 Sidewall panels that transform into doorways - waterproof & made of PVC
Another option for creating a customised entryway to your marquee or storage tent is with specifically adapted tent sidewalls. Amongst our selection of doorways and sidewalls you will find 2x2 and 2x2.6 metre sidewall panels, which you can open with greater ease than with standard tent sides. This degree of flexibility is made possible by a sewn-in zipper. The extra flexibility afforded by these tent walls makes them an option for use at work places, to attach to storage tents.
If you're wondering how to attach the custom sidewalls, don't fear. The existing tent sidewalls are easy to remove and replace. Simply remove your current standard marquee side panels and replace them with the new zippered side panels. All you have to do is fix them to the frame with the bungee fasteners that were used for the standard side panels.
Transform your gable ends into entrances - with windows & a zipped doorway entrance
Gable end walls with windows allow much more light into the tent and allow you to open up beautiful panoramic views of your garden. These gable ends include a zippered doorway that can be rolled up to create a main entrance at the end wall. Such a doorway might be a must for your dream wedding ceremony, through which a bride enters accompanied by her father.
Windows and a centred entrance are therefore a key advantage of this product. Gable entrances with windows are equipped with zips that allow you to roll up the end to create a 'front door' for the shelter. This might be necessary to allow people access to the marquee if space is limited on the sides of the marquee, or if you would like to make best use of a terrace or patio. It may even be a necessity for you to provide a clear exit to meet fire safety regulations.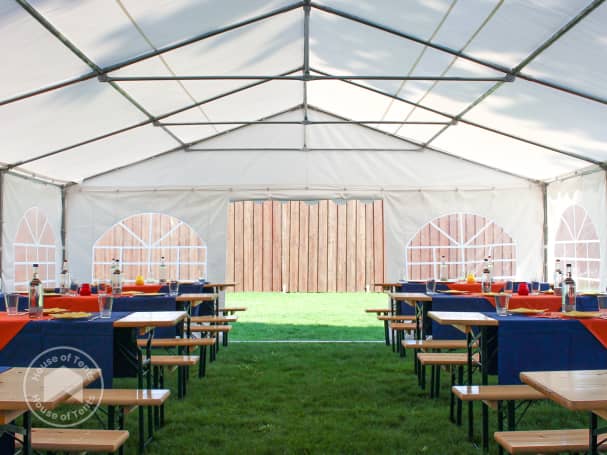 In Summary
No matter the size of your marquee or pop up gazebo, we have a range of options for you to customise entry, improve the view, and brighten up the tent. Whether you would like to provide your pavilion with a canopy over the doorway, impressing your guests with the flair of 1001 nights, or prefer a classic gateway - you will find it with us. All panels on this page can be easily attached to the eaves of the gable ends or tent sidewalls. Practical and heavy duty zips give you the flexibility to fully enclose the shelter whenever you want. The side and gable walls of our party tents are all made of high-quality PVC material.
Do you still have questions on the subject or are you unsure which custom sidewalls, doorways and gable ends best suit your marquee? Or do you own a pop up gazebo and would like to get information about the half-height side wall? Our tent experts will be happy to answer your questions in full!
*1
Our original price in this shop including 20% VAT.