High alkaline PVC and PE cleaning products - Your tent accessories
If you're using your marquee for special events or if it just needs a good clean, a specialised PVC/PE cleaner is a must. The detergent also works as a degreaser and is designed specifically for use with plastic surfaces and will leave your marquee or gazebo looking absolutely spick and span! More on why we recommend this particular cleaner and how best to use it to clean and care for your tent is outlined in the guide below.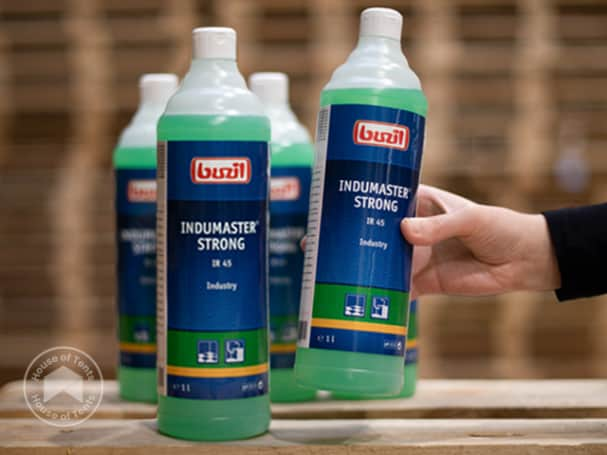 Light soiling vs. stubborn stains
To protect the material of your PE or PVC tent in the long term and thus prevent the development of mould and other heavy soiling, it's important that you clean your tent regularly inside and out. On top of regular maintenance, you might have occasional mishaps, for instance with coffee or wine spills, children's 'art work' or plain old mud splashes.
For light soiling you can use common cleaning agents such as a cloth, rag or sponge moistened in soapy water. Use the soft sponge to carefully clean the surface of your tent while it's standing. Never wash your tarpaulin in the washing machine! Neither the PE nor PVC material is suitable for use in a washing machine. You may have a nice clean tent fabric but damage is likely to occur!
However, cleaning with household products is unlikely to prevent the build-up of grime and dirt over the long term. In this case simple cleaning agents will no longer be sufficient. Some fats or oils are almost impossible to remove. So over time your gazebo or marquee will lose some of its shine. We strongly recommend against using other industrial cleaning products (e.g. Acetone), where there is a risk of causing damage, including dissolving the seams. Our recommendation: a highly alkaline cleaning product specifically designed for use with PVC and PE surfaces.
Our PVC and PE cleaner - the residue-free tent tarpaulin cleaner
To combat stubborn dirt such as grease, oil residues, soot, mould, grass stains, tar or other hard-to-remove incrustations, you need a grease dissolving cleaner. We recommend our PVC and PE cleaner for marquees and gazebos.
This is a highly alkaline, liquid concentrate, and you will discover its fast-acting cleaning power on first use. This marquee cleaner removes even the strongest dirt and is specially designed for cleaning plastic surfaces. The cleaning product is highly effective even in low application concentrations. In the online shop of House of Tents you'll find our PE and PVC cleaner in 1000 ml bottles. It is a high-performance industrial cleaner with a pH value of 13.5.
Regular cleaning and care is recommended but we know it's not always possible. Even if its something you'd rather avoid and your last intensive clean was long ago, the PE and PVC cleaner is strong enough to cut through caked-on grime and can restore the entire tent to its original shine.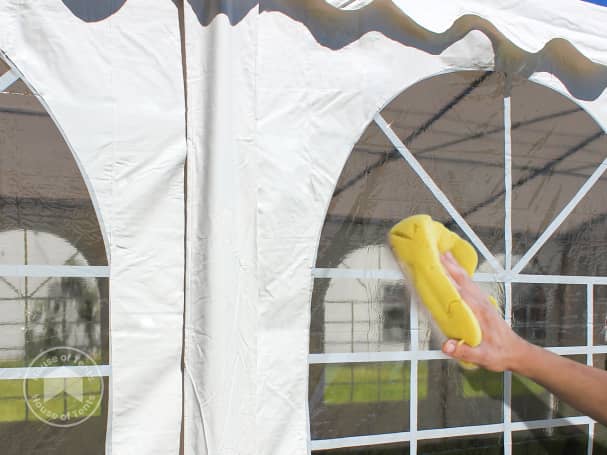 PE & PVC cleaner - how to use the cleaner correctly
The correct use of the marquee cleaner is important both for your own safety, and for the safety of the tent materials. Because of its hard-acting scouring formulation and its ability to remove the most stubborn stains cleanly, you should ensure that the following recommendations are observed:
This detergent is an aggressive cleaner, so always wear protective, disposable gloves when using it.

Avoid contact with the skin, particularly the eyes.

Only use the concentrate in a well-ventilated room.

You can use the cleaner with a high-pressure cleaner.

Before you clean the tarpaulin, you should dilute the strong detergent with clear water. The exact concentration depends on the method of washing and the condition of the tarpaulin. Follow the guidelines on the bottle.

Do not mix the product with other chemical substances.

Always use cold water. Hot or warm water is not recommended.

Use a sponge or soft brush to clean the fabric of your marquee or gazebo.

Don't be surprised if the water has little foam, this doesn't stop the detergent from doing its job.

When you have finished cleaning, rinse the tarpaulin well.

Ensure that the cleaned tarpaulin is dry before folding it up for storage to prevent mould from forming on its surface.

If storing the tarpaulin, keep it in a dry place, ideally protected from dust and dirt by a storage bag.
Cleaning PVC windows with a PVC cleaner
Using a suitable solvent cleaning product is important, particularly for cleaning PVC windows. Any grime or grease will show immediately, affecting your guests' view. Using an unsuitable cleaning product on the windows could have a lasting effect on their transparency. Use a specialised PVC/PE plastic cleaning agent to ensure the windows remain clear and perfectly transparent for years to come.
A multi-purpose cleaning product
The PE and PVC cleaner can also be used for a wide array of tasks. Thanks to its ability to remove even the most stubborn dirt, this tarpaulin cleaner is ideal for cleaning all sorts of surfaces. For example, it is increasingly used in industrial workplaces, workshops and also for linoleum floors.
In Summary
For light stains you can simply wipe your tent with a cloth, soft sponge or, if necessary, a soft brush. Never wash your tent in a washing machine and we also advise against using hard brushes, especially for a PE tent. However, in the case of more serious dirt, you will find that common household products don't cut the mustard.
Our recommendation: Choose our PVC and PE tarpaulin cleaner. It keeps its promises: Grease, oil, tar and other waterproof stains can be removed from the surface with ease. Do not use the cleaner undiluted, always mix it with cold water and follow the guidelines on the bottle. After cleaning, we recommend that you leave your tent to dry completely. Like all of our accessories, this product comes with free delivery to most locations within mainland Britain.

Our expert customer service
If you have any questions about cleaning and taking care of your tent, our customer service team are happy to help.