Our guide to determining the right size marquees
You've prepared the perfect reception, organised catering for a wonderful buffet, but you can't depend on the weather playing ball? No problem! A sturdy marquee will save your marquee wedding in the garden. But how can you say how big it should be? In this marquee size guide, we'll tell you our rules of thumb, which you can use to determine the right size marquee for your function. For example, how many people seated at trestle tables will actually fit in a marquee?
Practical advice and tips for marquees
Our most popular large marquees
Marquees with an area of at least 40m²
Size guide for calculating the standing capacity of a party tent
The easiest of all is to work out the standing capacity of an event tent. This is also the most useful calculation to make if the marquee is on hand only in case of bad weather.
We know that each standing person needs half a square metre of space. From this we derive our rule of thumb for calculating the minimum size:
Number of people standing x 0.5 m² = space required in m²
Example calculation for the correct marquee size
For example, if you want to accommodate 150 people, you need a marquee that is at least 75m² (150 people x 0.5 m² = 75 m²). In our online shop, you can find party tents in the size 8×10 m with 80 m² space for this purpose, which offer sufficient space for your event.
Here are some more examples, based on the numbers you're inviting to your party:
| No. of guests | Suggested area | Suitable models |
| --- | --- | --- |
| 25 | 12.5 m² | 3x5m or 3x6m |
| 40 | 20 m² | 4x5m |
| 50 | 25m² | 5x5m or 3x9m |
| 100 | 50 m² | 5x10m, 4x14m or 6x10m |
| 150 | 75 m² | 5x16m, 8x10m or 6x14m |
Marquee capacity rules of thumb for other seating arrangements
If your guests are to sit in rows of chairs, at long tables or at round tables, the approximate venue size you'll need can be calculated using these rules of thumb:
For rows of chairs: number of people x 0.7 m² = space required in m².
For trestle tables: number of people x 0.8 m² = space required in m².
For round tables: number of persons x 1.2 m² = space required in m².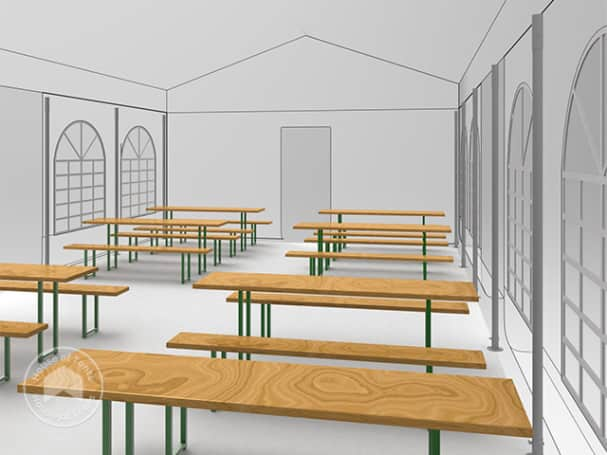 Our most popular small marquees
Marquees with an area of less than 40m²
How many seated guests fit in your party tent?
To help you calculate the required floor area for a corporate event or private function, use this table to get an idea of different capacities if your guests will be seated.
In the following table, you can find out how many people need how much space with which seating at an event:
| No. of guests | Rows of chairs (audience style) | Long tables and benches | Round tables |
| --- | --- | --- | --- |
| 25 | ~17,5 m² | ~20 m² | ~30 m² |
| 40 | ~28 m² | ~32 m² | ~48 m² |
| 50 | ~35 m² | ~40 m² | ~40 m² |
| 80 | ~56 m² | ~64 m² | ~96 m² |
| 100 | ~70 m² | ~80 m² | ~120 m² |
| 150 | ~105 m² | ~120 m² | ~180 m² |
Of course, you can also combine the rules of thumb. If, for example, you would like to have enough space in the party tent for 12 standing guests and 30 people seated at folding tables, to find the marquee size you'll need:
(12 standing guests x 0.5 m²) + (30 guests at beer tent sets x 0.8 m²) = 30 m².
In this case, you need a party tent that is at least 30 m² in size. The 4×8 metres, 5×6 metres or 6×6 metres marquees would all be suitable for this.
Our tip for accommodating extra guests
What can you do if there are more guests for your party than originally planned? If the weather is fine, simply leave out the side parts or the side walls of the pavilion and set up seating around the tent. This way, all guests can participate in your event in and around the marquee and no one feels left out.
Possibilities for getting additional space
If you're planning a much bigger event than usual, as well as removing side walls, you have the option of simply extending your old marquee. Often the cost of buying a new model is cheaper than a marquee hire. It's very easy to extend our tents. For this you need:
Firstly, a so-called connecting gutter (also rain gutter), which connects two tents.
Secondly, you need another tent that matches either the width or the length of your current marquee (up to a length of 14m).
The advantages are obvious. Firstly, you gain fantastic flexibility - you can erect one large or two smaller sized marquees. On the other hand, you save resources and money, because you can continue to use your old tent and only buy an additional tent in the size by which the old tent is to be enlarged. You can conveniently buy connecting gutters in our online shop.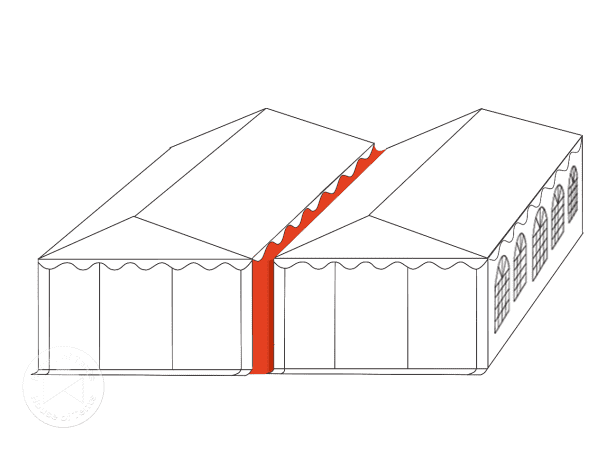 Plan the layout for your marquee
Above, we have suggested some simple rules to give you a rough idea of the area you'll need to cater to a set number of guests. However, you may still want to set up a stage with a sound system and dance floor alongside comfortable seating. With such a set up, some party goers can dance on the dance floor while others chat and enjoy their drinks while remaining in their chairs. For some parties you may also like to have a bar, buffet tables, and/or a top table that needs a little extra space. For this, it's a good idea to plan the layout in more detail in advance.
Imagine the venue from above and draw the ground plan and shape of the marquee on paper with grid lines. To be able to plan the room layout to scale, take two box lines to represent one metre. Four boxes correspond to 1 square metre (10.8 square foot). This allows you to plan the room layout 1:1 on the paper and to implement it more easily later.
Some factors to consider include where entrances should be positioned, where a buffet should be placed, and how the music system should be set up without disturbing seated guests. See how you can distribute the guests and furniture in the best way in the marquee and draw everything to scale. A dance floor can be created by removing some furniture after people have finished dining.
The perfect tent for your individual occasion at House of Tents
If you are looking for a high-quality wedding marquee, then you have come to the right place. We have many different sizes and colours in our range. All products are 100% waterproof, UV-resistant, stable and offer maximum protection against wind and weather. You also have the choice between tents with a roof tarpaulin made of PE or PVC. Both PE and PVC vary in weight, but also in quality.
Read all about PE and PVC in our PE / PVC comparison guide. Whether a thin or wide marquee, with or without windows, you can find the appropriate waterproof PE or PVC marquee, as well as various useful accessories for every party in our online shop.