Materials: Poles for party marquees
The frame is a defining factor in the stability of a tent. On the one hand, it must be able to withstand frequent and long-term use, and on the other hand, it must be practical and easy to handle. Before buying a tent, you should have a good understanding of the quality of the frame materials. Read on to find out what to look out for using the example of a marquee.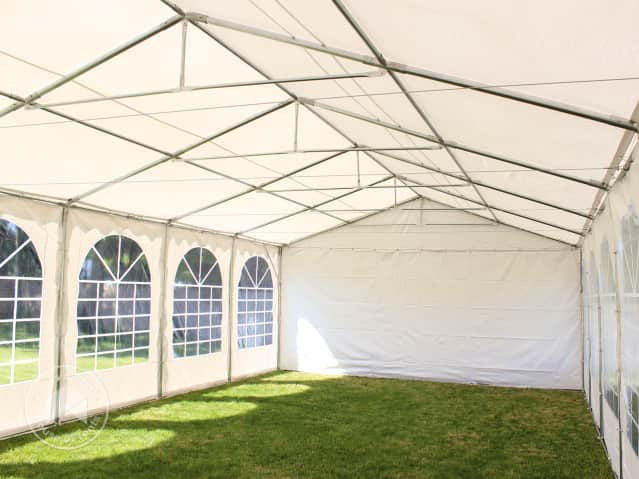 Practical advice and tips for marquees
Shape, dimensions and construction of marquee poles
All of our marquees have round-profile poles. Non-round pole profiles are usually more resistant to bending or warping. However, they also have the disadvantage of requiring more material and thus more weight for the same diameter. Non-round profile poles are therefore used for products where some elements require a high load-bearing capacity or where lightweight materials such as aluminium are used. For example, the legs of pop up gazebos are mainly made of square or hexagonal poles. The more edges the pole has, the more stable it is.
The advantage of round-profile poles is that less material is required for the same pole diameter. This also ensures a high load-bearing capacity and bucking resistance, while less material and weight is required overall. This is why round-profile poles are predominantly used for marquees. They allow an optimal mix of handling, stability and material cost savings.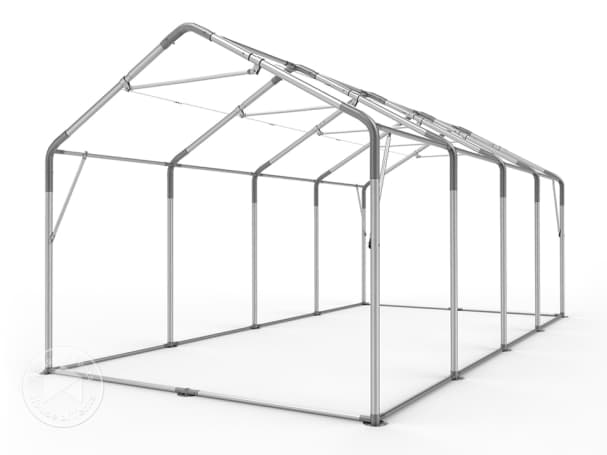 Extra-reinforced marquee frames
If you need a marquee for long-term or year-round use, you should choose a marquee in the upper price category. The pole materials here are more solid, while the structure of the frame marquee is more complex and harder to erect. High-quality tent poles have additional reinforcements in the roof, diagonal side reinforcements and a base frame. This increases the stability many times over. In particular, a base frame has an important part to play in keeping the legs evenly spaced, optimising the structural integrity of the frame marquee. A base frame is essential if you wish to leave the marquee standing for a longer period of time or even all year round.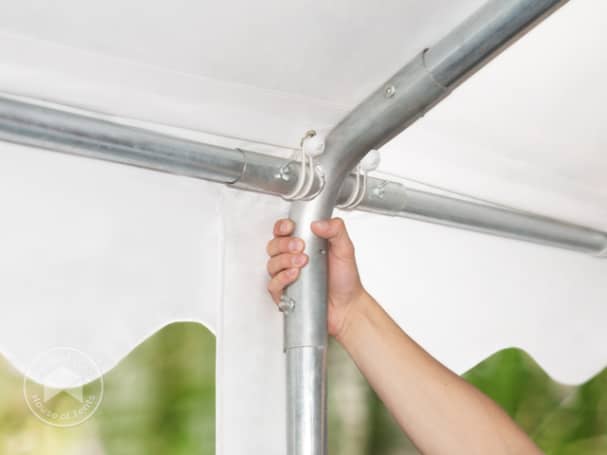 Our most popular marquees with standard frame
Comparing pole connecting systems
Click-in systems or screw connections are the most common ways of connecting tent poles.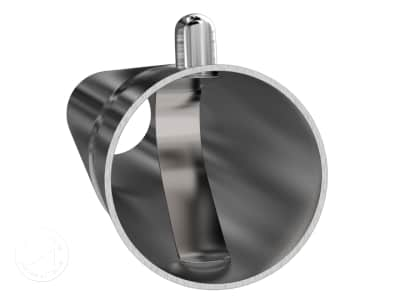 quick assembly and disassembly

no tools required

easy to install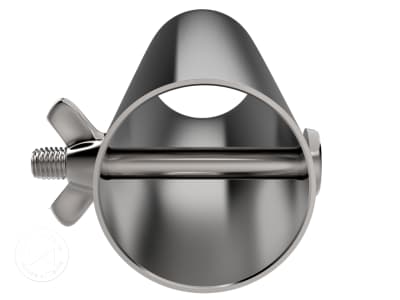 easy assembly and disassembly

A firm hold

Allen key provided
Advantages of marquees with a click-in system

Poles with click-in systems can usually be erected and dismantled quickly without tools. However, with cheap click systems there is a risk that the parts will break easily. Especially if the spring mechanism consists of only one spring or one wire. Click systems with wide spring plates are better (see picture - left side). If you decide to use a click system for practical reasons, don't cut corners by trading off quality for a low price. Only buy goods with high-quality fittings, such as the FLEX Light at House of Tents. The innovative click system of this pavilion has an extra-wide spring with a large push button.
Advantages of marquees with a screw system
More complex to erect, but more stable and less sensitive to wind and movement, are poles with a screw connection. There are two main versions:
First of all, screw connections, that screw or clamp onto the inner rod of the connecting system. In this case, one pole has a narrower end, that can fit within the regular pole end (the socket). In this case, the regular pole end has a threaded hole so that the screw can apply pressure onto the inner pole end.
Secondly, there are screw bolts that pass completely through both tubes and are then fixed with a wing nut (see picture - right side).
The second method offers two major advantages:
In case of a defective thread, you will find it a lot easier to find replacement fittings. Only one bolt or wing nut has to be replaced instead of a whole pole.
The tent poles are securely fixed. With screwed-on connections there is a risk that the screw can slip.
Find marquees with strong bolted connections
In our House of Tents online shop, all PRO, FLEX Smart and FLEX Plus tents feature a strong bolt connection, as described in the second method. You will also find a large selection of waterproof frame marquees for occasional use through to professional use in the online shop. No matter the size, and whether you are looking to order a marquee with PVC tarpaulins or tarpaulins made of PE - you will find your perfect pavilion at House of Tents! We have tents starting from 3m x 2m in size, extending to 8 metres wide, with a length of 32 metres.
Our most popular marquees with a reinforced frame
Steel vs. aluminium for marquees and gazebos
Pop up gazebos come in aluminium in Economy, Premium and Professional models. Economy and Premium models are available with the heavier steel pipes. The aluminum alloy tubes used in the frame of pop up gazebos have been specially treated with an anodising process. This process produces a protective oxide layer on the aluminium. Thanks to this process, the aluminium is 15 times stronger than conventional aluminium and is also 100% corrosion-resistant and stable. In addition, aluminium offers the great advantage of being lighter, thus enabling easy transport and quick assembly of pop up gazebos.
Garden Gazebos also come in either steel or aluminium. Hard top models, along with the Sunset Premium are available in aluminium. The aluminium legs of garden gazebos are powder-coated. Both steel and aluminium frame parts are excellent for your gazebo, as both substances offer protection against corrosion and are strong enough for these smaller structures. In the case of the high-quality marquees from House of Tents, aluminium has been completely dispensed with, as steel is more robust and less sensitive. The marquee can therefore be used for longer periods, even all year round for professional models.
Advantages of corrosion-protected steel poles
Powder-coated fully galvanised pipes have a high level of corrosion protection and, due to their durability, can also be used in commercial and industrial areas. Because you can rely on the quality of the galvanisation, they are also suitable for coastal areas with high salt and moisture exposure. The fully galvanised steel frame parts that are used in our frame marquees are particularly suitable for this. That's because they have a bonded cover of protective material on the inside and outside of each frame part and therefore offer the highest protection against corrosion and rust.
Tips for the care and storage of marquees
It pays to be careful with your tent poles. If damage should occur during assembly or dismantling, such as flaking of the powder coating, repair is possible. Gaps or cuts can be sealed again with zinc spray.
Store the tent poles and tarpaulin of your pavilion in a dry space. We recommend carry bags for transporting and storing the tent. Our high-quality, water and dirt-repellent branded carrier bags made of robust Oxford material are ideal for this purpose. You can order these bags in a wide range of sizes offering just the right amount of space to suit your pole sections, canopies and other parts.
Protecting the frame marquee against heavy winds is also important. Anchors and ground fixings including base plates and heavy-duty ground stakes can help, while a tie down kit with adjustable ratchet belts offers a great deal more security. There are also special cleaners for taking care of the canopy tarpaulin and side walls, such as our professional PVC and PE cleaner.
Our most popular marquees with an extra-strong frame
Get spare parts or replacements
If you lose or break any parts of your marquee, including tent poles, connectors, or even ground pegs and you need replacements, House of Tents offers a guaranteed supply of spare parts for 10 years from the date of purchase for most of the marquees offered in our shop. Call or email our tent experts to find out if your preferred product carries this replacement and spare parts guarantee. You can use the replacement and spare parts form on our website to order spare frame parts.